Recycling Technology 2020
Subscribe
Page 31 from: Recycling Technology 2020
31 2020 Research US Healthcare Plastics Recycling Council. It estimates that up to 85% of medical plastic waste is non-infectious. One million tonnes of clean, non-infectious healthcare plastics is generated at healthcare facilities n...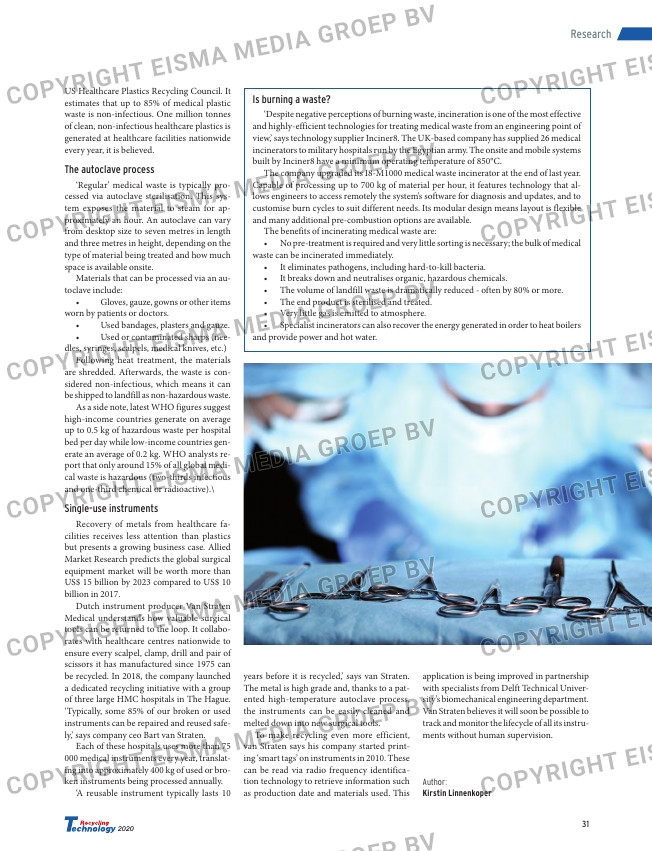 31
2020

Research
US Healthcare Plastics Recycling Council. It
estimates that up to 85% of medical plastic
waste is non-infectious. One million tonnes
of clean, non-infectious healthcare plastics is
generated at healthcare facilities nationwide
every year, it is believed.
The autoclave process
'Regular' medical waste is typically pro-
cessed via autoclave sterilisation. This sys-
tem exposes the material to steam for ap-
proximately an hour. An autoclave can vary
from desktop size to seven metres in length
and three metres in height, depending on the
type of material being treated and how much
space is available onsite.
Materials that can be processed via an au-
toclave include:
• Gloves, gauze, gowns or other items
worn by patients or doctors.
• Used bandages, plasters and gauze.
• Used or contaminated sharps (nee-
dles, syringes, scalpels, medical knives, etc.)
Following heat treatment, the materials
are shredded. Afterwards, the waste is con-
sidered non-infectious, which means it can
be shipped to landfill as non-hazardous waste.
As a side note, latest WHO figures suggest
high-income countries generate on average
up to 0.5 kg of hazardous waste per hospital
bed per day while low-income countries gen-
erate an average of 0.2 kg. WHO analysts re-
port that only around 15% of all global medi-
cal waste is hazardous (two-thirds infectious
and one-third chemical or radioactive).
Single-use instruments
Recovery of metals from healthcare fa-
cilities receives less attention than plastics
but presents a growing business case. Allied
Market Research predicts the global surgical
equipment market will be worth more than
US$ 15 billion by 2023 compared to US$ 10
billion in 2017.
Dutch instrument producer Van Straten
Medical understands how valuable surgical
tools can be returned to the loop. It collabo-
rates with healthcare centres nationwide to
ensure every scalpel, clamp, drill and pair of
scissors it has manufactured since 1975 can
be recycled. In 2018, the company launched
a dedicated recycling initiative with a group
of three large HMC hospitals in The Hague.
'Typically, some 85% of our broken or used
instruments can be repaired and reused safe-
ly,' says company ceo Bart van Straten.
Each of these hospitals uses more than 75
000 medical instruments every year, translat-
ing into approximately 400 kg of used or bro-
ken instruments being processed annually.
'A reusable instrument typically lasts 10
years before it is recycled,' says van Straten.
The metal is high grade and, thanks to a pat-
ented high-temperature autoclave process,
the instruments can be easily cleaned and
melted down into new surgical tools.
To make recycling even more efficient,
van Straten says his company started print-
ing 'smart tags' on instruments in 2010. These
can be read via radio frequency identifica-
tion technology to retrieve information such
as production date and materials used. This
Author:
Kirstin Linnenkoper

application is being improved in partnership
with specialists from Delft Technical Univer-
sity's biomechanical engineering department.
Van Straten believes it will soon be possible to
track and monitor the lifecycle of all its instru-
ments without human supervision.
Is burning a waste?
'Despite negative perceptions of burning waste, incineration is one of the most effective
and highly-efficient technologies for treating medical waste from an engineering point of
view,' says technology supplier Inciner8. The UK-based company has supplied 26 medical
incinerators to military hospitals run by the Egyptian army. The onsite and mobile systems
built by Inciner8 have a minimum operating temperature of 850°C.
The company upgraded its I8-M1000 medical waste incinerator at the end of last year.
Capable of processing up to 700 kg of material per hour, it features technology that al-
lows engineers to access remotely the system's software for diagnosis and updates, and to
customise burn cycles to suit different needs. Its modular design means layout is flexible
and many additional pre-combustion options are available.
The benefits of incinerating medical waste are:
• No pre-treatment is required and very little sorting is necessary; the bulk of medical
waste can be incinerated immediately.
• It eliminates pathogens, including hard-to-kill bacteria.
• It breaks down and neutralises organic, hazardous chemicals.
• The volume of landfill waste is dramatically reduced – often by 80% or more.
• The end product is sterilised and treated.
• Very little gas is emitted to atmosphere.
• Specialist incinerators can also recover the energy generated in order to heat boilers
and provide power and hot water.
30-31_medical.indd 31 12-09-19 14:21