Recycling Technology 2020
Subscribe
Page 29 from: Recycling Technology 2020
29 2020 Research 20 years,' Prentice declares. In his view, this is the kind of project which is perfectly suited to the use of robotics: 'to get humans out of harm's way'. The system's computer-aided vision is used to con...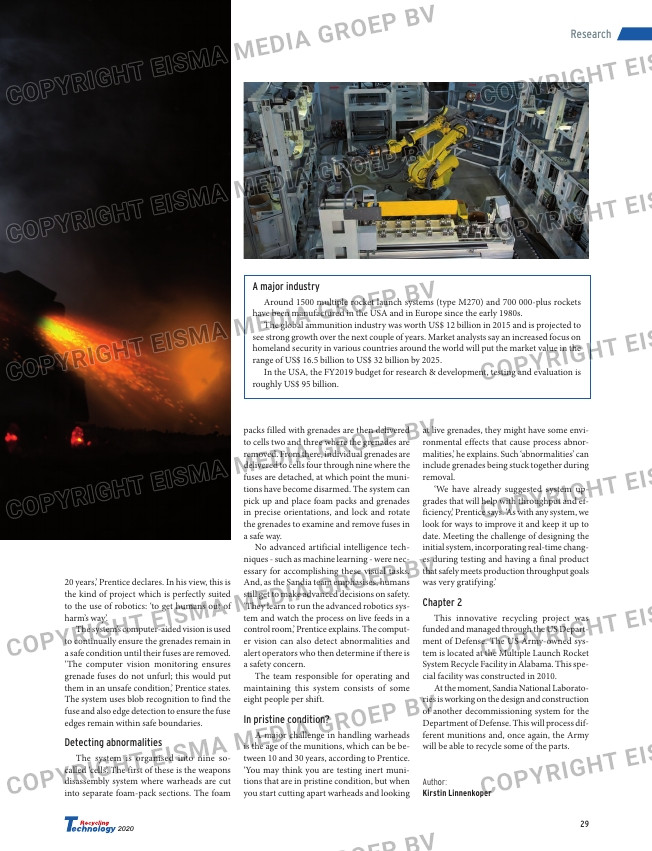 29
2020

Research
20 years,' Prentice declares. In his view, this is
the kind of project which is perfectly suited
to the use of robotics: 'to get humans out of
harm's way'.
The system's computer-aided vision is used
to continually ensure the grenades remain in
a safe condition until their fuses are removed.
'The computer vision monitoring ensures
grenade fuses do not unfurl; this would put
them in an unsafe condition,' Prentice states.
The system uses blob recognition to find the
fuse and also edge detection to ensure the fuse
edges remain within safe boundaries.
Detecting abnormalities
The system is organised into nine so-
called 'cells'. The first of these is the weapons
disassembly system where warheads are cut
into separate foam-pack sections. The foam
packs filled with grenades are then delivered
to cells two and three where the grenades are
removed. From there, individual grenades are
delivered to cells four through nine where the
fuses are detached, at which point the muni-
tions have become disarmed. The system can
pick up and place foam packs and grenades
in precise orientations, and lock and rotate
the grenades to examine and remove fuses in
a safe way.
No advanced artificial intelligence tech-
niques – such as machine learning – were nec-
essary for accomplishing these visual tasks.
And, as the Sandia team emphasises, humans
still get to make advanced decisions on safety.
'They learn to run the advanced robotics sys-
tem and watch the process on live feeds in a
control room,' Prentice explains. The comput-
er vision can also detect abnormalities and
alert operators who then determine if there is
a safety concern.
The team responsible for operating and
maintaining this system consists of some
eight people per shift.
In pristine condition?
A major challenge in handling warheads
is the age of the munitions, which can be be-
tween 10 and 30 years, according to Prentice.
'You may think you are testing inert muni-
tions that are in pristine condition, but when
you start cutting apart warheads and looking
Author:
Kirstin Linnenkoper

at live grenades, they might have some envi-
ronmental effects that cause process abnor-
malities,' he explains. Such 'abnormalities' can
include grenades being stuck together during
removal.
'We have already suggested system up-
grades that will help with throughput and ef-
ficiency,' Prentice says. 'As with any system, we
look for ways to improve it and keep it up to
date. Meeting the challenge of designing the
initial system, incorporating real-time chang-
es during testing and having a final product
that safely meets production throughput goals
was very gratifying.'
Chapter 2
This innovative recycling project was
funded and managed through the US Depart-
ment of Defense. The US Army-owned sys-
tem is located at the Multiple Launch Rocket
System Recycle Facility in Alabama. This spe-
cial facility was constructed in 2010.
At the moment, Sandia National Laborato-
ries is working on the design and construction
of another decommissioning system for the
Department of Defense. This will process dif-
ferent munitions and, once again, the Army
will be able to recycle some of the parts.
A major industry
Around 1500 multiple rocket launch systems (type M270) and 700 000-plus rockets
have been manufactured in the USA and in Europe since the early 1980s.
The global ammunition industry was worth US$ 12 billion in 2015 and is projected to
see strong growth over the next couple of years. Market analysts say an increased focus on
homeland security in various countries around the world will put the market value in the
range of US$ 16.5 billion to US$ 32 billion by 2025.
In the USA, the FY2019 budget for research & development, testing and evaluation is
roughly US$ 95 billion.
28-29_military.indd 29 12-09-19 14:18