Recycling Technology 2020
Subscribe
Page 25 from: Recycling Technology 2020
25 2020 Research Daniela Rus Lillian Chin sensor readings,' says Rus. RoCycle's hand is motor-driven and puncture-resistant, mak- ing it robust enough to reach into recycling streams without the risk of being damaged. RoCycle work...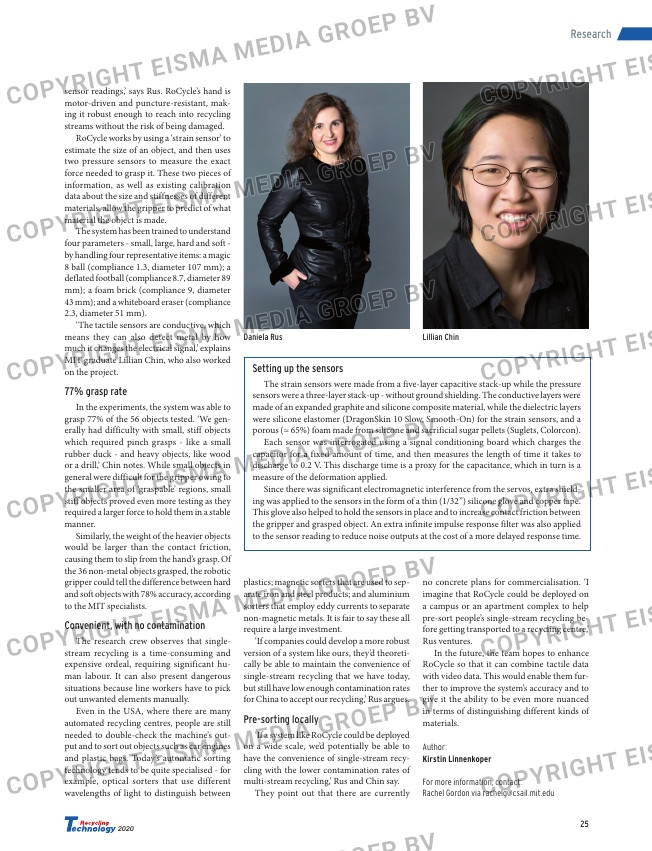 25
2020

Research
Daniela Rus Lillian Chin
sensor readings,' says Rus. RoCycle's hand is
motor-driven and puncture-resistant, mak-
ing it robust enough to reach into recycling
streams without the risk of being damaged.
RoCycle works by using a 'strain sensor' to
estimate the size of an object, and then uses
two pressure sensors to measure the exact
force needed to grasp it. These two pieces of
information, as well as existing calibration
data about the size and stiffnesses of different
materials, allow the gripper to predict of what
material the object is made.
The system has been trained to understand
four parameters – small, large, hard and soft –
by handling four representative items: a magic
8 ball (compliance 1.3, diameter 107 mm); a
deflated football (compliance 8.7, diameter 89
mm); a foam brick (compliance 9, diameter
43 mm); and a whiteboard eraser (compliance
2.3, diameter 51 mm).
'The tactile sensors are conductive, which
means they can also detect metal by how
much it changes the electrical signal,' explains
MIT graduate Lillian Chin, who also worked
on the project.
77% grasp rate
In the experiments, the system was able to
grasp 77% of the 56 objects tested. 'We gen-
erally had difficulty with small, stiff objects
which required pinch grasps – like a small
rubber duck – and heavy objects, like wood
or a drill,' Chin notes. While small objects in
general were difficult for the gripper owing to
the smaller area of 'graspable' regions, small
stiff objects proved even more testing as they
required a larger force to hold them in a stable
manner.
Similarly, the weight of the heavier objects
would be larger than the contact friction,
causing them to slip from the hand's grasp. Of
the 36 non-metal objects grasped, the robotic
gripper could tell the difference between hard
and soft objects with 78% accuracy, according
to the MIT specialists.
Convenient, with no contamination
The research crew observes that single-
stream recycling is a time-consuming and
expensive ordeal, requiring significant hu-
man labour. It can also present dangerous
situations because line workers have to pick
out unwanted elements manually.
Even in the USA, where there are many
automated recycling centres, people are still
needed to double-check the machine's out-
put and to sort out objects such as car engines
and plastic bags. Today's automatic sorting
technology tends to be quite specialised – for
example, optical sorters that use different
wavelengths of light to distinguish between
plastics; magnetic sorters that are used to sep-
arate iron and steel products; and aluminium
sorters that employ eddy currents to separate
non-magnetic metals. It is fair to say these all
require a large investment.
'If companies could develop a more robust
version of a system like ours, they'd theoreti-
cally be able to maintain the convenience of
single-stream recycling that we have today,
but still have low enough contamination rates
for China to accept our recycling,' Rus argues.
Pre-sorting locally
'If a system like RoCycle could be deployed
on a wide scale, we'd potentially be able to
have the convenience of single-stream recy-
cling with the lower contamination rates of
multi-stream recycling,' Rus and Chin say.
They point out that there are currently
Author:
Kirstin Linnenkoper

For more information, contact:
Rachel Gordon via [email protected]
no concrete plans for commercialisation. 'I
imagine that RoCycle could be deployed on
a campus or an apartment complex to help
pre-sort people's single-stream recycling be-
fore getting transported to a recycling centre,'
Rus ventures.
In the future, the team hopes to enhance
RoCycle so that it can combine tactile data
with video data. This would enable them fur-
ther to improve the system's accuracy and to
give it the ability to be even more nuanced
in terms of distinguishing different kinds of
materials.
Setting up the sensors
The strain sensors were made from a five-layer capacitive stack-up while the pressure
sensors were a three-layer stack-up – without ground shielding. The conductive layers were
made of an expanded graphite and silicone composite material, while the dielectric layers
were silicone elastomer (DragonSkin 10 Slow, Smooth-On) for the strain sensors, and a
porous (≈ 65%) foam made from silicone and sacrificial sugar pellets (Suglets, Colorcon).
Each sensor was interrogated using a signal conditioning board which charges the
capacitor for a fixed amount of time, and then measures the length of time it takes to
discharge to 0.2 V. This discharge time is a proxy for the capacitance, which in turn is a
measure of the deformation applied.
Since there was significant electromagnetic interference from the servos, extra shield-
ing was applied to the sensors in the form of a thin (1/32") silicone glove and copper tape.
This glove also helped to hold the sensors in place and to increase contact friction between
the gripper and grasped object. An extra infinite impulse response filter was also applied
to the sensor reading to reduce noise outputs at the cost of a more delayed response time.
24-25_mitrobots.indd 25 12-09-19 14:17