Recycling Technology 2020
Subscribe
Page 17 from: Recycling Technology 2020
17 2020 Research Circular Scrap Facility (CSF) according to an example project from the Netherlands. tion. Where labour costs are high, this will be a largely data-driven business, implying a considerable impact on how supply chains c...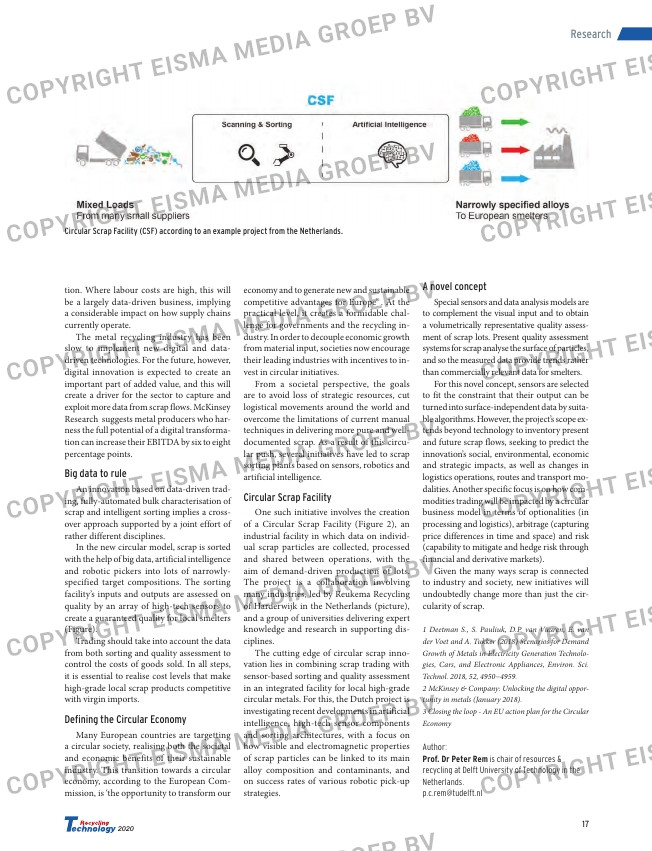 17
2020

Research
Circular Scrap Facility (CSF) according to an example project from the Netherlands.
tion. Where labour costs are high, this will
be a largely data-driven business, implying
a considerable impact on how supply chains
currently operate.
The metal recycling industry has been
slow to implement new digital and data-
driven technologies. For the future, however,
digital innovation is expected to create an
important part of added value, and this will
create a driver for the sector to capture and
exploit more data from scrap flows. McKinsey
Research suggests metal producers who har-
ness the full potential of a digital transforma-
tion can increase their EBITDA by six to eight
percentage points.
Big data to rule
An innovation based on data-driven trad-
ing, fully-automated bulk characterisation of
scrap and intelligent sorting implies a cross-
over approach supported by a joint effort of
rather different disciplines.
In the new circular model, scrap is sorted
with the help of big data, artificial intelligence
and robotic pickers into lots of narrowly-
specified target compositions. The sorting
facility's inputs and outputs are assessed on
quality by an array of high-tech sensors to
create a guaranteed quality for local smelters
(Figure).
Trading should take into account the data
from both sorting and quality assessment to
control the costs of goods sold. In all steps,
it is essential to realise cost levels that make
high-grade local scrap products competitive
with virgin imports.
Defining the Circular Economy
Many European countries are targetting
a circular society, realising both the societal
and economic benefits of their sustainable
industry. This transition towards a circular
economy, according to the European Com-
mission, is 'the opportunity to transform our
economy and to generate new and sustainable
competitive advantages for Europe' . At the
practical level, it creates a formidable chal-
lenge for governments and the recycling in-
dustry. In order to decouple economic growth
from material input, societies now encourage
their leading industries with incentives to in-
vest in circular initiatives.
From a societal perspective, the goals
are to avoid loss of strategic resources, cut
logistical movements around the world and
overcome the limitations of current manual
techniques in delivering more pure and well-
documented scrap. As a result of this circu-
lar push, several initiatives have led to scrap
sorting plants based on sensors, robotics and
artificial intelligence.
Circular Scrap Facility
One such initiative involves the creation
of a Circular Scrap Facility (Figure 2), an
industrial facility in which data on individ-
ual scrap particles are collected, processed
and shared between operations, with the
aim of demand-driven production of lots.
The project is a collaboration involving
many industries, led by Reukema Recycling
of Harderwijk in the Netherlands (picture),
and a group of universities delivering expert
knowledge and research in supporting dis-
ciplines.
The cutting edge of circular scrap inno-
vation lies in combining scrap trading with
sensor-based sorting and quality assessment
in an integrated facility for local high-grade
circular metals. For this, the Dutch project is
investigating recent developments in artificial
intelligence, high-tech sensor components
and sorting architectures, with a focus on
how visible and electromagnetic properties
of scrap particles can be linked to its main
alloy composition and contaminants, and
on success rates of various robotic pick-up
strategies.
A novel concept
Special sensors and data analysis models are
to complement the visual input and to obtain
a volumetrically representative quality assess-
ment of scrap lots. Present quality assessment
systems for scrap analyse the surface of particles,
and so the measured data provide trends rather
than commercially relevant data for smelters.
For this novel concept, sensors are selected
to fit the constraint that their output can be
turned into surface-independent data by suita-
ble algorithms. However, the project's scope ex-
tends beyond technology to inventory present
and future scrap flows, seeking to predict the
innovation's social, environmental, economic
and strategic impacts, as well as changes in
logistics operations, routes and transport mo-
dalities. Another specific focus is on how com-
modities trading will be impacted by a circular
business model in terms of optionalities (in
processing and logistics), arbitrage (capturing
price differences in time and space) and risk
(capability to mitigate and hedge risk through
financial and derivative markets).
Given the many ways scrap is connected
to industry and society, new initiatives will
undoubtedly change more than just the cir-
cularity of scrap.
1 Deetman S., S. Pauliuk, D.P. van Vuuren, E. van
der Voet and A. Tukker (2018) Scenarios for Demand
Growth of Metals in Electricity Generation Technolo-
gies, Cars, and Electronic Appliances, Environ. Sci.
Technol. 2018, 52, 4950−4959.
2 McKinsey & Company: Unlocking the digital oppor-
tunity in metals (January 2018).
3 Closing the loop – An EU action plan for the Circular
Economy

Author:
Prof. Dr Peter Rem is chair of resources &
recycling at Delft University of Technology in the
Netherlands.
[email protected]
16-17_robotsinscrapsorting.indd 17 12-09-19 13:59