Recycling Technology 2020
Subscribe
Page 13 from: Recycling Technology 2020
13 2020 Research High saturation capacity While other metals - including gold - can be used for amalgamation, platinum offers a high saturation capacity. Since each platinum atom can bind up to four mercury atoms (as opposed to gold,...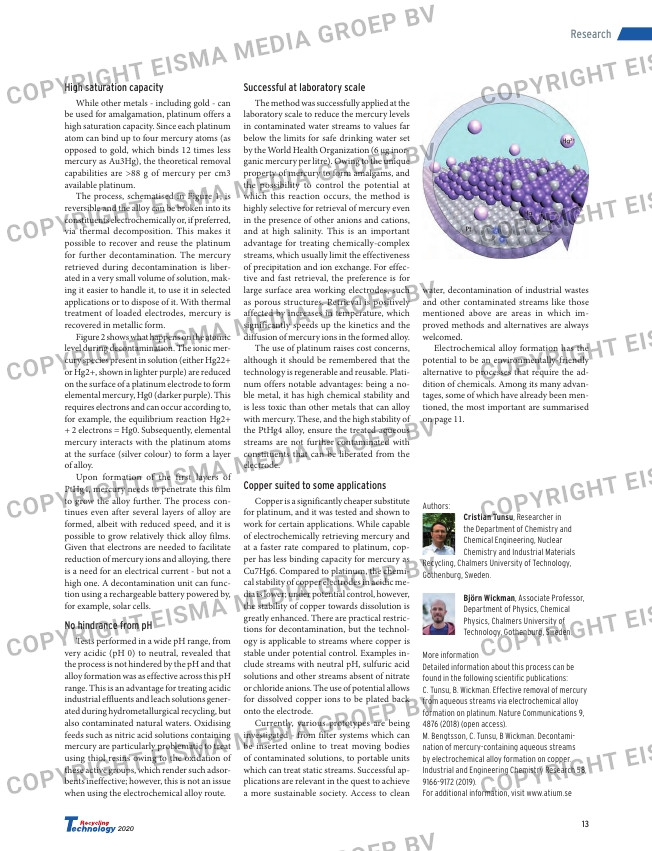 13
2020

Research
High saturation capacity
While other metals – including gold – can
be used for amalgamation, platinum offers a
high saturation capacity. Since each platinum
atom can bind up to four mercury atoms (as
opposed to gold, which binds 12 times less
mercury as Au3Hg), the theoretical removal
capabilities are >88 g of mercury per cm3
available platinum.
The process, schematised in Figure 1, is
reversible and the alloy can be broken into its
constituents electrochemically or, if preferred,
via thermal decomposition. This makes it
possible to recover and reuse the platinum
for further decontamination. The mercury
retrieved during decontamination is liber-
ated in a very small volume of solution, mak-
ing it easier to handle it, to use it in selected
applications or to dispose of it. With thermal
treatment of loaded electrodes, mercury is
recovered in metallic form.
Figure 2 shows what happens on the atomic
level during decontamination. The ionic mer-
cury species present in solution (either Hg22+
or Hg2+, shown in lighter purple) are reduced
on the surface of a platinum electrode to form
elemental mercury, Hg0 (darker purple). This
requires electrons and can occur according to,
for example, the equilibrium reaction Hg2+
+ 2 electrons = Hg0. Subsequently, elemental
mercury interacts with the platinum atoms
at the surface (silver colour) to form a layer
of alloy.
Upon formation of the first layers of
PtHg4, mercury needs to penetrate this film
to grow the alloy further. The process con-
tinues even after several layers of alloy are
formed, albeit with reduced speed, and it is
possible to grow relatively thick alloy films.
Given that electrons are needed to facilitate
reduction of mercury ions and alloying, there
is a need for an electrical current – but not a
high one. A decontamination unit can func-
tion using a rechargeable battery powered by,
for example, solar cells.
No hindrance from pH
Tests performed in a wide pH range, from
very acidic (pH 0) to neutral, revealed that
the process is not hindered by the pH and that
alloy formation was as effective across this pH
range. This is an advantage for treating acidic
industrial effluents and leach solutions gener-
ated during hydrometallurgical recycling, but
also contaminated natural waters. Oxidising
feeds such as nitric acid solutions containing
mercury are particularly problematic to treat
using thiol resins owing to the oxidation of
these active groups, which render such adsor-
bents ineffective; however, this is not an issue
when using the electrochemical alloy route.
Successful at laboratory scale
The method was successfully applied at the
laboratory scale to reduce the mercury levels
in contaminated water streams to values far
below the limits for safe drinking water set
by the World Health Organization (6 μg inor-
ganic mercury per litre). Owing to the unique
property of mercury to form amalgams, and
the possibility to control the potential at
which this reaction occurs, the method is
highly selective for retrieval of mercury even
in the presence of other anions and cations,
and at high salinity. This is an important
advantage for treating chemically-complex
streams, which usually limit the effectiveness
of precipitation and ion exchange. For effec-
tive and fast retrieval, the preference is for
large surface area working electrodes, such
as porous structures. Retrieval is positively
affected by increases in temperature, which
significantly speeds up the kinetics and the
diffusion of mercury ions in the formed alloy.
The use of platinum raises cost concerns,
although it should be remembered that the
technology is regenerable and reusable. Plati-
num offers notable advantages: being a no-
ble metal, it has high chemical stability and
is less toxic than other metals that can alloy
with mercury. These, and the high stability of
the PtHg4 alloy, ensure the treated aqueous
streams are not further contaminated with
constituents that can be liberated from the
electrode.
Copper suited to some applications
Copper is a significantly cheaper substitute
for platinum, and it was tested and shown to
work for certain applications. While capable
of electrochemically retrieving mercury and
at a faster rate compared to platinum, cop-
per has less binding capacity for mercury as
Cu7Hg6. Compared to platinum, the chemi-
cal stability of copper electrodes in acidic me-
dia is lower; under potential control, however,
the stability of copper towards dissolution is
greatly enhanced. There are practical restric-
tions for decontamination, but the technol-
ogy is applicable to streams where copper is
stable under potential control. Examples in-
clude streams with neutral pH, sulfuric acid
solutions and other streams absent of nitrate
or chloride anions. The use of potential allows
for dissolved copper ions to be plated back
onto the electrode.
Currently, various prototypes are being
investigated – from filter systems which can
be inserted online to treat moving bodies
of contaminated solutions, to portable units
which can treat static streams. Successful ap-
plications are relevant in the quest to achieve
a more sustainable society. Access to clean
water, decontamination of industrial wastes
and other contaminated streams like those
mentioned above are areas in which im-
proved methods and alternatives are always
welcomed.
Electrochemical alloy formation has the
potential to be an environmentally-friendly
alternative to processes that require the ad-
dition of chemicals. Among its many advan-
tages, some of which have already been men-
tioned, the most important are summarised
on page 11.
Authors:
Cristian Tunsu, Researcher in
the Department of Chemistry and
Chemical Engineering, Nuclear
Chemistry and Industrial Materials
Recycling, Chalmers University of Technology,
Gothenburg, Sweden.
Björn Wickman, Associate Professor,
Department of Physics, Chemical
Physics, Chalmers University of
Technology, Gothenburg, Sweden.
More information
Detailed information about this process can be
found in the following scientific publications:
C. Tunsu, B. Wickman. Effective removal of mercury
from aqueous streams via electrochemical alloy
formation on platinum. Nature Communications 9,
4876 (2018) (open access).
M. Bengtsson, C. Tunsu, B Wickman. Decontami-
nation of mercury-containing aqueous streams
by electrochemical alloy formation on copper.
Industrial and Engineering Chemistry Research 58,
9166-9172 (2019).
For additional information, visit www.atium.se
10-11-12-13_research-chalmers-cristiantunsu.indd 13 12-09-19 13:58