Recycling International May/June issue 2023
Subscribe
Page 99 from: Recycling International May/June issue 2023
TEXTILESMARKET ANALYSIS Recyclers have the solution As younger people turn increasingly to used clothing and textiles, the industry must continue to emphasise why reuse makes sense. 99recyclinginternational.com | May/June | 2023 D...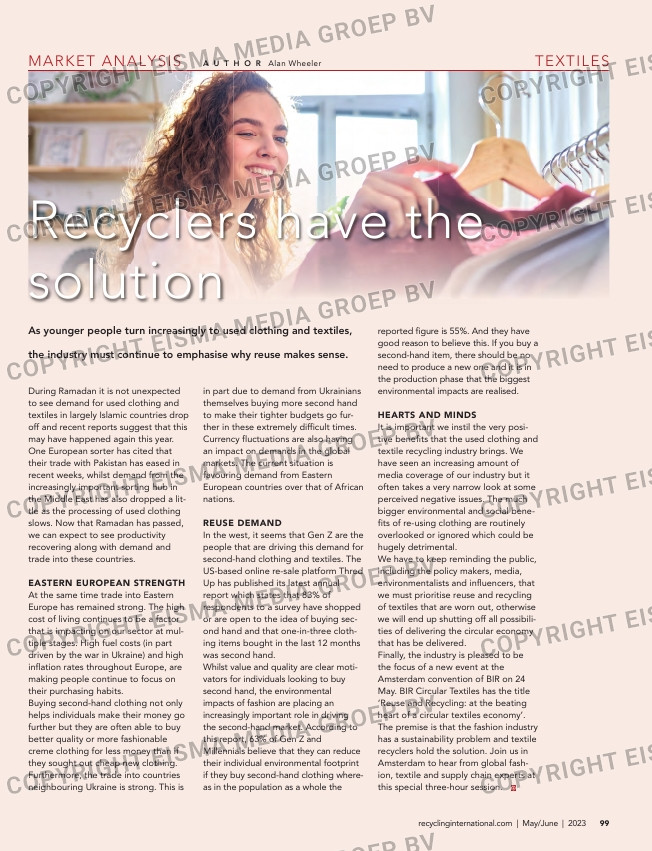 TEXTILESMARKET ANALYSIS
Recyclers have the
solution
As younger people turn increasingly to used clothing and textiles,
the industry must continue to emphasise why reuse makes sense.
99recyclinginternational.com | May/June | 2023
During Ramadan it is not unexpected
to see demand for used clothing and
textiles in largely Islamic countries drop
off and recent reports suggest that this
may have happened again this year.
One European sorter has cited that
their trade with Pakistan has eased in
recent weeks, whilst demand from the
increasingly important sorting hub in
the Middle East has also dropped a lit-
tle as the processing of used clothing
slows. Now that Ramadan has passed,
we can expect to see productivity
recovering along with demand and
trade into these countries.
EASTERN EUROPEAN STRENGTH
At the same time trade into Eastern
Europe has remained strong. The high
cost of living continues to be a factor
that is impacting on our sector at mul-
tiple stages. High fuel costs (in part
driven by the war in Ukraine) and high
inflation rates throughout Europe, are
making people continue to focus on
their purchasing habits.
Buying second-hand clothing not only
helps individuals make their money go
further but they are often able to buy
better quality or more fashionable
creme clothing for less money than if
they sought out cheap new clothing.
Furthermore, the trade into countries
neighbouring Ukraine is strong. This is
in part due to demand from Ukrainians
themselves buying more second hand
to make their tighter budgets go fur-
ther in these extremely difficult times.
Currency fluctuations are also having
an impact on demands in the global
markets. The current situation is
favouring demand from Eastern
European countries over that of African
nations.
REUSE DEMAND
In the west, it seems that Gen Z are the
people that are driving this demand for
second-hand clothing and textiles. The
US-based online re-sale platform Thred
Up has published its latest annual
report which states that 83% of
respondents to a survey have shopped
or are open to the idea of buying sec-
ond hand and that one-in-three cloth-
ing items bought in the last 12 months
was second hand.
Whilst value and quality are clear moti-
vators for individuals looking to buy
second hand, the environmental
impacts of fashion are placing an
increasingly important role in driving
the second-hand market. According to
this report, 63% of Gen Z and
Millennials believe that they can reduce
their individual environmental footprint
if they buy second-hand clothing where-
as in the population as a whole the
reported figure is 55%. And they have
good reason to believe this. If you buy a
second-hand item, there should be no
need to produce a new one and it is in
the production phase that the biggest
environmental impacts are realised.
HEARTS AND MINDS
It is important we instil the very posi-
tive benefits that the used clothing and
textile recycling industry brings. We
have seen an increasing amount of
media coverage of our industry but it
often takes a very narrow look at some
perceived negative issues. The much
bigger environmental and social bene-
fits of re-using clothing are routinely
overlooked or ignored which could be
hugely detrimental.
We have to keep reminding the public,
including the policy makers, media,
environmentalists and influencers, that
we must prioritise reuse and recycling
of textiles that are worn out, otherwise
we will end up shutting off all possibili-
ties of delivering the circular economy
that has be delivered.
Finally, the industry is pleased to be
the focus of a new event at the
Amsterdam convention of BIR on 24
May. BIR Circular Textiles has the title
'Reuse and Recycling: at the beating
heart of a circular textiles economy'.
The premise is that the fashion industry
has a sustainability problem and textile
recyclers hold the solution. Join us in
Amsterdam to hear from global fash-
ion, textile and supply chain experts at
this special three-hour session.
A U T H O R Alan Wheeler
99_matextiles.indd 99 03-05-2023 17:10