Recycling International May/June issue 2023
Subscribe
Page 97 from: Recycling International May/June issue 2023
PAPER 97recyclinginternational.com | May/June | 2023 CONTRIBUTING TO THE RECOVERED PAPER MARKET ANALYSIS: • Myles Cohen, board member VIPA, USA • Chris Burton, managing direc- tor IWPP, UK months of this year. This helped t...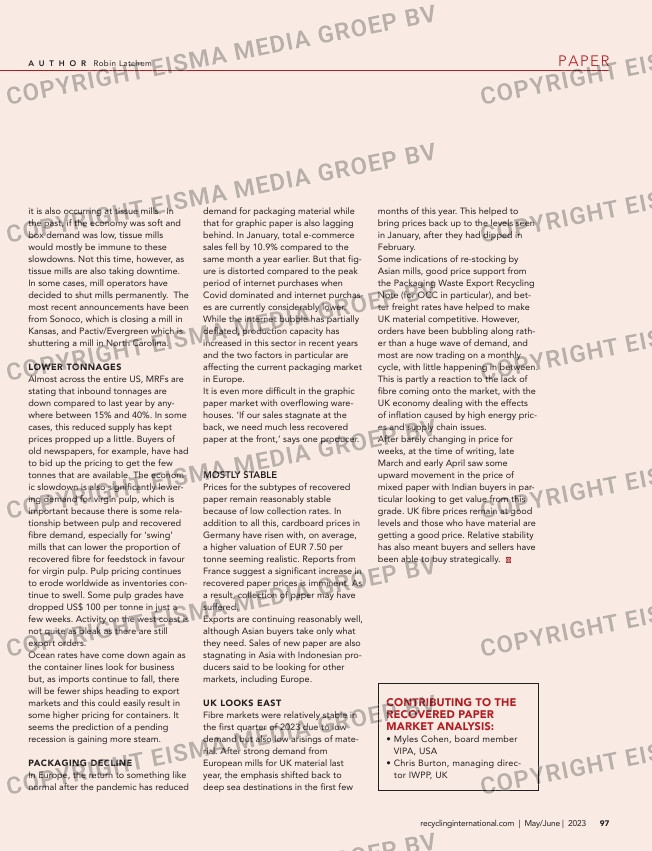 PAPER
97recyclinginternational.com | May/June | 2023
CONTRIBUTING TO THE
RECOVERED PAPER
MARKET ANALYSIS:
• Myles Cohen, board member
VIPA, USA
• Chris Burton, managing direc-
tor IWPP, UK
months of this year. This helped to
bring prices back up to the levels seen
in January, after they had dipped in
February.
Some indications of re-stocking by
Asian mills, good price support from
the Packaging Waste Export Recycling
Note (for OCC in particular), and bet-
ter freight rates have helped to make
UK material competitive. However,
orders have been bubbling along rath-
er than a huge wave of demand, and
most are now trading on a monthly
cycle, with little happening in between.
This is partly a reaction to the lack of
fibre coming onto the market, with the
UK economy dealing with the effects
of inflation caused by high energy pric-
es and supply chain issues.
After barely changing in price for
weeks, at the time of writing, late
March and early April saw some
upward movement in the price of
mixed paper with Indian buyers in par-
ticular looking to get value from this
grade. UK fibre prices remain at good
levels and those who have material are
getting a good price. Relative stability
has also meant buyers and sellers have
been able to buy strategically.
demand for packaging material while
that for graphic paper is also lagging
behind. In January, total e-commerce
sales fell by 10.9% compared to the
same month a year earlier. But that fig-
ure is distorted compared to the peak
period of internet purchases when
Covid dominated and internet purchas-
es are currently considerably lower.
While the internet bubble has partially
deflated, production capacity has
increased in this sector in recent years
and the two factors in particular are
affecting the current packaging market
in Europe.
It is even more difficult in the graphic
paper market with overflowing ware-
houses. 'If our sales stagnate at the
back, we need much less recovered
paper at the front,' says one producer.
MOSTLY STABLE
Prices for the subtypes of recovered
paper remain reasonably stable
because of low collection rates. In
addition to all this, cardboard prices in
Germany have risen with, on average,
a higher valuation of EUR 7.50 per
tonne seeming realistic. Reports from
France suggest a significant increase in
recovered paper prices is imminent. As
a result, collection of paper may have
suffered.
Exports are continuing reasonably well,
although Asian buyers take only what
they need. Sales of new paper are also
stagnating in Asia with Indonesian pro-
ducers said to be looking for other
markets, including Europe.
UK LOOKS EAST
Fibre markets were relatively stable in
the first quarter of 2023 due to low
demand but also low arisings of mate-
rial. After strong demand from
European mills for UK material last
year, the emphasis shifted back to
deep sea destinations in the first few
it is also occurring at tissue mills. In
the past, if the economy was soft and
box demand was low, tissue mills
would mostly be immune to these
slowdowns. Not this time, however, as
tissue mills are also taking downtime.
In some cases, mill operators have
decided to shut mills permanently. The
most recent announcements have been
from Sonoco, which is closing a mill in
Kansas, and Pactiv/Evergreen which is
shuttering a mill in North Carolina.
LOWER TONNAGES
Almost across the entire US, MRFs are
stating that inbound tonnages are
down compared to last year by any-
where between 15% and 40%. In some
cases, this reduced supply has kept
prices propped up a little. Buyers of
old newspapers, for example, have had
to bid up the pricing to get the few
tonnes that are available. The econom-
ic slowdown is also significantly lower-
ing demand for virgin pulp, which is
important because there is some rela-
tionship between pulp and recovered
fibre demand, especially for 'swing'
mills that can lower the proportion of
recovered fibre for feedstock in favour
for virgin pulp. Pulp pricing continues
to erode worldwide as inventories con-
tinue to swell. Some pulp grades have
dropped US$ 100 per tonne in just a
few weeks. Activity on the west coast is
not quite as bleak as there are still
export orders.
Ocean rates have come down again as
the container lines look for business
but, as imports continue to fall, there
will be fewer ships heading to export
markets and this could easily result in
some higher pricing for containers. It
seems the prediction of a pending
recession is gaining more steam.
PACKAGING DECLINE
In Europe, the return to something like
normal after the pandemic has reduced
A U T H O R Robin Latchem
96-97_mapaper.indd 97 03-05-2023 17:08