Recycling International May/June issue 2023
Subscribe
Page 9 from: Recycling International May/June issue 2023
9recyclinginternational.com | May/June | 2023 INTERVIEW the same cooperation or connection. So we were able to help by ensuring that governments considered recy- cling to be an essential industry. In India, we even wrote to the pre...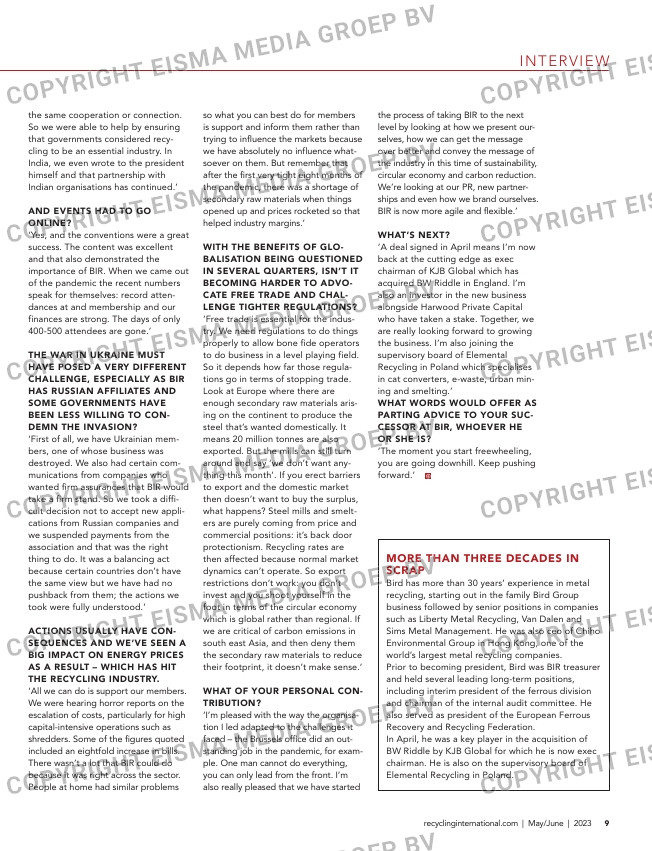 9recyclinginternational.com | May/June | 2023
INTERVIEW
the same cooperation or connection.
So we were able to help by ensuring
that governments considered recy-
cling to be an essential industry. In
India, we even wrote to the president
himself and that partnership with
Indian organisations has continued.'
AND EVENTS HAD TO GO
ONLINE?
'Yes, and the conventions were a great
success. The content was excellent
and that also demonstrated the
importance of BIR. When we came out
of the pandemic the recent numbers
speak for themselves: record atten-
dances at and membership and our
finances are strong. The days of only
400-500 attendees are gone.'
THE WAR IN UKRAINE MUST
HAVE POSED A VERY DIFFERENT
CHALLENGE, ESPECIALLY AS BIR
HAS RUSSIAN AFFILIATES AND
SOME GOVERNMENTS HAVE
BEEN LESS WILLING TO CON-
DEMN THE INVASION?
'First of all, we have Ukrainian mem-
bers, one of whose business was
destroyed. We also had certain com-
munications from companies who
wanted firm assurances that BIR would
take a firm stand. So we took a diffi-
cult decision not to accept new appli-
cations from Russian companies and
we suspended payments from the
association and that was the right
thing to do. It was a balancing act
because certain countries don't have
the same view but we have had no
pushback from them; the actions we
took were fully understood.'
ACTIONS USUALLY HAVE CON-
SEQUENCES AND WE'VE SEEN A
BIG IMPACT ON ENERGY PRICES
AS A RESULT – WHICH HAS HIT
THE RECYCLING INDUSTRY.
'All we can do is support our members.
We were hearing horror reports on the
escalation of costs, particularly for high
capital-intensive operations such as
shredders. Some of the figures quoted
included an eightfold increase in bills.
There wasn't a lot that BIR could do
because it was right across the sector.
People at home had similar problems
so what you can best do for members
is support and inform them rather than
trying to influence the markets because
we have absolutely no influence what-
soever on them. But remember that
after the first very tight eight months of
the pandemic, there was a shortage of
secondary raw materials when things
opened up and prices rocketed so that
helped industry margins.'
WITH THE BENEFITS OF GLO-
BALISATION BEING QUESTIONED
IN SEVERAL QUARTERS, ISN'T IT
BECOMING HARDER TO ADVO-
CATE FREE TRADE AND CHAL-
LENGE TIGHTER REGULATIONS?
'Free trade is essential for the indus-
try. We need regulations to do things
properly to allow bone fide operators
to do business in a level playing field.
So it depends how far those regula-
tions go in terms of stopping trade.
Look at Europe where there are
enough secondary raw materials aris-
ing on the continent to produce the
steel that's wanted domestically. It
means 20 million tonnes are also
exported. But the mills can still turn
around and say 'we don't want any-
thing this month'. If you erect barriers
to export and the domestic market
then doesn't want to buy the surplus,
what happens? Steel mills and smelt-
ers are purely coming from price and
commercial positions: it's back door
protectionism. Recycling rates are
then affected because normal market
dynamics can't operate. So export
restrictions don't work: you don't
invest and you shoot yourself in the
foot in terms of the circular economy
which is global rather than regional. If
we are critical of carbon emissions in
south east Asia, and then deny them
the secondary raw materials to reduce
their footprint, it doesn't make sense.'
WHAT OF YOUR PERSONAL CON-
TRIBUTION?
'I'm pleased with the way the organisa-
tion I led adapted to the challenges it
faced – the Brussels office did an out-
standing job in the pandemic, for exam-
ple. One man cannot do everything,
you can only lead from the front. I'm
also really pleased that we have started
the process of taking BIR to the next
level by looking at how we present our-
selves, how we can get the message
over better and convey the message of
the industry in this time of sustainability,
circular economy and carbon reduction.
We're looking at our PR, new partner-
ships and even how we brand ourselves.
BIR is now more agile and flexible.'
WHAT'S NEXT?
'A deal signed in April means I'm now
back at the cutting edge as exec
chairman of KJB Global which has
acquired BW Riddle in England. I'm
also an investor in the new business
alongside Harwood Private Capital
who have taken a stake. Together, we
are really looking forward to growing
the business. I'm also joining the
supervisory board of Elemental
Recycling in Poland which specialises
in cat converters, e-waste, urban min-
ing and smelting.'
WHAT WORDS WOULD OFFER AS
PARTING ADVICE TO YOUR SUC-
CESSOR AT BIR, WHOEVER HE
OR SHE IS?
'The moment you start freewheeling,
you are going downhill. Keep pushing
forward.'
Fotobijschrift
KADERKOP
??
MORE THAN THREE DECADES IN
SCRAP
Bird has more than 30 years' experience in metal
recycling, starting out in the family Bird Group
business followed by senior positions in companies
such as Liberty Metal Recycling, Van Dalen and
Sims Metal Management. He was also ceo of Chiho
Environmental Group in Hong Kong, one of the
world's largest metal recycling companies.
Prior to becoming president, Bird was BIR treasurer
and held several leading long-term positions,
including interim president of the ferrous division
and chairman of the internal audit committee. He
also served as president of the European Ferrous
Recovery and Recycling Federation.
In April, he was a key player in the acquisition of
BW Riddle by KJB Global for which he is now exec
chairman. He is also on the supervisory board of
Elemental Recycling in Poland.
08-09_interviewtombird.indd 9 03-05-2023 16:51