Recycling International May/June issue 2023
Subscribe
Page 86 from: Recycling International May/June issue 2023
MARKET ANALYSIS Steel demand rising but sentiment muted Scrap boost is on the horizon as outlook for steel rebounds positively - but not to any great extent just yet. 86 over into 2023 and can satisfy consumption, according to IREP...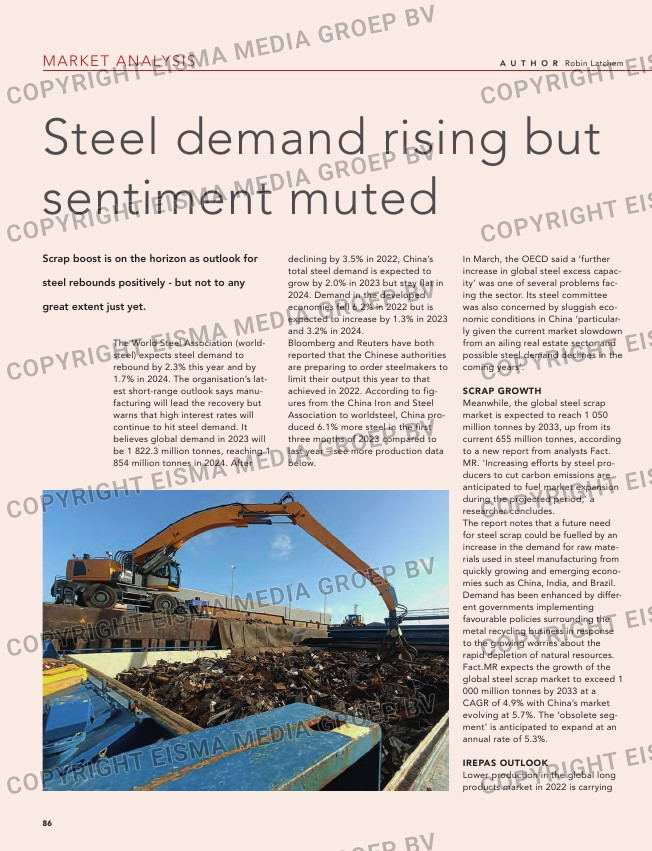 MARKET ANALYSIS
Steel demand rising but
sentiment muted
Scrap boost is on the horizon as outlook for
steel rebounds positively – but not to any
great extent just yet.
86
over into 2023 and can satisfy consumption, according to
IREPAS. 'This has resulted in an aversion to imported steel
due to the lack of certainty, leading to a decline in the scope
of international business,' says the producers' association in
its latest short-term outlook. It concludes that the second
quarter could experience a market correction unless con-
sumption of steel increases as new supply sources come
online. Global political tensions and higher interest rates con-
tinue to dampen investment. IREPAS also notes the market is
becoming regional 'with European domestic mills fighting for
every order'.
'The level of competition in the global market is strong, with
domestic steel businesses in most instances managing to
achieve good margins,' the outlook goes on. 'However, fewer
imports and exports mean that the tonnages moving face
stiff competition. Despite some positives in the global mar-
ket, such as energy prices and shipping costs coming down,
the current status of the market is fluctuating and unstable in
general.'
Although steel demand in the US has remained consistent,
IREPAS says the future looks even more dim. 'The new bank-
ing crisis for medium-size banks is governing the investment
outlook, as more steel customers have been doing their busi-
ness with these banks, which have started to squeeze credit
lines. High interest rates, which are continuing to increase,
are not helping the situation, leaving imports at the same dis-
advantage as before.'
US STAYS POSITIVE
Fastmarkets' latest trend indicator for scrap steel prices in
the US in April was in positive territory with a reading of 58.8
but down from the 65.2 recorded in March. The model sug-
gested prices could rise by an average of 6.3%.
'That expectation comes amid reports that steel mills were
unable to fully cover all their requirements in March, with
domestic steel scrap inventory levels depleted in the wake of
robust domestic and overseas demand in recent weeks,' it
said.
FM found that just over half of respondents to its survey
expected prices to rise in April. More than one third of
respondents said that stronger demand would be the main
driver while just under 20% anticipated unchanged market
conditions, and a similar amount expected demand to weak-
en compared with March.
Prime steel scrap prices were again due to outperform their
obsolete and shredded counterparts in April.
ANTI-DUMPING
The US is continuing anti-dumping orders on wire rod imports
from 10 countries including the UK, Ukraine and Russia. The
US Department of Commerce (DOC) has announced the final
result of sunset reviews of the anti-dumping duty orders on
carbon and certain alloy steel wire rod. It found that revoking
the orders on specific products from the 10 countries would
be likely to lead to continuation or recurrence of dumping.
The countries in which exporters are required to pay the tar-
iffs are Belarus, Italy, South Korea, Russia, South Africa,
A U T H O R Robin Latchem
In March, the OECD said a 'further
increase in global steel excess capac-
ity' was one of several problems fac-
ing the sector. Its steel committee
was also concerned by sluggish eco-
nomic conditions in China 'particular-
ly given the current market slowdown
from an ailing real estate sector and
possible steel demand declines in the
coming years'.
SCRAP GROWTH
Meanwhile, the global steel scrap
market is expected to reach 1 050
million tonnes by 2033, up from its
current 655 million tonnes, according
to a new report from analysts Fact.
MR. 'Increasing efforts by steel pro-
ducers to cut carbon emissions are
anticipated to fuel market expansion
during the projected period,' a
researcher concludes.
The report notes that a future need
for steel scrap could be fuelled by an
increase in the demand for raw mate-
rials used in steel manufacturing from
quickly growing and emerging econo-
mies such as China, India, and Brazil.
Demand has been enhanced by differ-
ent governments implementing
favourable policies surrounding the
metal recycling business in response
to the growing worries about the
rapid depletion of natural resources.
Fact.MR expects the growth of the
global steel scrap market to exceed 1
000 million tonnes by 2033 at a
CAGR of 4.9% with China's market
evolving at 5.7%. The 'obsolete seg-
ment' is anticipated to expand at an
annual rate of 5.3%.
IREPAS OUTLOOK
Lower production in the global long
products market in 2022 is carrying
The World Steel Association (world-
steel) expects steel demand to
rebound by 2.3% this year and by
1.7% in 2024. The organisation's lat-
est short-range outlook says manu-
facturing will lead the recovery but
warns that high interest rates will
continue to hit steel demand. It
believes global demand in 2023 will
be 1 822.3 million tonnes, reaching 1
854 million tonnes in 2024. After
declining by 3.5% in 2022, China's
total steel demand is expected to
grow by 2.0% in 2023 but stay flat in
2024. Demand in the developed
economies fell 6.2% in 2022 but is
expected to increase by 1.3% in 2023
and 3.2% in 2024.
Bloomberg and Reuters have both
reported that the Chinese authorities
are preparing to order steelmakers to
limit their output this year to that
achieved in 2022. According to fig-
ures from the China Iron and Steel
Association to worldsteel, China pro-
duced 6.1% more steel in the first
three months of 2023 compared to
last year – see more production data
below.
86-87-88-89_maferrous.indd 86 03-05-2023 17:07