Recycling International May/June issue 2023
Subscribe
Page 79 from: Recycling International May/June issue 2023
79recyclinginternational.com | May/June | 2023 TRADE SHOW nice to have a challenge. The autocat recycling segment is always moving both in terms of precious metals com- position and their demand. Lately, rhodium content has been go...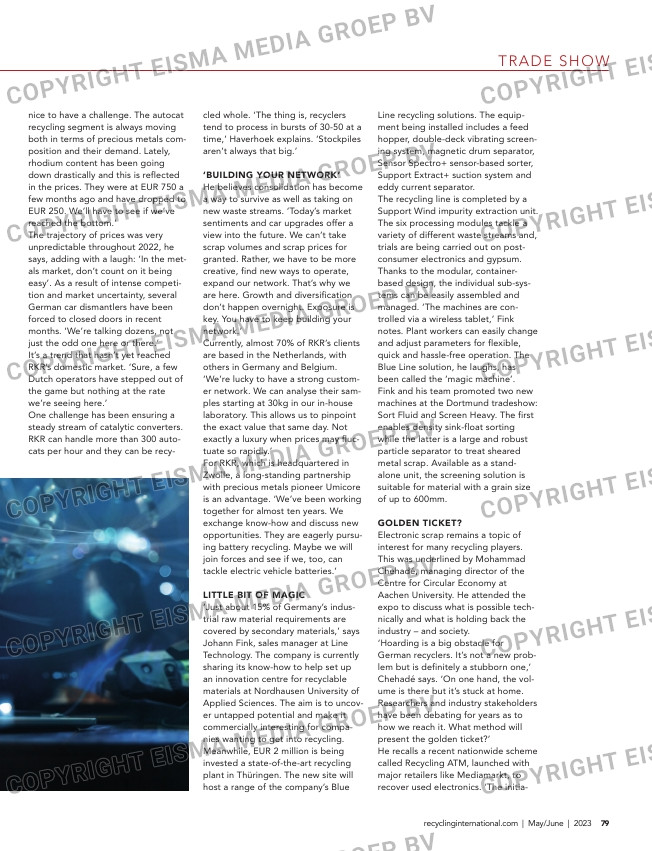 79recyclinginternational.com | May/June | 2023
TRADE SHOW
nice to have a challenge. The autocat
recycling segment is always moving
both in terms of precious metals com-
position and their demand. Lately,
rhodium content has been going
down drastically and this is reflected
in the prices. They were at EUR 750 a
few months ago and have dropped to
EUR 250. We'll have to see if we've
reached the bottom.'
The trajectory of prices was very
unpredictable throughout 2022, he
says, adding with a laugh: 'In the met-
als market, don't count on it being
easy'. As a result of intense competi-
tion and market uncertainty, several
German car dismantlers have been
forced to closed doors in recent
months. 'We're talking dozens, not
just the odd one here or there.'
It's a trend that hasn't yet reached
RKR's domestic market. 'Sure, a few
Dutch operators have stepped out of
the game but nothing at the rate
we're seeing here.'
One challenge has been ensuring a
steady stream of catalytic converters.
RKR can handle more than 300 auto-
cats per hour and they can be recy-
cled whole. 'The thing is, recyclers
tend to process in bursts of 30-50 at a
time,' Haverhoek explains. 'Stockpiles
aren't always that big.'
'BUILDING YOUR NETWORK'
He believes consolidation has become
a way to survive as well as taking on
new waste streams. 'Today's market
sentiments and car upgrades offer a
view into the future. We can't take
scrap volumes and scrap prices for
granted. Rather, we have to be more
creative, find new ways to operate,
expand our network. That's why we
are here. Growth and diversification
don't happen overnight. Exposure is
key. You have to keep building your
network.'
Currently, almost 70% of RKR's clients
are based in the Netherlands, with
others in Germany and Belgium.
'We're lucky to have a strong custom-
er network. We can analyse their sam-
ples starting at 30kg in our in-house
laboratory. This allows us to pinpoint
the exact value that same day. Not
exactly a luxury when prices may fluc-
tuate so rapidly.'
For RKR, which is headquartered in
Zwolle, a long-standing partnership
with precious metals pioneer Umicore
is an advantage. 'We've been working
together for almost ten years. We
exchange know-how and discuss new
opportunities. They are eagerly pursu-
ing battery recycling. Maybe we will
join forces and see if we, too, can
tackle electric vehicle batteries.'
LITTLE BIT OF MAGIC
'Just about 15% of Germany's indus-
trial raw material requirements are
covered by secondary materials,' says
Johann Fink, sales manager at Line
Technology. The company is currently
sharing its know-how to help set up
an innovation centre for recyclable
materials at Nordhausen University of
Applied Sciences. The aim is to uncov-
er untapped potential and make it
commercially interesting for compa-
nies wanting to get into recycling.
Meanwhile, EUR 2 million is being
invested a state-of-the-art recycling
plant in Thüringen. The new site will
host a range of the company's Blue
Line recycling solutions. The equip-
ment being installed includes a feed
hopper, double-deck vibrating screen-
ing system, magnetic drum separator,
Sensor Spectro+ sensor-based sorter,
Support Extract+ suction system and
eddy current separator.
The recycling line is completed by a
Support Wind impurity extraction unit.
The six processing modules tackle a
variety of different waste streams and,
trials are being carried out on post-
consumer electronics and gypsum.
Thanks to the modular, container-
based design, the individual sub-sys-
tems can be easily assembled and
managed. 'The machines are con-
trolled via a wireless tablet,' Fink
notes. Plant workers can easily change
and adjust parameters for flexible,
quick and hassle-free operation. The
Blue Line solution, he laughs, has
been called the 'magic machine'.
Fink and his team promoted two new
machines at the Dortmund tradeshow:
Sort Fluid and Screen Heavy. The first
enables density sink-float sorting
while the latter is a large and robust
particle separator to treat sheared
metal scrap. Available as a stand-
alone unit, the screening solution is
suitable for material with a grain size
of up to 600mm.
GOLDEN TICKET?
Electronic scrap remains a topic of
interest for many recycling players.
This was underlined by Mohammad
Chehadé, managing director of the
Centre for Circular Economy at
Aachen University. He attended the
expo to discuss what is possible tech-
nically and what is holding back the
industry – and society.
'Hoarding is a big obstacle for
German recyclers. It's not a new prob-
lem but is definitely a stubborn one,'
Chehadé says. 'On one hand, the vol-
ume is there but it's stuck at home.
Researchers and industry stakeholders
have been debating for years as to
how we reach it. What method will
present the golden ticket?'
He recalls a recent nationwide scheme
called Recycling ATM, launched with
major retailers like Mediamarkt, to
recover used electronics. 'The initia-
Fotobijschrift
KADERKOP
??
78-79-80_recyclingtechnikhighlights.indd 79 03-05-2023 17:06