Recycling International May/June issue 2023
Subscribe
Page 67 from: Recycling International May/June issue 2023
GUEST COLUMN 67recyclinginternational.com | May/June | 2023 Fotobijschrift KADERKOP ?? Energy recovery: friend or foe for recycling? Discussions about waste-to- energy (WtE) incineration can often become heated and emo- tional....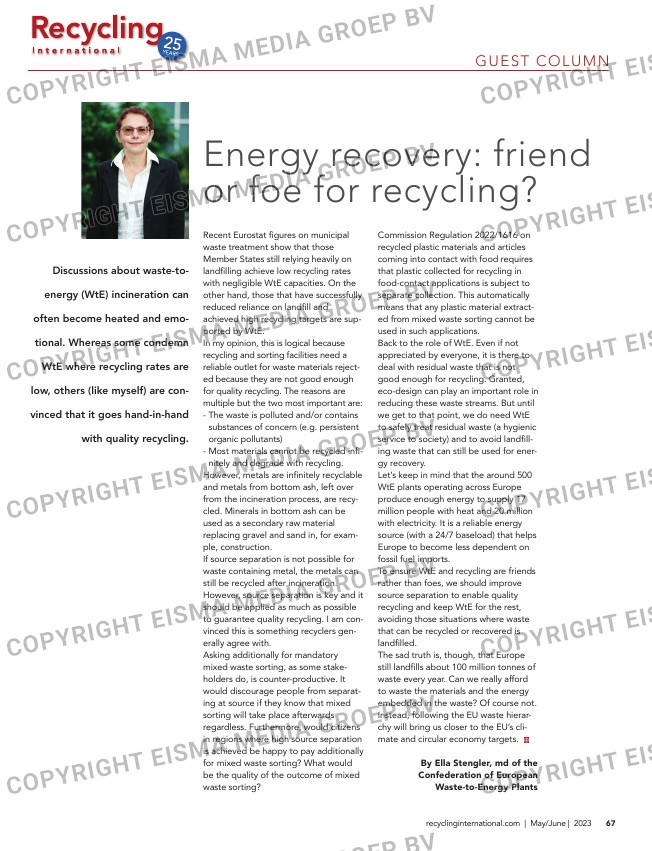 GUEST COLUMN
67recyclinginternational.com | May/June | 2023
Fotobijschrift
KADERKOP
??
Energy recovery: friend
or foe for recycling?
Discussions about waste-to-
energy (WtE) incineration can
often become heated and emo-
tional. Whereas some condemn
WtE where recycling rates are
low, others (like myself) are con-
vinced that it goes hand-in-hand
with quality recycling.
Recent Eurostat figures on municipal
waste treatment show that those
Member States still relying heavily on
landfilling achieve low recycling rates
with negligible WtE capacities. On the
other hand, those that have successfully
reduced reliance on landfill and
achieved high recycling targets are sup-
ported by WtE.
In my opinion, this is logical because
recycling and sorting facilities need a
reliable outlet for waste materials reject-
ed because they are not good enough
for quality recycling. The reasons are
multiple but the two most important are:
– The waste is polluted and/or contains
substances of concern (e.g. persistent
organic pollutants)
– Most materials cannot be recycled infi-
nitely and degrade with recycling.
However, metals are infinitely recyclable
and metals from bottom ash, left over
from the incineration process, are recy-
cled. Minerals in bottom ash can be
used as a secondary raw material
replacing gravel and sand in, for exam-
ple, construction.
If source separation is not possible for
waste containing metal, the metals can
still be recycled after incineration.
However, source separation is key and it
should be applied as much as possible
to guarantee quality recycling. I am con-
vinced this is something recyclers gen-
erally agree with.
Asking additionally for mandatory
mixed waste sorting, as some stake-
holders do, is counter-productive. It
would discourage people from separat-
ing at source if they know that mixed
sorting will take place afterwards
regardless. Furthermore, would citizens
in regions where high source separation
is achieved be happy to pay additionally
for mixed waste sorting? What would
be the quality of the outcome of mixed
waste sorting?
Commission Regulation 2022/1616 on
recycled plastic materials and articles
coming into contact with food requires
that plastic collected for recycling in
food-contact applications is subject to
separate collection. This automatically
means that any plastic material extract-
ed from mixed waste sorting cannot be
used in such applications.
Back to the role of WtE. Even if not
appreciated by everyone, it is there to
deal with residual waste that is not
good enough for recycling. Granted,
eco-design can play an important role in
reducing these waste streams. But until
we get to that point, we do need WtE
to safely treat residual waste (a hygienic
service to society) and to avoid landfill-
ing waste that can still be used for ener-
gy recovery.
Let's keep in mind that the around 500
WtE plants operating across Europe
produce enough energy to supply 17
million people with heat and 20 million
with electricity. It is a reliable energy
source (with a 24/7 baseload) that helps
Europe to become less dependent on
fossil fuel imports.
To ensure WtE and recycling are friends
rather than foes, we should improve
source separation to enable quality
recycling and keep WtE for the rest,
avoiding those situations where waste
that can be recycled or recovered is
landfilled.
The sad truth is, though, that Europe
still landfills about 100 million tonnes of
waste every year. Can we really afford
to waste the materials and the energy
embedded in the waste? Of course not.
Instead, following the EU waste hierar-
chy will bring us closer to the EU's cli-
mate and circular economy targets.
By Ella Stengler, md of the
Confederation of European
Waste-to-Energy Plants
67_column_ellastengler.indd 67 04-05-2023 11:05