Recycling International May/June issue 2023
Subscribe
Page 59 from: Recycling International May/June issue 2023
COVER STORY 59recyclinginternational.com | May/June | 2023 HANDLING 185 MILLION TONNES OF STEEL * Lindemann recycling equipment is used at more than 1 800 customers from the broad metal recy- cling industries worldwide * 2 000 ...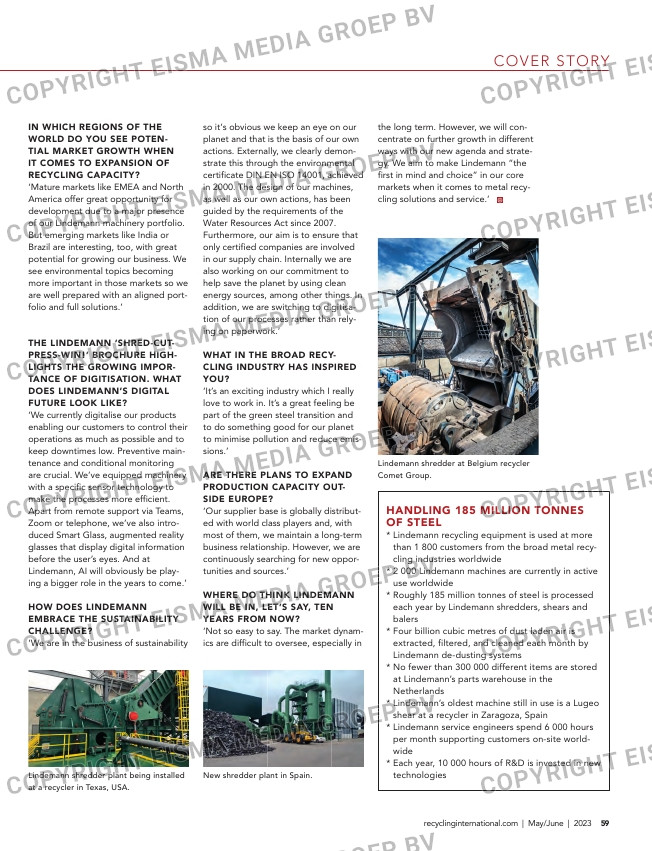 COVER STORY
59recyclinginternational.com | May/June | 2023
HANDLING 185 MILLION TONNES
OF STEEL
* Lindemann recycling equipment is used at more
than 1 800 customers from the broad metal recy-
cling industries worldwide
* 2 000 Lindemann machines are currently in active
use worldwide
* Roughly 185 million tonnes of steel is processed
each year by Lindemann shredders, shears and
balers
* Four billion cubic metres of dust laden air is
extracted, filtered, and cleaned each month by
Lindemann de-dusting systems
* No fewer than 300 000 different items are stored
at Lindemann's parts warehouse in the
Netherlands
* Lindemann's oldest machine still in use is a Lugeo
shear at a recycler in Zaragoza, Spain
* Lindemann service engineers spend 6 000 hours
per month supporting customers on-site world-
wide
* Each year, 10 000 hours of R&D is invested in new
technologies
box from a 360° perspective, always
searching for pioneering and forward-
driven solutions that give strong
advantages to our customers. Third,
we always try to be a good corporate
citizen for our employees as well as our
customers and business partners.
Together we have the power to drive
the green steel cycle – economically
and ecologically.'
AS A COMPANY AND A BRAND,
WHAT'S THE 'WIN' OF BEING
INDEPENDENT AGAIN?
'Our strong focus on service and after-
market requires a high degree of flexi-
bility, fast reaction, and decision mak-
ing. The prompt implementation of a
new organisational structure and
adjusting processes that reflect the
dynamic market conditions was key in
our repositioning, supported very
much by our new owners from day
one.
WHAT ARE YOUR CUSTOMERS
SEEING OF THIS INDEPEN-
DENCE?
'They are happy about the comeback
after 20 years and our restored focus
on core values. We are more agile and
react much more quickly with high cus-
tomer focus. We've received a massive
positive response from a wide range of
our customer base. Significant
improvements in customer care, ser-
vice and aftersales are already visible
and it is this customer satisfaction that
drives us every day.'
LINDEMANN CLAIMS 'A CLEAR
PIONEERING ROLE' IN THE MAR-
KET. PLEASE EXPLAIN.
'We've been a pioneer since our birth
in 1913. In this role we see ourselves as
a metal recycling solution provider in
the broad and huge metal circular
economy. It's crucial for us to be an
end-to-end cooperation partner for our
customers and to serve market require-
ments as best as possible. Our portfo-
lio covers traditional metal processing
and engineering as well as linked top-
ics such as air treatment, sorting and
separation, and energy efficient and
digital solutions.'
IN WHICH REGIONS OF THE
WORLD DO YOU SEE POTEN-
TIAL MARKET GROWTH WHEN
IT COMES TO EXPANSION OF
RECYCLING CAPACITY?
'Mature markets like EMEA and North
America offer great opportunity for
development due to a major presence
of our Lindemann machinery portfolio.
But emerging markets like India or
Brazil are interesting, too, with great
potential for growing our business. We
see environmental topics becoming
more important in those markets so we
are well prepared with an aligned port-
folio and full solutions.'
THE LINDEMANN 'SHRED-CUT-
PRESS-WIN!' BROCHURE HIGH-
LIGHTS THE GROWING IMPOR-
TANCE OF DIGITISATION. WHAT
DOES LINDEMANN'S DIGITAL
FUTURE LOOK LIKE?
'We currently digitalise our products
enabling our customers to control their
operations as much as possible and to
keep downtimes low. Preventive main-
tenance and conditional monitoring
are crucial. We've equipped machinery
with a specific sensor technology to
make the processes more efficient.
Apart from remote support via Teams,
Zoom or telephone, we've also intro-
duced Smart Glass, augmented reality
glasses that display digital information
before the user's eyes. And at
Lindemann, AI will obviously be play-
ing a bigger role in the years to come.'
HOW DOES LINDEMANN
EMBRACE THE SUSTAINABILITY
CHALLENGE?
'We are in the business of sustainability
so it's obvious we keep an eye on our
planet and that is the basis of our own
actions. Externally, we clearly demon-
strate this through the environmental
certificate DIN EN ISO 14001, achieved
in 2000. The design of our machines,
as well as our own actions, has been
guided by the requirements of the
Water Resources Act since 2007.
Furthermore, our aim is to ensure that
only certified companies are involved
in our supply chain. Internally we are
also working on our commitment to
help save the planet by using clean
energy sources, among other things. In
addition, we are switching to digitisa-
tion of our processes rather than rely-
ing on paperwork.'
WHAT IN THE BROAD RECY-
CLING INDUSTRY HAS INSPIRED
YOU?
'It's an exciting industry which I really
love to work in. It's a great feeling be
part of the green steel transition and
to do something good for our planet
to minimise pollution and reduce emis-
sions.'
ARE THERE PLANS TO EXPAND
PRODUCTION CAPACITY OUT-
SIDE EUROPE?
'Our supplier base is globally distribut-
ed with world class players and, with
most of them, we maintain a long-term
business relationship. However, we are
continuously searching for new oppor-
tunities and sources.'
WHERE DO THINK LINDEMANN
WILL BE IN, LET'S SAY, TEN
YEARS FROM NOW?
'Not so easy to say. The market dynam-
ics are difficult to oversee, especially in
the long term. However, we will con-
centrate on further growth in different
ways with our new agenda and strate-
gy. We aim to make Lindemann "the
first in mind and choice" in our core
markets when it comes to metal recy-
cling solutions and service.'
Lindemann shredder plant being installed
at a recycler in Texas, USA.
Lindemann shredder at Belgium recycler
Comet Group.
New shredder plant in Spain.
56-57-58-59_coverstorylindemann.indd 59 03-05-2023 17:01