Recycling International May/June issue 2023
Subscribe
Page 41 from: Recycling International May/June issue 2023
TECHNOLOLGY 41recyclinginternational.com | May/June | 2023 REVOLUTION IN LATIN AMERICA The waste management sector in Latin America has been growing and devel- oping steadily over the last few years, according to Jhoanna Rosales, fo...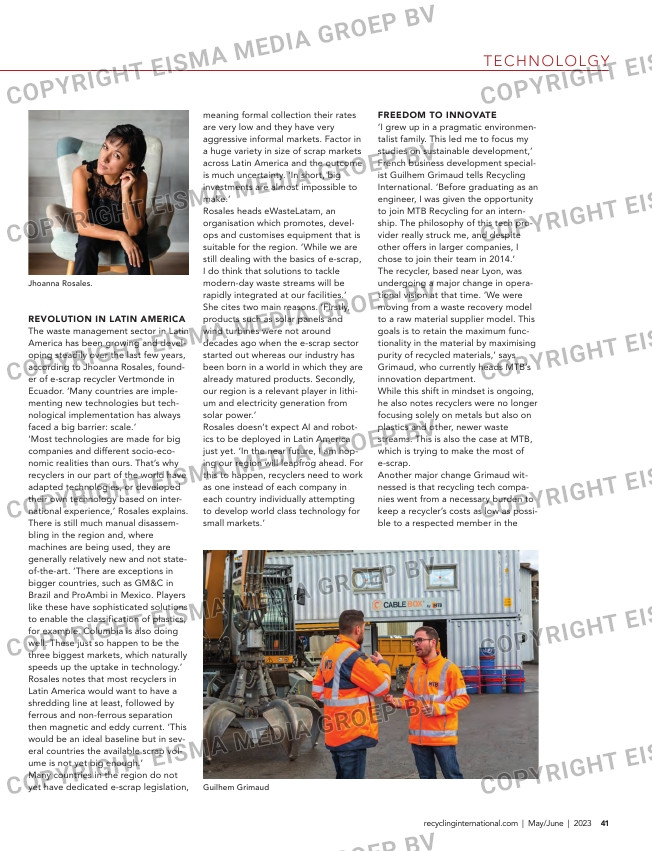 TECHNOLOLGY
41recyclinginternational.com | May/June | 2023
REVOLUTION IN LATIN AMERICA
The waste management sector in Latin
America has been growing and devel-
oping steadily over the last few years,
according to Jhoanna Rosales, found-
er of e-scrap recycler Vertmonde in
Ecuador. 'Many countries are imple-
menting new technologies but tech-
nological implementation has always
faced a big barrier: scale.'
'Most technologies are made for big
companies and different socio-eco-
nomic realities than ours. That's why
recyclers in our part of the world have
adapted technologies, or developed
their own technology based on inter-
national experience,' Rosales explains.
There is still much manual disassem-
bling in the region and, where
machines are being used, they are
generally relatively new and not state-
of-the-art. 'There are exceptions in
bigger countries, such as GM&C in
Brazil and ProAmbi in Mexico. Players
like these have sophisticated solutions
to enable the classification of plastics,
for example. Columbia is also doing
well. These just so happen to be the
three biggest markets, which naturally
speeds up the uptake in technology.'
Rosales notes that most recyclers in
Latin America would want to have a
shredding line at least, followed by
ferrous and non-ferrous separation
then magnetic and eddy current. 'This
would be an ideal baseline but in sev-
eral countries the available scrap vol-
ume is not yet big enough.'
Many countries in the region do not
yet have dedicated e-scrap legislation,
meaning formal collection their rates
are very low and they have very
aggressive informal markets. Factor in
a huge variety in size of scrap markets
across Latin America and the outcome
is much uncertainty. 'In short, big
investments are almost impossible to
make.'
Rosales heads eWasteLatam, an
organisation which promotes, devel-
ops and customises equipment that is
suitable for the region. 'While we are
still dealing with the basics of e-scrap,
I do think that solutions to tackle
modern-day waste streams will be
rapidly integrated at our facilities.'
She cites two main reasons. 'Firstly,
products such as solar panels and
wind turbines were not around
decades ago when the e-scrap sector
started out whereas our industry has
been born in a world in which they are
already matured products. Secondly,
our region is a relevant player in lithi-
um and electricity generation from
solar power.'
Rosales doesn't expect AI and robot-
ics to be deployed in Latin America
just yet. 'In the near future, I am hop-
ing our region will leapfrog ahead. For
this to happen, recyclers need to work
as one instead of each company in
each country individually attempting
to develop world class technology for
small markets.'
FREEDOM TO INNOVATE
'I grew up in a pragmatic environmen-
talist family. This led me to focus my
studies on sustainable development,'
French business development special-
ist Guilhem Grimaud tells Recycling
International. 'Before graduating as an
engineer, I was given the opportunity
to join MTB Recycling for an intern-
ship. The philosophy of this tech pro-
vider really struck me, and despite
other offers in larger companies, I
chose to join their team in 2014.'
The recycler, based near Lyon, was
undergoing a major change in opera-
tional vision at that time. 'We were
moving from a waste recovery model
to a raw material supplier model. This
goals is to retain the maximum func-
tionality in the material by maximising
purity of recycled materials,' says
Grimaud, who currently heads MTB's
innovation department.
While this shift in mindset is ongoing,
he also notes recyclers were no longer
focusing solely on metals but also on
plastics and other, newer waste
streams. This is also the case at MTB,
which is trying to make the most of
e-scrap.
Another major change Grimaud wit-
nessed is that recycling tech compa-
nies went from a necessary burden to
keep a recycler's costs as low as possi-
ble to a respected member in the
Fotobijschrift
KADERKOP
??
Jhoanna Rosales.
Guilhem Grimaud
40-41-42-43-44_smartheads_futuretech-2.indd 41 03-05-2023 16:57