Recycling International May/June issue 2023
Subscribe
Page 29 from: Recycling International May/June issue 2023
LOOKING BACK 29recyclinginternational.com | May/June | 2023 #2: WASTE DIRECTIVES Another early editorial feature con- cerned the debate between waste ver- sus end-of-waste. Our third issue from 1998 has an in-depth article on the co...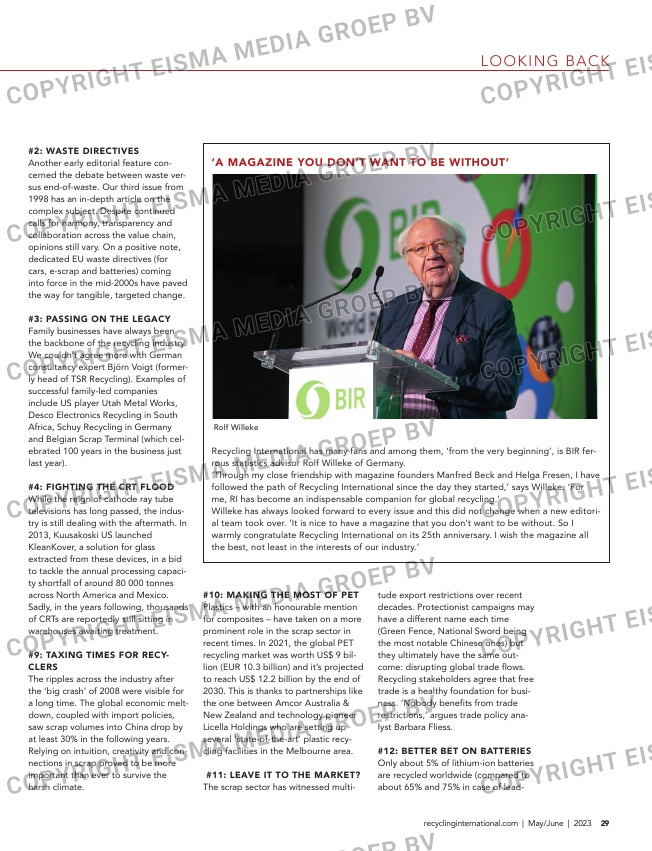 LOOKING BACK
29recyclinginternational.com | May/June | 2023
#2: WASTE DIRECTIVES
Another early editorial feature con-
cerned the debate between waste ver-
sus end-of-waste. Our third issue from
1998 has an in-depth article on the
complex subject. Despite continued
calls for harmony, transparency and
collaboration across the value chain,
opinions still vary. On a positive note,
dedicated EU waste directives (for
cars, e-scrap and batteries) coming
into force in the mid-2000s have paved
the way for tangible, targeted change.
#3: PASSING ON THE LEGACY
Family businesses have always been
the backbone of the recycling industry.
We couldn't agree more with German
consultancy expert Björn Voigt (former-
ly head of TSR Recycling). Examples of
successful family-led companies
include US player Utah Metal Works,
Desco Electronics Recycling in South
Africa, Schuy Recycling in Germany
and Belgian Scrap Terminal (which cel-
ebrated 100 years in the business just
last year).
#4: FIGHTING THE CRT FLOOD
While the reign of cathode ray tube
televisions has long passed, the indus-
try is still dealing with the aftermath. In
2013, Kuusakoski US launched
KleanKover, a solution for glass
extracted from these devices, in a bid
to tackle the annual processing capaci-
ty shortfall of around 80 000 tonnes
across North America and Mexico.
Sadly, in the years following, thousands
of CRTs are reportedly still sitting in
warehouses awaiting treatment.
#9: TAXING TIMES FOR RECY-
CLERS
The ripples across the industry after
the 'big crash' of 2008 were visible for
a long time. The global economic melt-
down, coupled with import policies,
saw scrap volumes into China drop by
at least 30% in the following years.
Relying on intuition, creativity and con-
nections in scrap proved to be more
important than ever to survive the
harsh climate.
Fotobijschrift
'RECYCLING IS SO UNDERVALUED'
Looking back to the early days of Recycling
International, there is no escaping Peter Mathews.
This UK scrap metal trader had already been a
friend of Manfred Beck for some years when Beck
told him he was thinking of launching a new recy-
cling publication. 'At the time, recycling magazines
were changing some of their focus and a glossy
new approach to our industry was sorely needed.
So I said: "What a great idea, I'll support you as
and when needed."'
Eventually, the first edition was published and
Mathews received his copy. 'Wow! So much hard
work had been put in by Manfred, Helga and their
advertising guru, Jan-Willem. Impressive stuff
which is continuing under the leadership of Martijn
today, although we continue to read "young"
Manfred's thoughts on a regular basis.'
Mathews has seen great changes in our industry
during the past 25 years. 'From EU legislation to
the European definition of waste and the Chinese
licensing system, to name but a few. All reported
and informed through Recycling International.'
Now retired ('well, semi'), Mathews still finds him-
self involved in this 'impressive and very interest-
ing' industry. 'Recycling is so undervalued.
'A MAGAZINE YOU DON'T WANT TO BE WITHOUT'
Recycling International has many fans and among them, 'from the very beginning', is BIR fer-
rous statistics advisor Rolf Willeke of Germany.
'Through my close friendship with magazine founders Manfred Beck and Helga Fresen, I have
followed the path of Recycling International since the day they started,' says Willeke. 'For
me, RI has become an indispensable companion for global recycling.'
Willeke has always looked forward to every issue and this did not change when a new editori-
al team took over. 'It is nice to have a magazine that you don't want to be without. So I
warmly congratulate Recycling International on its 25th anniversary. I wish the magazine all
the best, not least in the interests of our industry.'
Rolf Willeke
#10: MAKING THE MOST OF PET
Plastics – with an honourable mention
for composites – have taken on a more
prominent role in the scrap sector in
recent times. In 2021, the global PET
recycling market was worth US$ 9 bil-
lion (EUR 10.3 billion) and it's projected
to reach US$ 12.2 billion by the end of
2030. This is thanks to partnerships like
the one between Amcor Australia &
New Zealand and technology pioneer
Licella Holdings who are setting up
several 'state-of-the-art' plastic recy-
cling facilities in the Melbourne area.
#11: LEAVE IT TO THE MARKET?
The scrap sector has witnessed multi-
tude export restrictions over recent
decades. Protectionist campaigns may
have a different name each time
(Green Fence, National Sword being
the most notable Chinese ones) but
they ultimately have the same out-
come: disrupting global trade flows.
Recycling stakeholders agree that free
trade is a healthy foundation for busi-
ness. 'Nobody benefits from trade
restrictions,' argues trade policy ana-
lyst Barbara Fliess.
#12: BETTER BET ON BATTERIES
Only about 5% of lithium-ion batteries
are recycled worldwide (compared to
about 65% and 75% in case of lead-
28-29-30-32-33-35_ri25years-lookingback.indd 29 04-05-2023 08:28