Recycling International May/June issue 2023
Subscribe
Page 24 from: Recycling International May/June issue 2023
BUSINESS Greek e-scrap challenges The management, collection, and treatment of WEEE in Greece shows some very interesting challenges. Some 65 000 tonnes of e-waste was officially collected in 2019 and this brings a first chal...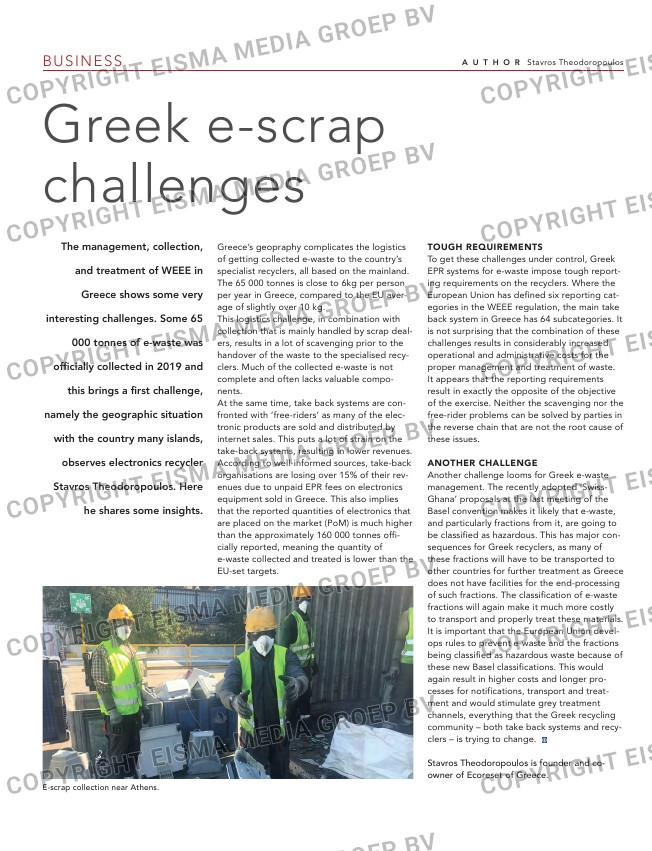 BUSINESS
Greek e-scrap
challenges
The management, collection,
and treatment of WEEE in
Greece shows some very
interesting challenges. Some 65
000 tonnes of e-waste was
officially collected in 2019 and
this brings a first challenge,
namely the geographic situation
with the country many islands,
observes electronics recycler
Stavros Theodoropoulos. Here
he shares some insights.
Greece's geopraphy complicates the logistics
of getting collected e-waste to the country's
specialist recyclers, all based on the mainland.
The 65 000 tonnes is close to 6kg per person
per year in Greece, compared to the EU aver-
age of slightly over 10 kg.
This logistics challenge, in combination with
collection that is mainly handled by scrap deal-
ers, results in a lot of scavenging prior to the
handover of the waste to the specialised recy-
clers. Much of the collected e-waste is not
complete and often lacks valuable compo-
nents.
At the same time, take back systems are con-
fronted with 'free-riders' as many of the elec-
tronic products are sold and distributed by
internet sales. This puts a lot of strain on the
take-back systems, resulting in lower revenues.
According to well-informed sources, take-back
organisations are losing over 15% of their rev-
enues due to unpaid EPR fees on electronics
equipment sold in Greece. This also implies
that the reported quantities of electronics that
are placed on the market (PoM) is much higher
than the approximately 160 000 tonnes offi-
cially reported, meaning the quantity of
e-waste collected and treated is lower than the
EU-set targets.
TOUGH REQUIREMENTS
To get these challenges under control, Greek
EPR systems for e-waste impose tough report-
ing requirements on the recyclers. Where the
European Union has defined six reporting cat-
egories in the WEEE regulation, the main take
back system in Greece has 64 subcategories. It
is not surprising that the combination of these
challenges results in considerably increased
operational and administrative costs for the
proper management and treatment of waste.
It appears that the reporting requirements
result in exactly the opposite of the objective
of the exercise. Neither the scavenging nor the
free-rider problems can be solved by parties in
the reverse chain that are not the root cause of
these issues.
ANOTHER CHALLENGE
Another challenge looms for Greek e-waste
management. The recently adopted 'Swiss-
Ghana' proposals at the last meeting of the
Basel convention makes it likely that e-waste,
and particularly fractions from it, are going to
be classified as hazardous. This has major con-
sequences for Greek recyclers, as many of
these fractions will have to be transported to
other countries for further treatment as Greece
does not have facilities for the end-processing
of such fractions. The classification of e-waste
fractions will again make it much more costly
to transport and properly treat these materials.
It is important that the European Union devel-
ops rules to prevent e-waste and the fractions
being classified as hazardous waste because of
these new Basel classifications. This would
again result in higher costs and longer pro-
cesses for notifications, transport and treat-
ment and would stimulate grey treatment
channels, everything that the Greek recycling
community – both take back systems and recy-
clers – is trying to change.
Stavros Theodoropoulos is founder and co-
owner of Ecoreset of Greece.
E-scrap collection near Athens.
A U T H O R Stavros Theodoropoulos
24_e-scrapgreece.indd 24 04-05-2023 09:50