Recycling International May/June issue 2023
Subscribe
Page 17 from: Recycling International May/June issue 2023
ISRI2023 CONVENTION & EXPO recyclinginternational.com | May/June | 2023 Broadway to be the big attraction, rather than the latest trends in recy- cling. But when ISRI comes to town, things are a little different. Or, as ISRI cha...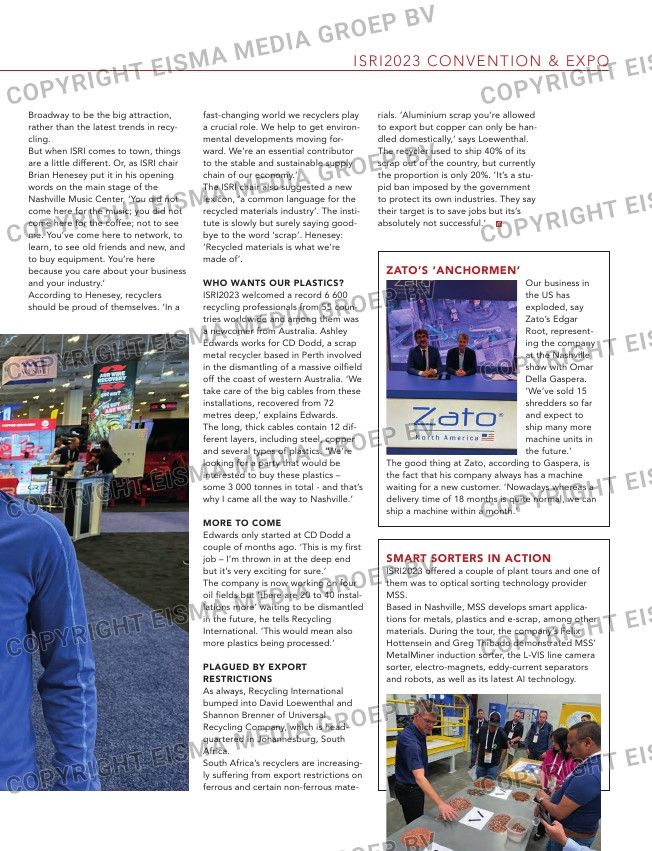 ISRI2023 CONVENTION & EXPO
recyclinginternational.com | May/June | 2023
Broadway to be the big attraction,
rather than the latest trends in recy-
cling.
But when ISRI comes to town, things
are a little different. Or, as ISRI chair
Brian Henesey put it in his opening
words on the main stage of the
Nashville Music Center, 'You did not
come here for the music; you did not
come here for the coffee; not to see
me. You've come here to network, to
learn, to see old friends and new, and
to buy equipment. You're here
because you care about your business
and your industry.'
According to Henesey, recyclers
should be proud of themselves. 'In a
fast-changing world we recyclers play
a crucial role. We help to get environ-
mental developments moving for-
ward. We're an essential contributor
to the stable and sustainable supply
chain of our economy.'
The ISRI chair also suggested a new
lexicon, 'a common language for the
recycled materials industry'. The insti-
tute is slowly but surely saying good-
bye to the word 'scrap'. Henesey:
'Recycled materials is what we're
made of'.
WHO WANTS OUR PLASTICS?
ISRI2023 welcomed a record 6 600
recycling professionals from 55 coun-
tries worldwide and among them was
a newcomer from Australia. Ashley
Edwards works for CD Dodd, a scrap
metal recycler based in Perth involved
in the dismantling of a massive oilfield
off the coast of western Australia. 'We
take care of the big cables from these
installations, recovered from 72
metres deep,' explains Edwards.
The long, thick cables contain 12 dif-
ferent layers, including steel, copper
and several types of plastics. 'We're
looking for a party that would be
interested to buy these plastics –
some 3 000 tonnes in total – and that's
why I came all the way to Nashville.'
MORE TO COME
Edwards only started at CD Dodd a
couple of months ago. 'This is my first
job – I'm thrown in at the deep end
but it's very exciting for sure.'
The company is now working on four
oil fields but 'there are 20 to 40 instal-
lations more' waiting to be dismantled
in the future, he tells Recycling
International. 'This would mean also
more plastics being processed.'
PLAGUED BY EXPORT
RESTRICTIONS
As always, Recycling International
bumped into David Loewenthal and
Shannon Brenner of Universal
Recycling Company, which is head-
quartered in Johannesburg, South
Africa.
South Africa's recyclers are increasing-
ly suffering from export restrictions on
ferrous and certain non-ferrous mate-
rials. 'Aluminium scrap you're allowed
to export but copper can only be han-
dled domestically,' says Loewenthal.
The recycler used to ship 40% of its
scrap out of the country, but currently
the proportion is only 20%. 'It's a stu-
pid ban imposed by the government
to protect its own industries. They say
their target is to save jobs but its's
absolutely not successful.'
Fotobijschrift
KADERKOP
??
SMART SORTERS IN ACTION
ISRI2023 offered a couple of plant tours and one of
them was to optical sorting technology provider
MSS.
Based in Nashville, MSS develops smart applica-
tions for metals, plastics and e-scrap, among other
materials. During the tour, the company's Felix
Hottensein and Greg Thibado demonstrated MSS'
MetalMiner induction sorter, the L-VIS line camera
sorter, electro-magnets, eddy-current separators
and robots, as well as its latest AI technology.
ZATO'S 'ANCHORMEN'
Our business in
the US has
exploded, say
Zato's Edgar
Root, represent-
ing the company
at the Nashville
show with Omar
Della Gaspera.
'We've sold 15
shredders so far
and expect to
ship many more
machine units in
the future.'
The good thing at Zato, according to Gaspera, is
the fact that his company always has a machine
waiting for a new customer. 'Nowadays whereas a
delivery time of 18 months is quite normal, we can
ship a machine within a month.'
16-17-18-19-20-22-23_isri2023review.indd 17 04-05-2023 09:44