Recycling International May/June issue 2023
Subscribe
Page 14 from: Recycling International May/June issue 2023
14 SCIENTISTS CLAIM 100% SILVER RECOVERY FROM SOLAR CELLS Researchers at Chalmers University of Technology in Sweden have developed a process which opens the door to more effi- cient recovery of precious metals from thin-film solar cell...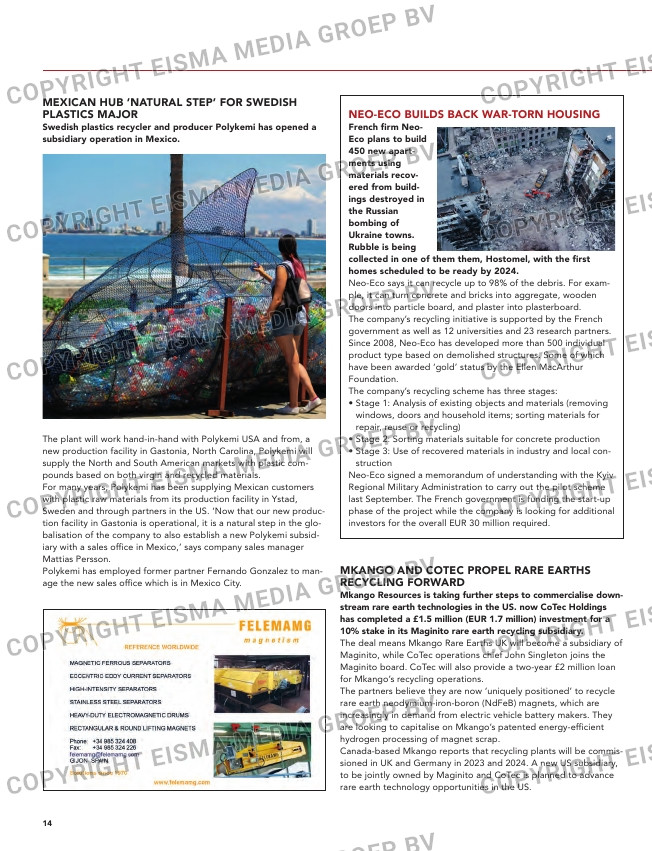 14
SCIENTISTS CLAIM 100% SILVER RECOVERY FROM
SOLAR CELLS
Researchers at Chalmers University of Technology in Sweden
have developed a process which opens the door to more effi-
cient recovery of precious metals from thin-film solar cells.
The method is also claimed to be more environmentally friendly
than previous methods of recycling and paves the way for 'more
flexible and highly efficient solar cells'.
There are two mainstream types of solar cells. The most common is
silicon-based and accounts for 90% of the market. The other is thin-
film solar cells which have three main sub-technologies, one of
which is known as CIGS (copper, indium gallium, selenide) and con-
sists of a layer of different metals, including indium and silver.
The problem is that the demand for indium and silver is high and
increased production is accompanied by a growing amount of
waste which contains a mixture of valuable metals and hazardous
substances. Being able to separate target metals from other sub-
stances becomes extremely valuable, both economically and envi-
ronmentally, as they can be reused in new products.
The process takes place at room temperature without adding heat
and the researchers have shown it is possible to recover 100% of
the silver and about 85% of the indium.
'It takes one day, which is slightly longer than traditional methods
but, with our method, it becomes more cost-effective and better for
the environment,' adds Burcak Ebin. 'Our hopes are that our
research can be used as a reference to optimise the recycling pro-
cess and pave the way for using the method on a larger scale in the
future.'
MKANGO AND COTEC PROPEL RARE EARTHS
RECYCLING FORWARD
Mkango Resources is taking further steps to commercialise down-
stream rare earth technologies in the US. now CoTec Holdings
has completed a £1.5 million (EUR 1.7 million) investment for a
10% stake in its Maginito rare earth recycling subsidiary.
The deal means Mkango Rare Earths UK will become a subsidiary of
Maginito, while CoTec operations chief John Singleton joins the
Maginito board. CoTec will also provide a two-year £2 million loan
for Mkango's recycling operations.
The partners believe they are now 'uniquely positioned' to recycle
rare earth neodymium-iron-boron (NdFeB) magnets, which are
increasingly in demand from electric vehicle battery makers. They
are looking to capitalise on Mkango's patented energy-efficient
hydrogen processing of magnet scrap.
Canada-based Mkango reports that recycling plants will be commis-
sioned in UK and Germany in 2023 and 2024. A new US subsidiary,
to be jointly owned by Maginito and CoTec is planned to advance
rare earth technology opportunities in the US.
MEXICAN HUB 'NATURAL STEP' FOR SWEDISH
PLASTICS MAJOR
Swedish plastics recycler and producer Polykemi has opened a
subsidiary operation in Mexico.
The plant will work hand-in-hand with Polykemi USA and from, a
new production facility in Gastonia, North Carolina, Polykemi will
supply the North and South American markets with plastic com-
pounds based on both virgin and recycled materials.
For many years, Polykemi has been supplying Mexican customers
with plastic raw materials from its production facility in Ystad,
Sweden and through partners in the US. 'Now that our new produc-
tion facility in Gastonia is operational, it is a natural step in the glo-
balisation of the company to also establish a new Polykemi subsid-
iary with a sales office in Mexico,' says company sales manager
Mattias Persson.
Polykemi has employed former partner Fernando Gonzalez to man-
age the new sales office which is in Mexico City.
NEO-ECO BUILDS BACK WAR-TORN HOUSING
French firm Neo-
Eco plans to build
450 new apart-
ments using
materials recov-
ered from build-
ings destroyed in
the Russian
bombing of
Ukraine towns.
Rubble is being
collected in one of them them, Hostomel, with the first
homes scheduled to be ready by 2024.
Neo-Eco says it can recycle up to 98% of the debris. For exam-
ple, it can turn concrete and bricks into aggregate, wooden
doors into particle board, and plaster into plasterboard.
The company's recycling initiative is supported by the French
government as well as 12 universities and 23 research partners.
Since 2008, Neo-Eco has developed more than 500 individual
product type based on demolished structures. Some of which
have been awarded 'gold' status by the Ellen MacArthur
Foundation.
The company's recycling scheme has three stages:
• Stage 1: Analysis of existing objects and materials (removing
windows, doors and household items; sorting materials for
repair, reuse or recycling)
• Stage 2: Sorting materials suitable for concrete production
• Stage 3: Use of recovered materials in industry and local con-
struction
Neo-Eco signed a memorandum of understanding with the Kyiv
Regional Military Administration to carry out the pilot scheme
last September. The French government is funding the start-up
phase of the project while the company is looking for additional
investors for the overall EUR 30 million required.
Herbold Meckesheim GmbH
Industriestrasse 33 I D-74909 Meckesheim I Tel: +49 6226 932-0 I [email protected] I www.herbold.com
Energy Effi cient ▪ Easy Maintenance ▪ Excellent Flakes
Modular system solutions for automated PET washing lines
10-11-12-13-14-15_trendsupdates.indd 14 04-05-2023 09:53