Recycling International May/June issue 2023
Subscribe
Page 12 from: Recycling International May/June issue 2023
12 RECYCLING WIND TURBINE PARTS 'WORTH £10BN TO THE UK' A grouping of Scottish recyclers, energy providers and aca- demics believes £10 billion (EUR 11.4 billion) could be gener- ated for the UK economy within a decade from the reus...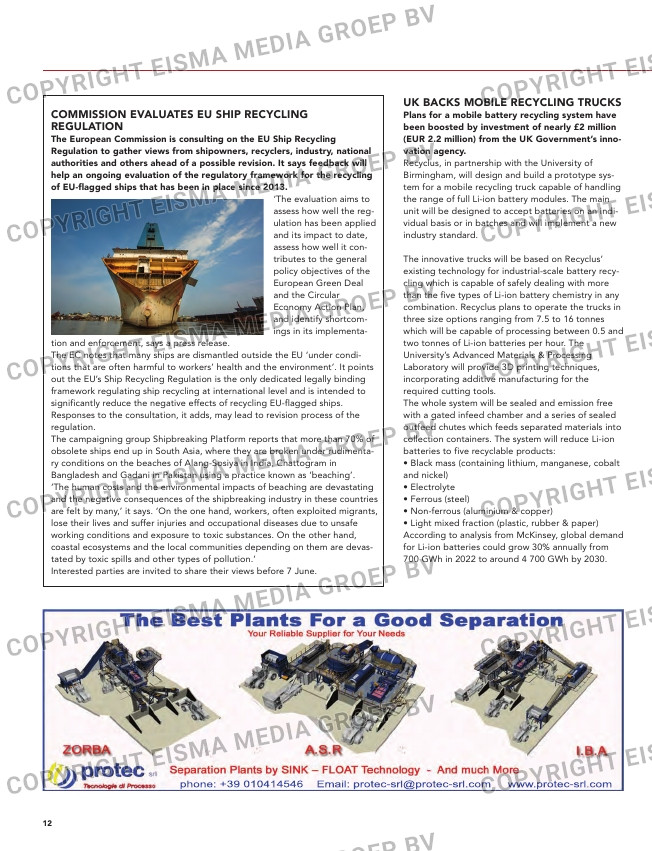 12
RECYCLING WIND TURBINE PARTS 'WORTH
£10BN TO THE UK'
A grouping of Scottish recyclers, energy providers and aca-
demics believes £10 billion (EUR 11.4 billion) could be gener-
ated for the UK economy within a decade from the reuse,
refurbishment and re-engineering of used wind turbine parts.
The newly
formed
Coalition for
Wind Industry
Circularity
(CWIC) says
building capaci-
ty to refurbish
wind turbine
parts in the UK
could also gen-
erate more than
20 000 UK jobs
by 2035 and
prevent more
than 800 000 tonnes of parts from being scrapped. Analysis com-
missioned by the coalition found around 120 000 wind turbines
are expected to be operational across the UK, Belgium,
Denmark, France, Germany, the Netherlands, Poland, Portugal,
Spain and Sweden by 2035.
CWIC comprises the University of Strathclyde, the National
Manufacturing Institute Scotland (NMIS), energy company SSE
Renewables, and Renewable Parts, a refurbishment specialist in
the wind energy industry.
According to its new analysis, a UK supply chain capable of refur-
bishing just ten out of the thousands of parts which make up a
single wind turbine could be worth almost £10bn to the economy
between 2025 and 2035. Building the capabilities in the UK to
service more wind turbine parts as well as more foreign markets
would increase this potential economic impact significantly. CWIC
also released the most the result of research into the barriers to
circularity in the wind industry. It found most organisations were
supportive of the circular economy but struggled with implemen-
tation, and the new initiative seeks to drive forward a solution.
At a launch event for the coalition, the main manufacturers of
wind turbines globally, Vestas, Siemens Gamesa, GE Renewables,
Nordex and Enercon, came together in Glasgow to participate in
a panel discussion chaired by chief executive of trade body
Scottish Renewables, Claire Mack.
Sir Jim McDonald, principal of the University of Strathclyde, says:
'Collectively, Strathclyde and NMIS will leverage the knowledge
and expertise gained from delivering several large-scale joint
government-industry-academia programmes across sectors to
maximise the pace and scale of impact from working with part-
ners to support the nationally important wind sector.'
James Barry, ceo of Renewables Parts adds: 'Our collective com-
mitment to net zero means parts reuse must become the norm,
not the exception. By rigorously applying circular economy phi-
losophy, we can develop the technology to routinely remanufac-
ture used parts and reduce carbon intensity.'
UK BACKS MOBILE RECYCLING TRUCKS
Plans for a mobile battery recycling system have
been boosted by investment of nearly £2 million
(EUR 2.2 million) from the UK Government's inno-
vation agency.
Recyclus, in partnership with the University of
Birmingham, will design and build a prototype sys-
tem for a mobile recycling truck capable of handling
the range of full Li-ion battery modules. The main
unit will be designed to accept batteries on an indi-
vidual basis or in batches and will implement a new
industry standard.
The innovative trucks will be based on Recyclus'
existing technology for industrial-scale battery recy-
cling which is capable of safely dealing with more
than the five types of Li-ion battery chemistry in any
combination. Recyclus plans to operate the trucks in
three size options ranging from 7.5 to 16 tonnes
which will be capable of processing between 0.5 and
two tonnes of Li-ion batteries per hour. The
University's Advanced Materials & Processing
Laboratory will provide 3D printing techniques,
incorporating additive manufacturing for the
required cutting tools.
The whole system will be sealed and emission free
with a gated infeed chamber and a series of sealed
outfeed chutes which feeds separated materials into
collection containers. The system will reduce Li-ion
batteries to five recyclable products:
• Black mass (containing lithium, manganese, cobalt
and nickel)
• Electrolyte
• Ferrous (steel)
• Non-ferrous (aluminium & copper)
• Light mixed fraction (plastic, rubber & paper)
According to analysis from McKinsey, global demand
for Li-ion batteries could grow 30% annually from
700 GWh in 2022 to around 4 700 GWh by 2030.
phone: +39 010414546 Email: [email protected] www.protec-srl.com
COMMISSION EVALUATES EU SHIP RECYCLING
REGULATION
The European Commission is consulting on the EU Ship Recycling
Regulation to gather views from shipowners, recyclers, industry, national
authorities and others ahead of a possible revision. It says feedback will
help an ongoing evaluation of the regulatory framework for the recycling
of EU-flagged ships that has been in place since 2013.
'The evaluation aims to
assess how well the reg-
ulation has been applied
and its impact to date,
assess how well it con-
tributes to the general
policy objectives of the
European Green Deal
and the Circular
Economy Action Plan,
and identify shortcom-
ings in its implementa-
tion and enforcement, says a press release.
The EC notes that many ships are dismantled outside the EU 'under condi-
tions that are often harmful to workers' health and the environment'. It points
out the EU's Ship Recycling Regulation is the only dedicated legally binding
framework regulating ship recycling at international level and is intended to
significantly reduce the negative effects of recycling EU-flagged ships.
Responses to the consultation, it adds, may lead to revision process of the
regulation.
The campaigning group Shipbreaking Platform reports that more than 70% of
obsolete ships end up in South Asia, where they are broken under rudimenta-
ry conditions on the beaches of Alang-Sosiya in India, Chattogram in
Bangladesh and Gadani in Pakistan using a practice known as 'beaching'.
'The human costs and the environmental impacts of beaching are devastating
and the negative consequences of the shipbreaking industry in these countries
are felt by many,' it says. 'On the one hand, workers, often exploited migrants,
lose their lives and suffer injuries and occupational diseases due to unsafe
working conditions and exposure to toxic substances. On the other hand,
coastal ecosystems and the local communities depending on them are devas-
tated by toxic spills and other types of pollution.'
Interested parties are invited to share their views before 7 June.
10-11-12-13-14-15_trendsupdates.indd 12 04-05-2023 09:53