Recycling International May/June issue 2023
Subscribe
Page 11 from: Recycling International May/June issue 2023
TRENDS & UPDATES 11recyclinginternational.com | May/June | 2023 Fotobijschrift new dimensions of wear protection we understand we produce we advise we are SWB billions in valuable materials are lost to wear each year we adv...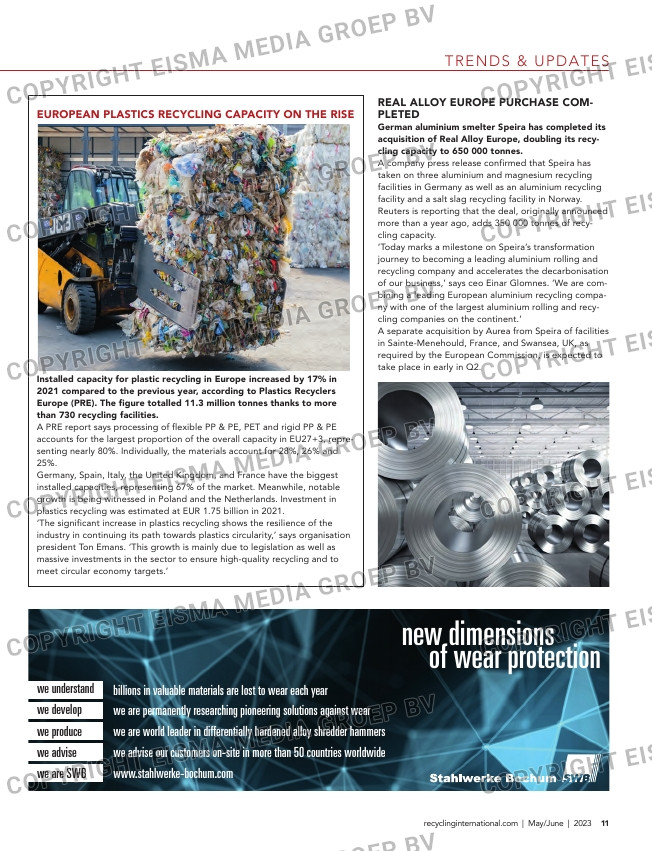 TRENDS & UPDATES
11recyclinginternational.com | May/June | 2023
Fotobijschrift
new dimensions
of wear protection
we understand
we produce
we advise
we are SWB
billions in valuable materials are lost to wear each year
we advise our customers on-site in more than 50 countries worldwide
we are world leader in differentially hardened alloy shredder hammers
we are permanently researching pioneering solutions against wear
www.stahlwerke-bochum.com
we develop
REAL ALLOY EUROPE PURCHASE COM-
PLETED
German aluminium smelter Speira has completed its
acquisition of Real Alloy Europe, doubling its recy-
cling capacity to 650 000 tonnes.
A company press release confirmed that Speira has
taken on three aluminium and magnesium recycling
facilities in Germany as well as an aluminium recycling
facility and a salt slag recycling facility in Norway.
Reuters is reporting that the deal, originally announced
more than a year ago, adds 350 000 tonnes of recy-
cling capacity.
'Today marks a milestone on Speira's transformation
journey to becoming a leading aluminium rolling and
recycling company and accelerates the decarbonisation
of our business,' says ceo Einar Glomnes. 'We are com-
bining a leading European aluminium recycling compa-
ny with one of the largest aluminium rolling and recy-
cling companies on the continent.'
A separate acquisition by Aurea from Speira of facilities
in Sainte-Menehould, France, and Swansea, UK, as
required by the European Commission, is expected to
take place in early in Q2.
EUROPEAN PLASTICS RECYCLING CAPACITY ON THE RISE
Installed capacity for plastic recycling in Europe increased by 17% in
2021 compared to the previous year, according to Plastics Recyclers
Europe (PRE). The figure totalled 11.3 million tonnes thanks to more
than 730 recycling facilities.
A PRE report says processing of flexible PP & PE, PET and rigid PP & PE
accounts for the largest proportion of the overall capacity in EU27+3, repre-
senting nearly 80%. Individually, the materials account for 28%, 26% and
25%.
Germany, Spain, Italy, the United Kingdom, and France have the biggest
installed capacities, representing 67% of the market. Meanwhile, notable
growth is being witnessed in Poland and the Netherlands. Investment in
plastics recycling was estimated at EUR 1.75 billion in 2021.
'The significant increase in plastics recycling shows the resilience of the
industry in continuing its path towards plastics circularity,' says organisation
president Ton Emans. 'This growth is mainly due to legislation as well as
massive investments in the sector to ensure high-quality recycling and to
meet circular economy targets.'
Smart, smarter,
smartest

Wikipedia. An interesting experience
but also rather frustrating due to the
static and repetitious answers, limited
data and plenty of mistakes.
Trying my luck converting an audio file
into a useful transcript for interviews
didn't pan out either. Turns out, the
human ear is much more skilled at
adjusting to accents. With German,
French or Indian, there is a certain flow
to the way different languages are
delivered. I know that as a journalist
having covered international recycling
themes for 11 years.
I laughed when reading from my tran-
scription how Hensel Recycling was
bothered by 'bad teeth' (thieves), how
Tomra Sorting's new test centre has
ghosts (still not sure where that comes
from) and how Professor Michael
Braungart thinks banning straws is like
rearranging 'duck hairs' (deck chairs)
on the Titanic.
It shows that any new technology
always comes with a margin of error.
For me, it proves the power of our own
creativity, critical thinking and intuition
is invaluable.
10-11-12-13-14-15_trendsupdates.indd 11 04-05-2023 09:53