Recycling International May/June issue 2023
Subscribe
Page 103 from: Recycling International May/June issue 2023
BECK'S 103recyclinginternational.com | May/June | 2023 Fotobijschrift KADERKOP ?? A not-so-stupid proposition after all… BIR celebrates its 75th anniver- sary in Amsterdam this month and Recycling International marks its ...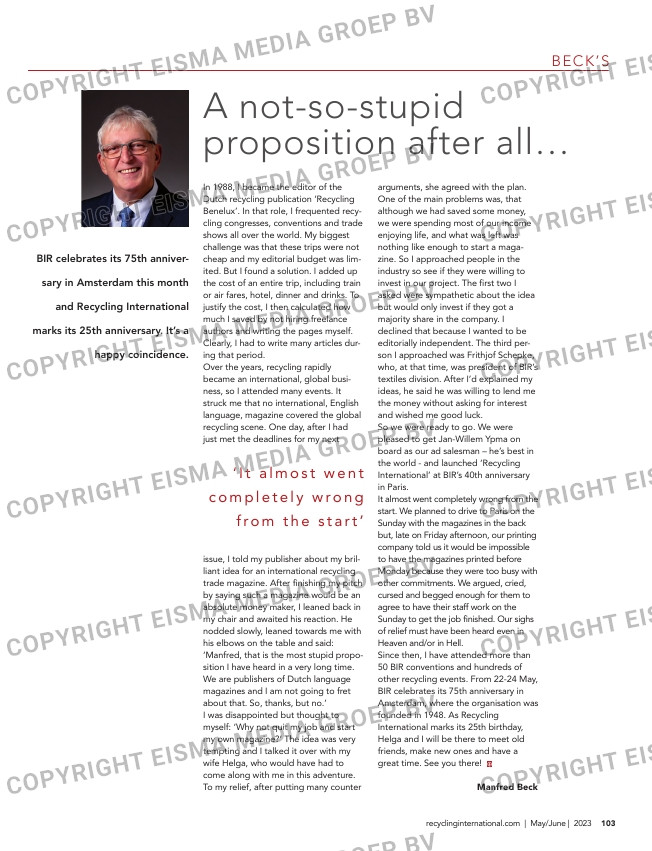 BECK'S
103recyclinginternational.com | May/June | 2023
Fotobijschrift
KADERKOP
??
A not-so-stupid
proposition after all…
BIR celebrates its 75th anniver-
sary in Amsterdam this month
and Recycling International
marks its 25th anniversary. It's a
happy coincidence.
In 1988, I became the editor of the
Dutch recycling publication 'Recycling
Benelux'. In that role, I frequented recy-
cling congresses, conventions and trade
shows all over the world. My biggest
challenge was that these trips were not
cheap and my editorial budget was lim-
ited. But I found a solution. I added up
the cost of an entire trip, including train
or air fares, hotel, dinner and drinks. To
justify the cost, I then calculated how
much I saved by not hiring freelance
authors and writing the pages myself.
Clearly, I had to write many articles dur-
ing that period.
Over the years, recycling rapidly
became an international, global busi-
ness, so I attended many events. It
struck me that no international, English
language, magazine covered the global
recycling scene. One day, after I had
just met the deadlines for my next
issue, I told my publisher about my bril-
liant idea for an international recycling
trade magazine. After finishing my pitch
by saying such a magazine would be an
absolute money maker, I leaned back in
my chair and awaited his reaction. He
nodded slowly, leaned towards me with
his elbows on the table and said:
'Manfred, that is the most stupid propo-
sition I have heard in a very long time.
We are publishers of Dutch language
magazines and I am not going to fret
about that. So, thanks, but no.'
I was disappointed but thought to
myself: 'Why not quit my job and start
my own magazine?' The idea was very
tempting and I talked it over with my
wife Helga, who would have had to
come along with me in this adventure.
To my relief, after putting many counter
arguments, she agreed with the plan.
One of the main problems was, that
although we had saved some money,
we were spending most of our income
enjoying life, and what was left was
nothing like enough to start a maga-
zine. So I approached people in the
industry so see if they were willing to
invest in our project. The first two I
asked were sympathetic about the idea
but would only invest if they got a
majority share in the company. I
declined that because I wanted to be
editorially independent. The third per-
son I approached was Frithjof Schepke,
who, at that time, was president of BIR's
textiles division. After I'd explained my
ideas, he said he was willing to lend me
the money without asking for interest
and wished me good luck.
So we were ready to go. We were
pleased to get Jan-Willem Ypma on
board as our ad salesman – he's best in
the world – and launched 'Recycling
International' at BIR's 40th anniversary
in Paris.
It almost went completely wrong from the
start. We planned to drive to Paris on the
Sunday with the magazines in the back
but, late on Friday afternoon, our printing
company told us it would be impossible
to have the magazines printed before
Monday because they were too busy with
other commitments. We argued, cried,
cursed and begged enough for them to
agree to have their staff work on the
Sunday to get the job finished. Our sighs
of relief must have been heard even in
Heaven and/or in Hell.
Since then, I have attended more than
50 BIR conventions and hundreds of
other recycling events. From 22-24 May,
BIR celebrates its 75th anniversary in
Amsterdam, where the organisation was
founded in 1948. As Recycling
International marks its 25th birthday,
Helga and I will be there to meet old
friends, make new ones and have a
great time. See you there!
Manfred Beck
' I t a l m o s t w e n t
c o m p l e t e l y w ro n g
f ro m t h e s t a r t '
103_becks-birthofamagazine.indd 103 03-05-2023 17:12