Recycling International May/June issue 2023
Subscribe
Page 10 from: Recycling International May/June issue 2023
new dimensions of wear protection we understand we produce we advise we are SWB billions in valuable materials are lost to wear each year we advise our customers on-site in more than 50 countries worldwide we are world leader in diff...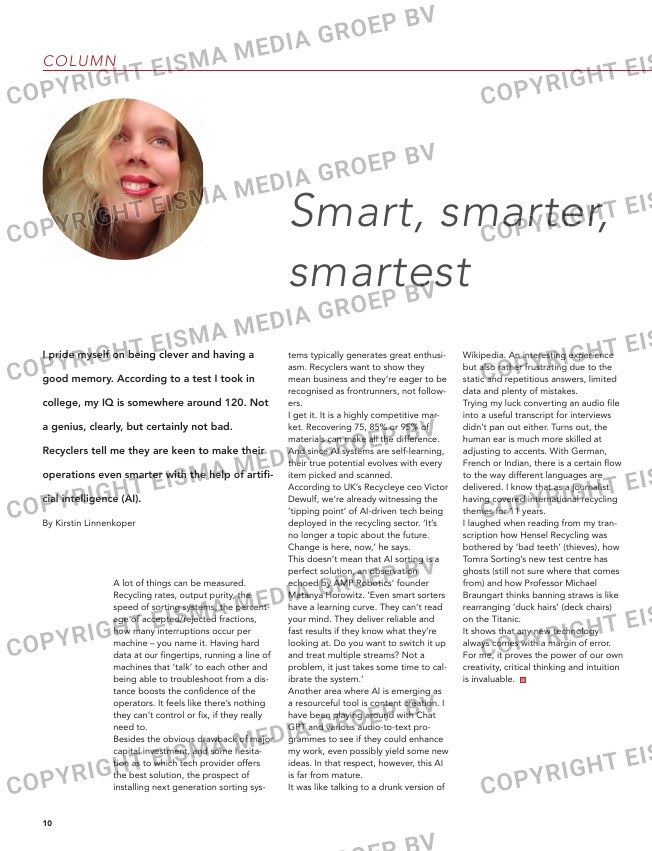 new dimensions
of wear protection
we understand
we produce
we advise
we are SWB
billions in valuable materials are lost to wear each year
we advise our customers on-site in more than 50 countries worldwide
we are world leader in differentially hardened alloy shredder hammers
we are permanently researching pioneering solutions against wear
www.stahlwerke-bochum.com
we develop
EUROPEAN PLASTICS RECYCLING CAPACITY ON THE RISE
Installed capacity for plastic recycling in Europe increased by 17% in
2021 compared to the previous year, according to Plastics Recyclers
Europe (PRE). The figure totalled 11.3 million tonnes thanks to more
than 730 recycling facilities.
A PRE report says processing of flexible PP & PE, PET and rigid PP & PE
accounts for the largest proportion of the overall capacity in EU27+3, repre-
senting nearly 80%. Individually, the materials account for 28%, 26% and
25%.
Germany, Spain, Italy, the United Kingdom, and France have the biggest
installed capacities, representing 67% of the market. Meanwhile, notable
growth is being witnessed in Poland and the Netherlands. Investment in
plastics recycling was estimated at EUR 1.75 billion in 2021.
'The significant increase in plastics recycling shows the resilience of the
industry in continuing its path towards plastics circularity,' says organisation
president Ton Emans. 'This growth is mainly due to legislation as well as
massive investments in the sector to ensure high-quality recycling and to
meet circular economy targets.'
10
Smart, smarter,
smartest

I pride myself on being clever and having a
good memory. According to a test I took in
college, my IQ is somewhere around 120. Not
a genius, clearly, but certainly not bad.
Recyclers tell me they are keen to make their
operations even smarter with the help of artifi-
cial intelligence (AI).
By Kirstin Linnenkoper
A lot of things can be measured.
Recycling rates, output purity, the
speed of sorting systems, the percent-
age of accepted/rejected fractions,
how many interruptions occur per
machine – you name it. Having hard
data at our fingertips, running a line of
machines that 'talk' to each other and
being able to troubleshoot from a dis-
tance boosts the confidence of the
operators. It feels like there's nothing
they can't control or fix, if they really
need to.
Besides the obvious drawback of major
capital investment, and some hesita-
tion as to which tech provider offers
the best solution, the prospect of
installing next generation sorting sys-
tems typically generates great enthusi-
asm. Recyclers want to show they
mean business and they're eager to be
recognised as frontrunners, not follow-
ers.
I get it. It is a highly competitive mar-
ket. Recovering 75, 85% or 95% of
materials can make all the difference.
And since AI systems are self-learning,
their true potential evolves with every
item picked and scanned.
According to UK's Recycleye ceo Victor
Dewulf, we're already witnessing the
'tipping point' of AI-driven tech being
deployed in the recycling sector. 'It's
no longer a topic about the future.
Change is here, now,' he says.
This doesn't mean that AI sorting is a
perfect solution, an observation
echoed by AMP Robotics' founder
Matanya Horowitz. 'Even smart sorters
have a learning curve. They can't read
your mind. They deliver reliable and
fast results if they know what they're
looking at. Do you want to switch it up
and treat multiple streams? Not a
problem, it just takes some time to cal-
ibrate the system.'
Another area where AI is emerging as
a resourceful tool is content creation. I
have been playing around with Chat
GPT and various audio-to-text pro-
grammes to see if they could enhance
my work, even possibly yield some new
ideas. In that respect, however, this AI
is far from mature.
It was like talking to a drunk version of
Wikipedia. An interesting experience
but also rather frustrating due to the
static and repetitious answers, limited
data and plenty of mistakes.
Trying my luck converting an audio file
into a useful transcript for interviews
didn't pan out either. Turns out, the
human ear is much more skilled at
adjusting to accents. With German,
French or Indian, there is a certain flow
to the way different languages are
delivered. I know that as a journalist
having covered international recycling
themes for 11 years.
I laughed when reading from my tran-
scription how Hensel Recycling was
bothered by 'bad teeth' (thieves), how
Tomra Sorting's new test centre has
ghosts (still not sure where that comes
from) and how Professor Michael
Braungart thinks banning straws is like
rearranging 'duck hairs' (deck chairs)
on the Titanic.
It shows that any new technology
always comes with a margin of error.
For me, it proves the power of our own
creativity, critical thinking and intuition
is invaluable.
COLUMN

10-11-12-13-14-15_trendsupdates.indd 10 04-05-2023 09:53