Recycling International January/February issue 2023
Subscribe
Page 56 from: Recycling International January/February issue 2023
56 PLASTICSMARKET ANALYSIS Cheaper crude oil adds pressure Lower freight rates have been the only conso- lation for traders facing higher production and energy costs, coupled with stiffer competition from prime plastics. 2022 was ...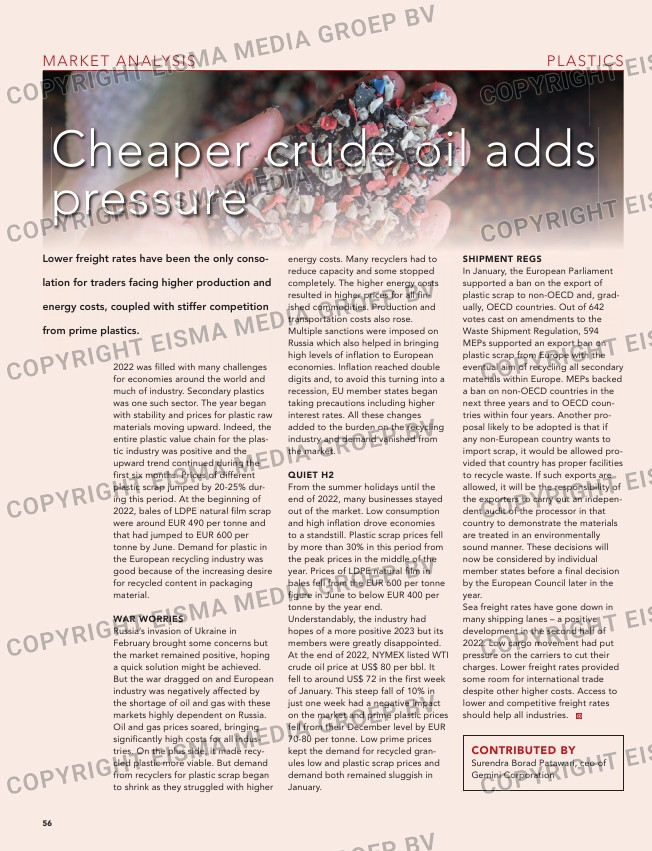 56
PLASTICSMARKET ANALYSIS
Cheaper crude oil adds
pressure
Lower freight rates have been the only conso-
lation for traders facing higher production and
energy costs, coupled with stiffer competition
from prime plastics.
2022 was filled with many challenges
for economies around the world and
much of industry. Secondary plastics
was one such sector. The year began
with stability and prices for plastic raw
materials moving upward. Indeed, the
entire plastic value chain for the plas-
tic industry was positive and the
upward trend continued during the
first six months. Prices of different
plastic scrap jumped by 20-25% dur-
ing this period. At the beginning of
2022, bales of LDPE natural film scrap
were around EUR 490 per tonne and
that had jumped to EUR 600 per
tonne by June. Demand for plastic in
the European recycling industry was
good because of the increasing desire
for recycled content in packaging
material.
WAR WORRIES
Russia's invasion of Ukraine in
February brought some concerns but
the market remained positive, hoping
a quick solution might be achieved.
But the war dragged on and European
industry was negatively affected by
the shortage of oil and gas with these
markets highly dependent on Russia.
Oil and gas prices soared, bringing
significantly high costs for all indus-
tries. On the plus side, it made recy-
cled plastic more viable. But demand
from recyclers for plastic scrap began
to shrink as they struggled with higher
energy costs. Many recyclers had to
reduce capacity and some stopped
completely. The higher energy costs
resulted in higher prices for all fin-
ished commodities. Production and
transportation costs also rose.
Multiple sanctions were imposed on
Russia which also helped in bringing
high levels of inflation to European
economies. Inflation reached double
digits and, to avoid this turning into a
recession, EU member states began
taking precautions including higher
interest rates. All these changes
added to the burden on the recycling
industry and demand vanished from
the market.
QUIET H2
From the summer holidays until the
end of 2022, many businesses stayed
out of the market. Low consumption
and high inflation drove economies
to a standstill. Plastic scrap prices fell
by more than 30% in this period from
the peak prices in the middle of the
year. Prices of LDPE natural film in
bales fell from the EUR 600 per tonne
figure in June to below EUR 400 per
tonne by the year end.
Understandably, the industry had
hopes of a more positive 2023 but its
members were greatly disappointed.
At the end of 2022, NYMEX listed WTI
crude oil price at US$ 80 per bbl. It
fell to around US$ 72 in the first week
of January. This steep fall of 10% in
just one week had a negative impact
on the market and prime plastic prices
fell from their December level by EUR
70-80 per tonne. Low prime prices
kept the demand for recycled gran-
ules low and plastic scrap prices and
demand both remained sluggish in
January.
SHIPMENT REGS
In January, the European Parliament
supported a ban on the export of
plastic scrap to non-OECD and, grad-
ually, OECD countries. Out of 642
votes cast on amendments to the
Waste Shipment Regulation, 594
MEPs supported an export ban on
plastic scrap from Europe with the
eventual aim of recycling all secondary
materials within Europe. MEPs backed
a ban on non-OECD countries in the
next three years and to OECD coun-
tries within four years. Another pro-
posal likely to be adopted is that if
any non-European country wants to
import scrap, it would be allowed pro-
vided that country has proper facilities
to recycle waste. If such exports are
allowed, it will be the responsibility of
the exporters to carry out an indepen-
dent audit of the processor in that
country to demonstrate the materials
are treated in an environmentally
sound manner. These decisions will
now be considered by individual
member states before a final decision
by the European Council later in the
year.
Sea freight rates have gone down in
many shipping lanes – a positive
development in the second half of
2022. Low cargo movement had put
pressure on the carriers to cut their
charges. Lower freight rates provided
some room for international trade
despite other higher costs. Access to
lower and competitive freight rates
should help all industries.
CONTRIBUTED BY
Surendra Borad Patawari, ceo of
Gemini Corporation
56_maplastics.indd 56 03-02-2023 14:10