Recycling International January/February issue 2023
Subscribe
Page 55 from: Recycling International January/February issue 2023
TEXTILESMARKET ANALYSIS 'Staggering' conclusion on used clothing A welcome report from EuRIC finds that buying second-hand items is 70 times better for the environment than buying new. 55recyclinginternational.com | January/F...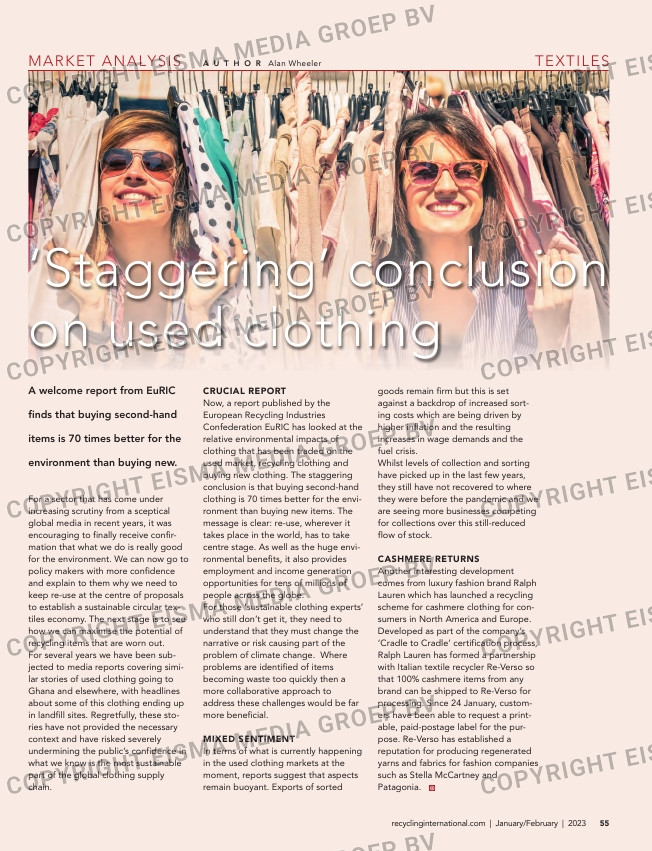 TEXTILESMARKET ANALYSIS
'Staggering' conclusion
on used clothing
A welcome report from EuRIC
finds that buying second-hand
items is 70 times better for the
environment than buying new.
55recyclinginternational.com | January/February | 2023
For a sector that has come under
increasing scrutiny from a sceptical
global media in recent years, it was
encouraging to finally receive confir-
mation that what we do is really good
for the environment. We can now go to
policy makers with more confidence
and explain to them why we need to
keep re-use at the centre of proposals
to establish a sustainable circular tex-
tiles economy. The next stage is to see
how we can maximise the potential of
recycling items that are worn out.
For several years we have been sub-
jected to media reports covering simi-
lar stories of used clothing going to
Ghana and elsewhere, with headlines
about some of this clothing ending up
in landfill sites. Regretfully, these sto-
ries have not provided the necessary
context and have risked severely
undermining the public's confidence in
what we know is the most sustainable
part of the global clothing supply
chain.
CRUCIAL REPORT
Now, a report published by the
European Recycling Industries
Confederation EuRIC has looked at the
relative environmental impacts of
clothing that has been traded on the
used market, recycling clothing and
buying new clothing. The staggering
conclusion is that buying second-hand
clothing is 70 times better for the envi-
ronment than buying new items. The
message is clear: re-use, wherever it
takes place in the world, has to take
centre stage. As well as the huge envi-
ronmental benefits, it also provides
employment and income generation
opportunities for tens of millions of
people across the globe.
For those 'sustainable clothing experts'
who still don't get it, they need to
understand that they must change the
narrative or risk causing part of the
problem of climate change. Where
problems are identified of items
becoming waste too quickly then a
more collaborative approach to
address these challenges would be far
more beneficial.
MIXED SENTIMENT
In terms of what is currently happening
in the used clothing markets at the
moment, reports suggest that aspects
remain buoyant. Exports of sorted
goods remain firm but this is set
against a backdrop of increased sort-
ing costs which are being driven by
higher inflation and the resulting
increases in wage demands and the
fuel crisis.
Whilst levels of collection and sorting
have picked up in the last few years,
they still have not recovered to where
they were before the pandemic and we
are seeing more businesses competing
for collections over this still-reduced
flow of stock.
CASHMERE RETURNS
Another interesting development
comes from luxury fashion brand Ralph
Lauren which has launched a recycling
scheme for cashmere clothing for con-
sumers in North America and Europe.
Developed as part of the company's
'Cradle to Cradle' certification process,
Ralph Lauren has formed a partnership
with Italian textile recycler Re-Verso so
that 100% cashmere items from any
brand can be shipped to Re-Verso for
processing. Since 24 January, custom-
ers have been able to request a print-
able, paid-postage label for the pur-
pose. Re-Verso has established a
reputation for producing regenerated
yarns and fabrics for fashion companies
such as Stella McCartney and
Patagonia.
A U T H O R Alan Wheeler
55_matextiles.indd 55 03-02-2023 14:08