Recycling International January/February issue 2023
Subscribe
Page 47 from: Recycling International January/February issue 2023
NICKEL & STAINLESS Financial Conduct Authority. As if that weren't enough, new competition for the LME is taking shape in the form of Global Commodities Holdings' announcement that it will be launch a new physical trading plat...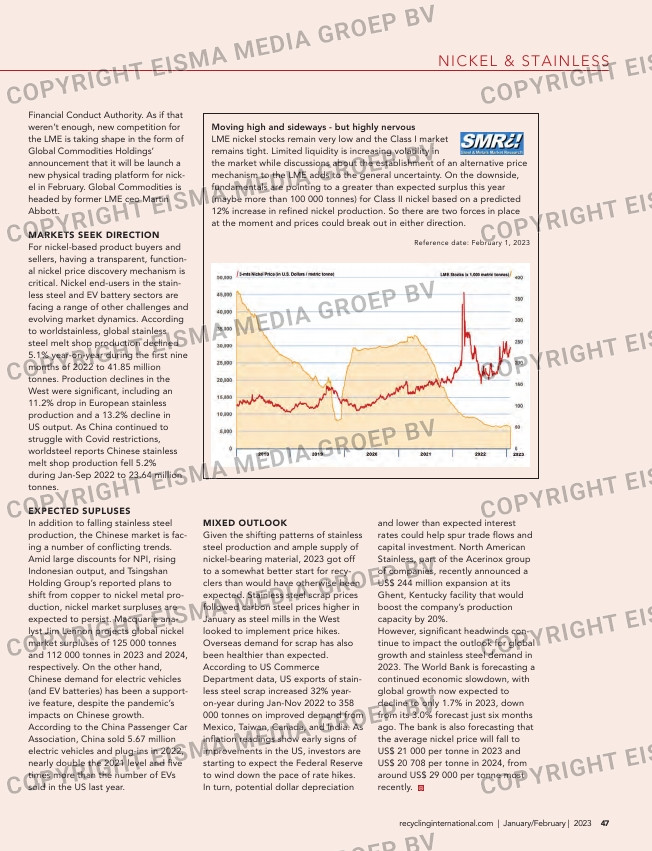 NICKEL & STAINLESS
Financial Conduct Authority. As if that
weren't enough, new competition for
the LME is taking shape in the form of
Global Commodities Holdings'
announcement that it will be launch a
new physical trading platform for nick-
el in February. Global Commodities is
headed by former LME ceo Martin
Abbott.
MARKETS SEEK DIRECTION
For nickel-based product buyers and
sellers, having a transparent, function-
al nickel price discovery mechanism is
critical. Nickel end-users in the stain-
less steel and EV battery sectors are
facing a range of other challenges and
evolving market dynamics. According
to worldstainless, global stainless
steel melt shop production declined
5.1% year-on-year during the first nine
months of 2022 to 41.85 million
tonnes. Production declines in the
West were significant, including an
11.2% drop in European stainless
production and a 13.2% decline in
US output. As China continued to
struggle with Covid restrictions,
worldsteel reports Chinese stainless
melt shop production fell 5.2%
during Jan-Sep 2022 to 23.64 million
tonnes.
EXPECTED SUPLUSES
In addition to falling stainless steel
production, the Chinese market is fac-
ing a number of conflicting trends.
Amid large discounts for NPI, rising
Indonesian output, and Tsingshan
Holding Group's reported plans to
shift from copper to nickel metal pro-
duction, nickel market surpluses are
expected to persist. Macquarie ana-
lyst Jim Lennon projects global nickel
market surpluses of 125 000 tonnes
and 112 000 tonnes in 2023 and 2024,
respectively. On the other hand,
Chinese demand for electric vehicles
(and EV batteries) has been a support-
ive feature, despite the pandemic's
impacts on Chinese growth.
According to the China Passenger Car
Association, China sold 5.67 million
electric vehicles and plug-ins in 2022,
nearly double the 2021 level and five
times more than the number of EVs
sold in the US last year.
MIXED OUTLOOK
Given the shifting patterns of stainless
steel production and ample supply of
nickel-bearing material, 2023 got off
to a somewhat better start for recy-
clers than would have otherwise been
expected. Stainless steel scrap prices
followed carbon steel prices higher in
January as steel mills in the West
looked to implement price hikes.
Overseas demand for scrap has also
been healthier than expected.
According to US Commerce
Department data, US exports of stain-
less steel scrap increased 32% year-
on-year during Jan-Nov 2022 to 358
000 tonnes on improved demand from
Mexico, Taiwan, Canada, and India. As
inflation readings show early signs of
improvements in the US, investors are
starting to expect the Federal Reserve
to wind down the pace of rate hikes.
In turn, potential dollar depreciation
Moving high and sideways – but highly nervous
LME nickel stocks remain very low and the Class I market
remains tight. Limited liquidity is increasing volatility in
the market while discussions about the establishment of an alternative price
mechanism to the LME adds to the general uncertainty. On the downside,
fundamentals are pointing to a greater than expected surplus this year
(maybe more than 100 000 tonnes) for Class II nickel based on a predicted
12% increase in refined nickel production. So there are two forces in place
at the moment and prices could break out in either direction.
Reference date: February 1, 2023
47recyclinginternational.com | January/February | 2023
and lower than expected interest
rates could help spur trade flows and
capital investment. North American
Stainless, part of the Acerinox group
of companies, recently announced a
US$ 244 million expansion at its
Ghent, Kentucky facility that would
boost the company's production
capacity by 20%.
However, significant headwinds con-
tinue to impact the outlook for global
growth and stainless steel demand in
2023. The World Bank is forecasting a
continued economic slowdown, with
global growth now expected to
decline to only 1.7% in 2023, down
from its 3.0% forecast just six months
ago. The bank is also forecasting that
the average nickel price will fall to
US$ 21 000 per tonne in 2023 and
US$ 20 708 per tonne in 2024, from
around US$ 29 000 per tonne most
recently.
46-47_manickelstainless.indd 47 03-02-2023 14:05