Recycling International January/February issue 2023
Subscribe
Page 43 from: Recycling International January/February issue 2023
FERROUS 43recyclinginternational.com | January/February | 2023 Although scrap and iron ore prices rose, net margins either kept pace or in some cases narrowed, it added. 'In this overall context, the first quarter of 2023 could ...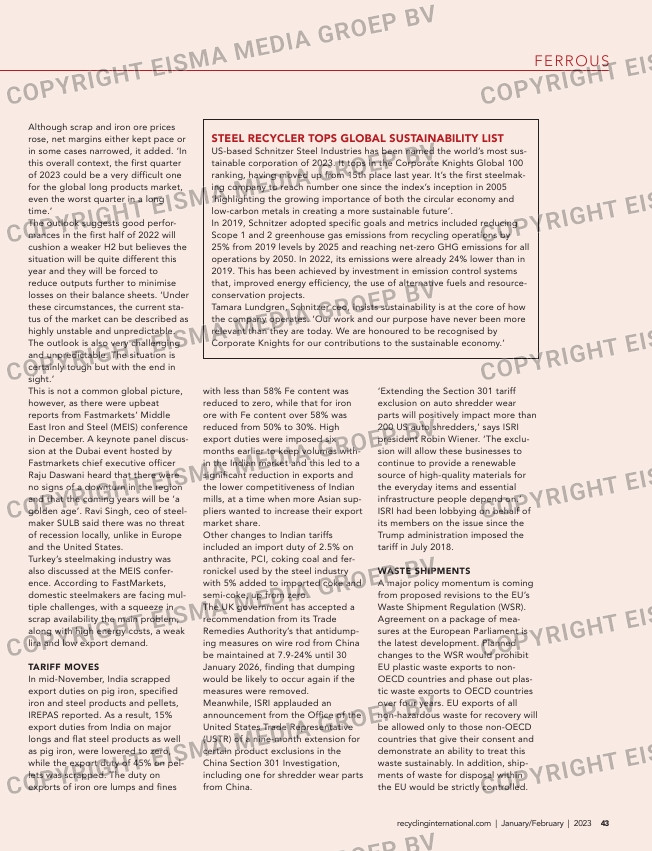 FERROUS
43recyclinginternational.com | January/February | 2023
Although scrap and iron ore prices
rose, net margins either kept pace or
in some cases narrowed, it added. 'In
this overall context, the first quarter
of 2023 could be a very difficult one
for the global long products market,
even the worst quarter in a long
time.'
The outlook suggests good perfor-
mances in the first half of 2022 will
cushion a weaker H2 but believes the
situation will be quite different this
year and they will be forced to
reduce outputs further to minimise
losses on their balance sheets. 'Under
these circumstances, the current sta-
tus of the market can be described as
highly unstable and unpredictable.
The outlook is also very challenging
and unpredictable. The situation is
certainly tough but with the end in
sight.'
This is not a common global picture,
however, as there were upbeat
reports from Fastmarkets' Middle
East Iron and Steel (MEIS) conference
in December. A keynote panel discus-
sion at the Dubai event hosted by
Fastmarkets chief executive officer
Raju Daswani heard that there were
no signs of a downturn in the region
and that the coming years will be 'a
golden age'. Ravi Singh, ceo of steel-
maker SULB said there was no threat
of recession locally, unlike in Europe
and the United States.
Turkey's steelmaking industry was
also discussed at the MEIS confer-
ence. According to FastMarkets,
domestic steelmakers are facing mul-
tiple challenges, with a squeeze in
scrap availability the main problem,
along with high energy costs, a weak
lira and low export demand.
TARIFF MOVES
In mid-November, India scrapped
export duties on pig iron, specified
iron and steel products and pellets,
IREPAS reported. As a result, 15%
export duties from India on major
longs and flat steel products as well
as pig iron, were lowered to zero,
while the export duty of 45% on pel-
lets was scrapped. The duty on
exports of iron ore lumps and fines
A U T H O R Robin Latchem
with less than 58% Fe content was
reduced to zero, while that for iron
ore with Fe content over 58% was
reduced from 50% to 30%. High
export duties were imposed six
months earlier to keep volumes with-
in the Indian market and this led to a
significant reduction in exports and
the lower competitiveness of Indian
mills, at a time when more Asian sup-
pliers wanted to increase their export
market share.
Other changes to Indian tariffs
included an import duty of 2.5% on
anthracite, PCI, coking coal and fer-
ronickel used by the steel industry
with 5% added to imported coke and
semi-coke, up from zero.
The UK government has accepted a
recommendation from its Trade
Remedies Authority's that antidump-
ing measures on wire rod from China
be maintained at 7.9-24% until 30
January 2026, finding that dumping
would be likely to occur again if the
measures were removed.
Meanwhile, ISRI applauded an
announcement from the Office of the
United States Trade Representative
(USTR) of a nine-month extension for
certain product exclusions in the
China Section 301 Investigation,
including one for shredder wear parts
from China.
'Extending the Section 301 tariff
exclusion on auto shredder wear
parts will positively impact more than
200 US auto shredders,' says ISRI
president Robin Wiener. 'The exclu-
sion will allow these businesses to
continue to provide a renewable
source of high-quality materials for
the everyday items and essential
infrastructure people depend on.'
ISRI had been lobbying on behalf of
its members on the issue since the
Trump administration imposed the
tariff in July 2018.
WASTE SHIPMENTS
A major policy momentum is coming
from proposed revisions to the EU's
Waste Shipment Regulation (WSR).
Agreement on a package of mea-
sures at the European Parliament is
the latest development. Planned
changes to the WSR would prohibit
EU plastic waste exports to non-
OECD countries and phase out plas-
tic waste exports to OECD countries
over four years. EU exports of all
non-hazardous waste for recovery will
be allowed only to those non-OECD
countries that give their consent and
demonstrate an ability to treat this
waste sustainably. In addition, ship-
ments of waste for disposal within
the EU would be strictly controlled.
STEEL RECYCLER TOPS GLOBAL SUSTAINABILITY LIST
US-based Schnitzer Steel Industries has been named the world's most sus-
tainable corporation of 2023. It tops in the Corporate Knights Global 100
ranking, having moved up from 15th place last year. It's the first steelmak-
ing company to reach number one since the index's inception in 2005
'highlighting the growing importance of both the circular economy and
low-carbon metals in creating a more sustainable future'.
In 2019, Schnitzer adopted specific goals and metrics included reducing
Scope 1 and 2 greenhouse gas emissions from recycling operations by
25% from 2019 levels by 2025 and reaching net-zero GHG emissions for all
operations by 2050. In 2022, its emissions were already 24% lower than in
2019. This has been achieved by investment in emission control systems
that, improved energy efficiency, the use of alternative fuels and resource-
conservation projects.
Tamara Lundgren, Schnitzer ceo, insists sustainability is at the core of how
the company operates. 'Our work and our purpose have never been more
relevant than they are today. We are honoured to be recognised by
Corporate Knights for our contributions to the sustainable economy.'
42-43-44-45_maferrous.indd 43 03-02-2023 14:04