Recycling International January/February issue 2023
Subscribe
Page 39 from: Recycling International January/February issue 2023
TRENDS & UPDATES 39recyclinginternational.com | January/February | 2023 AMCOR SIGNS UP FOR EXXONMOBIL RECYCLED POLYETHYLENE American-Australian global packaging giant Amcor has announced a five-year deal with ExxonMobil to ...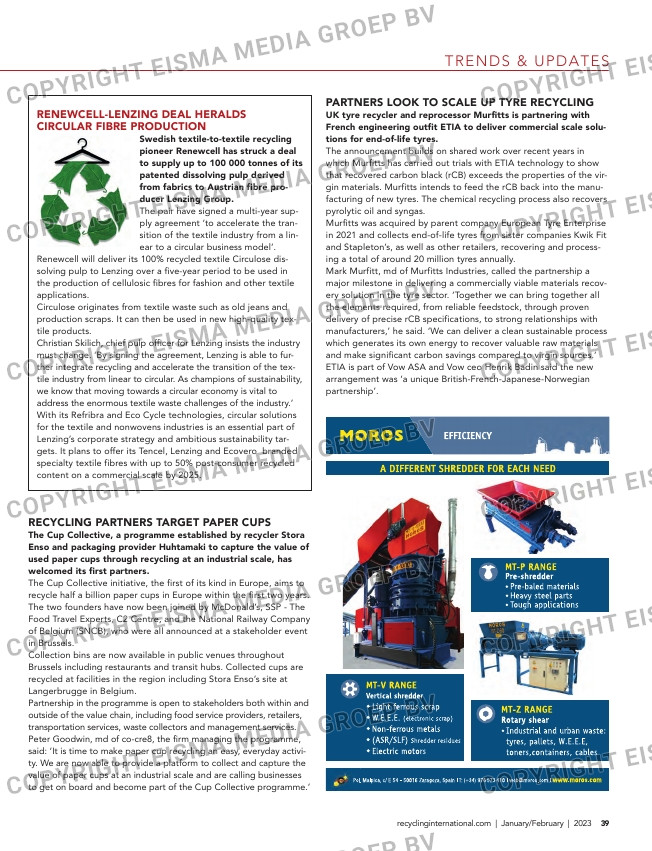 TRENDS & UPDATES
39recyclinginternational.com | January/February | 2023
AMCOR SIGNS UP FOR EXXONMOBIL RECYCLED
POLYETHYLENE
American-Australian
global packaging giant
Amcor has announced
a five-year deal with
ExxonMobil to pur-
chase 'circular' poly-
ethylene material in
support of its target to
achieve 30% recycled
material across its
portfolio by 2030.
The volume of material
will increase incrementally each year and is expected to reach 100 000
tonnes annually by the end of the five-year period. Amcor intends to use the
ExxonMobil polymer in its healthcare and food industries which require
stringent safety requirements for recycled plastic. The agreement expands
upon Amcor's initial purchase of polyethylene from ExxonMobil earlier this
year.
Amcor is already delivering a variety of solutions containing recycled con-
tent to customers around the world, including Mondelez International which
has switched to 30% food-grade recycled packaging for its Cadbury Dairy
Milk, Caramilk and Old Gold family blocks in Australia. Amcor has commit-
ted to make all its products recyclable, reusable or compostable by 2025,
with 74% of total production by weight already designed to be recycled.
PARTNERS LOOK TO SCALE UP TYRE RECYCLING
UK tyre recycler and reprocessor Murfitts is partnering with
French engineering outfit ETIA to deliver commercial scale solu-
tions for end-of-life tyres.
The announcement builds on shared work over recent years in
which Murfitts has carried out trials with ETIA technology to show
that recovered carbon black (rCB) exceeds the properties of the vir-
gin materials. Murfitts intends to feed the rCB back into the manu-
facturing of new tyres. The chemical recycling process also recovers
pyrolytic oil and syngas.
Murfitts was acquired by parent company European Tyre Enterprise
in 2021 and collects end-of-life tyres from sister companies Kwik Fit
and Stapleton's, as well as other retailers, recovering and process-
ing a total of around 20 million tyres annually.
Mark Murfitt, md of Murfitts Industries, called the partnership a
major milestone in delivering a commercially viable materials recov-
ery solution in the tyre sector. 'Together we can bring together all
the elements required, from reliable feedstock, through proven
delivery of precise rCB specifications, to strong relationships with
manufacturers,' he said. 'We can deliver a clean sustainable process
which generates its own energy to recover valuable raw materials
and make significant carbon savings compared to virgin sources.'
ETIA is part of Vow ASA and Vow ceo Henrik Badin said the new
arrangement was 'a unique British-French-Japanese-Norwegian
partnership'.
RECYCLING PARTNERS TARGET PAPER CUPS
The Cup Collective, a programme established by recycler Stora
Enso and packaging provider Huhtamaki to capture the value of
used paper cups through recycling at an industrial scale, has
welcomed its first partners.
The Cup Collective initiative, the first of its kind in Europe, aims to
recycle half a billion paper cups in Europe within the first two years.
The two founders have now been joined by McDonald's, SSP – The
Food Travel Experts, C2 Centre, and the National Railway Company
of Belgium (SNCB), who were all announced at a stakeholder event
in Brussels.
Collection bins are now available in public venues throughout
Brussels including restaurants and transit hubs. Collected cups are
recycled at facilities in the region including Stora Enso's site at
Langerbrugge in Belgium.
Partnership in the programme is open to stakeholders both within and
outside of the value chain, including food service providers, retailers,
transportation services, waste collectors and management services.
Peter Goodwin, md of co-cre8, the firm managing the programme,
said: 'It is time to make paper cup recycling an easy, everyday activi-
ty. We are now able to provide a platform to collect and capture the
value of paper cups at an industrial scale and are calling businesses
to get on board and become part of the Cup Collective programme.'
RENEWCELL-LENZING DEAL HERALDS
CIRCULAR FIBRE PRODUCTION
Swedish textile-to-textile recycling
pioneer Renewcell has struck a deal
to supply up to 100 000 tonnes of its
patented dissolving pulp derived
from fabrics to Austrian fibre pro-
ducer Lenzing Group.
The pair have signed a multi-year sup-
ply agreement 'to accelerate the tran-
sition of the textile industry from a lin-
ear to a circular business model'.
Renewcell will deliver its 100% recycled textile Circulose dis-
solving pulp to Lenzing over a five-year period to be used in
the production of cellulosic fibres for fashion and other textile
applications.
Circulose originates from textile waste such as old jeans and
production scraps. It can then be used in new high-quality tex-
tile products.
Christian Skilich, chief pulp officer for Lenzing insists the industry
must change. 'By signing the agreement, Lenzing is able to fur-
ther integrate recycling and accelerate the transition of the tex-
tile industry from linear to circular. As champions of sustainability,
we know that moving towards a circular economy is vital to
address the enormous textile waste challenges of the industry.'
With its Refribra and Eco Cycle technologies, circular solutions
for the textile and nonwovens industries is an essential part of
Lenzing's corporate strategy and ambitious sustainability tar-
gets. It plans to offer its Tencel, Lenzing and Ecovero branded
specialty textile fibres with up to 50% post-consumer recycled
content on a commercial scale by 2025.
36-37-38-39_trendsupdatesii.indd 39 03-02-2023 14:00