Recycling International January/February issue 2023
Subscribe
Page 38 from: Recycling International January/February issue 2023
38 MULTI-MILLION LOAN FOR RENEWI The European Investment Bank (EIB) has agreed a EUR 40 million loan with recycling company Renewi to support recycling in the Netherlands and Belgium. The funding will be divided between three key proj- ...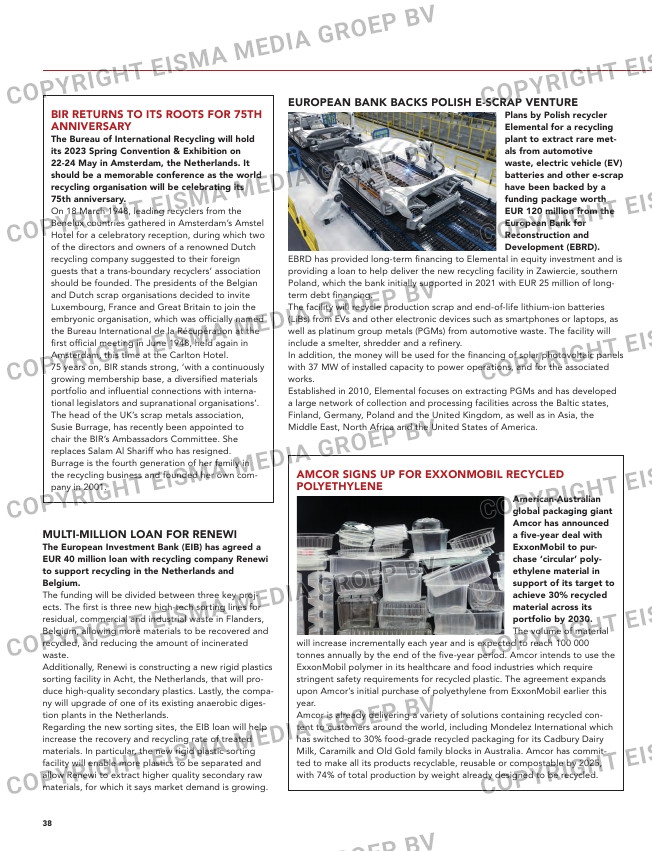 38
MULTI-MILLION LOAN FOR RENEWI
The European Investment Bank (EIB) has agreed a
EUR 40 million loan with recycling company Renewi
to support recycling in the Netherlands and
Belgium.
The funding will be divided between three key proj-
ects. The first is three new high-tech sorting lines for
residual, commercial and industrial waste in Flanders,
Belgium, allowing more materials to be recovered and
recycled, and reducing the amount of incinerated
waste.
Additionally, Renewi is constructing a new rigid plastics
sorting facility in Acht, the Netherlands, that will pro-
duce high-quality secondary plastics. Lastly, the compa-
ny will upgrade of one of its existing anaerobic diges-
tion plants in the Netherlands.
Regarding the new sorting sites, the EIB loan will help
increase the recovery and recycling rate of treated
materials. In particular, the new rigid plastic sorting
facility will enable more plastics to be separated and
allow Renewi to extract higher quality secondary raw
materials, for which it says market demand is growing.
EUROPEAN BANK BACKS POLISH E-SCRAP VENTURE
Plans by Polish recycler
Elemental for a recycling
plant to extract rare met-
als from automotive
waste, electric vehicle (EV)
batteries and other e-scrap
have been backed by a
funding package worth
EUR 120 million from the
European Bank for
Reconstruction and
Development (EBRD).
EBRD has provided long-term financing to Elemental in equity investment and is
providing a loan to help deliver the new recycling facility in Zawiercie, southern
Poland, which the bank initially supported in 2021 with EUR 25 million of long-
term debt financing.
The facility will recycle production scrap and end-of-life lithium-ion batteries
(LiBs) from EVs and other electronic devices such as smartphones or laptops, as
well as platinum group metals (PGMs) from automotive waste. The facility will
include a smelter, shredder and a refinery.
In addition, the money will be used for the financing of solar photovoltaic panels
with 37 MW of installed capacity to power operations, and for the associated
works.
Established in 2010, Elemental focuses on extracting PGMs and has developed
a large network of collection and processing facilities across the Baltic states,
Finland, Germany, Poland and the United Kingdom, as well as in Asia, the
Middle East, North Africa and the United States of America.
AMCOR SIGNS UP FOR EXXONMOBIL RECYCLED
POLYETHYLENE
American-Australian
global packaging giant
Amcor has announced
a five-year deal with
ExxonMobil to pur-
chase 'circular' poly-
ethylene material in
support of its target to
achieve 30% recycled
material across its
portfolio by 2030.
The volume of material
will increase incrementally each year and is expected to reach 100 000
tonnes annually by the end of the five-year period. Amcor intends to use the
ExxonMobil polymer in its healthcare and food industries which require
stringent safety requirements for recycled plastic. The agreement expands
upon Amcor's initial purchase of polyethylene from ExxonMobil earlier this
year.
Amcor is already delivering a variety of solutions containing recycled con-
tent to customers around the world, including Mondelez International which
has switched to 30% food-grade recycled packaging for its Cadbury Dairy
Milk, Caramilk and Old Gold family blocks in Australia. Amcor has commit-
ted to make all its products recyclable, reusable or compostable by 2025,
with 74% of total production by weight already designed to be recycled.
BIR RETURNS TO ITS ROOTS FOR 75TH
ANNIVERSARY
The Bureau of International Recycling will hold
its 2023 Spring Convention & Exhibition on
22-24 May in Amsterdam, the Netherlands. It
should be a memorable conference as the world
recycling organisation will be celebrating its
75th anniversary.
On 18 March 1948, leading recyclers from the
Benelux countries gathered in Amsterdam's Amstel
Hotel for a celebratory reception, during which two
of the directors and owners of a renowned Dutch
recycling company suggested to their foreign
guests that a trans-boundary recyclers' association
should be founded. The presidents of the Belgian
and Dutch scrap organisations decided to invite
Luxembourg, France and Great Britain to join the
embryonic organisation, which was officially named
the Bureau International de la Récupération at the
first official meeting in June 1948, held again in
Amsterdam, this time at the Carlton Hotel.
75 years on, BIR stands strong, 'with a continuously
growing membership base, a diversified materials
portfolio and influential connections with interna-
tional legislators and supranational organisations'.
The head of the UK's scrap metals association,
Susie Burrage, has recently been appointed to
chair the BIR's Ambassadors Committee. She
replaces Salam Al Shariff who has resigned.
Burrage is the fourth generation of her family in
the recycling business and founded her own com-
pany in 2001.
RENEWCELL-LENZING DEAL HERALDS
CIRCULAR FIBRE PRODUCTION
Swedish textile-to-textile recycling
pioneer Renewcell has struck a deal
to supply up to 100 000 tonnes of its
patented dissolving pulp derived
from fabrics to Austrian fibre pro-
ducer Lenzing Group.
The pair have signed a multi-year sup-
ply agreement 'to accelerate the tran-
sition of the textile industry from a lin-
ear to a circular business model'.
Renewcell will deliver its 100% recycled textile Circulose dis-
solving pulp to Lenzing over a five-year period to be used in
the production of cellulosic fibres for fashion and other textile
applications.
Circulose originates from textile waste such as old jeans and
production scraps. It can then be used in new high-quality tex-
tile products.
Christian Skilich, chief pulp officer for Lenzing insists the industry
must change. 'By signing the agreement, Lenzing is able to fur-
ther integrate recycling and accelerate the transition of the tex-
tile industry from linear to circular. As champions of sustainability,
we know that moving towards a circular economy is vital to
address the enormous textile waste challenges of the industry.'
With its Refribra and Eco Cycle technologies, circular solutions
for the textile and nonwovens industries is an essential part of
Lenzing's corporate strategy and ambitious sustainability tar-
gets. It plans to offer its Tencel, Lenzing and Ecovero branded
specialty textile fibres with up to 50% post-consumer recycled
content on a commercial scale by 2025.
36-37-38-39_trendsupdatesii.indd 38 03-02-2023 14:00