Recycling International January/February issue 2023
Subscribe
Page 34 from: Recycling International January/February issue 2023
34 tivity of copper is excellent. Gold is better but it's too expensive so all eyes will be on copper. The electric revolution is coming. The question is: are we ready?' This megatrend, supported by popu- lation growth and volati...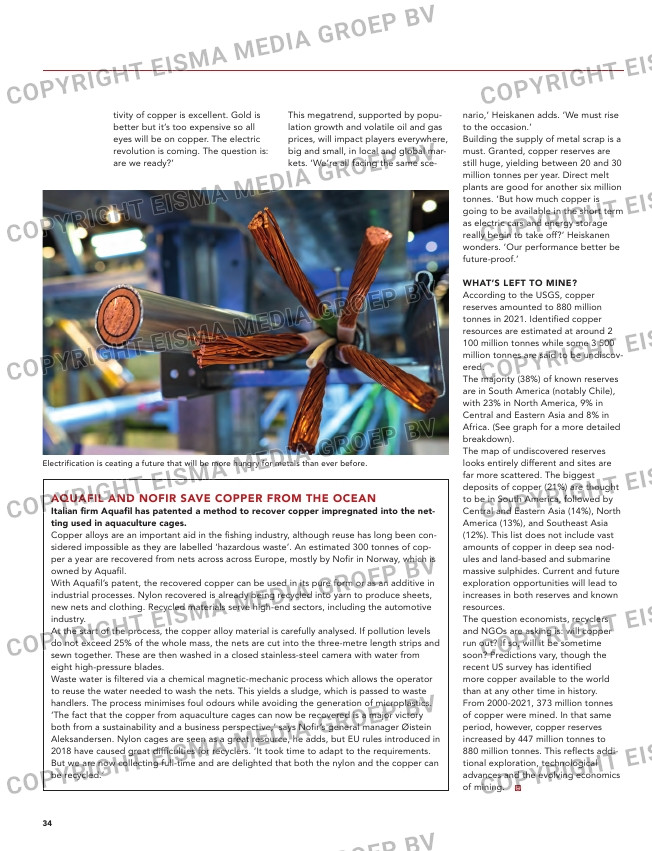 34
tivity of copper is excellent. Gold is
better but it's too expensive so all
eyes will be on copper. The electric
revolution is coming. The question is:
are we ready?'
This megatrend, supported by popu-
lation growth and volatile oil and gas
prices, will impact players everywhere,
big and small, in local and global mar-
kets. 'We're all facing the same sce-
nario,' Heiskanen adds. 'We must rise
to the occasion.'
Building the supply of metal scrap is a
must. Granted, copper reserves are
still huge, yielding between 20 and 30
million tonnes per year. Direct melt
plants are good for another six million
tonnes. 'But how much copper is
going to be available in the short term
as electric cars and energy storage
really begin to take off?' Heiskanen
wonders. 'Our performance better be
future-proof.'
WHAT'S LEFT TO MINE?
According to the USGS, copper
reserves amounted to 880 million
tonnes in 2021. Identified copper
resources are estimated at around 2
100 million tonnes while some 3 500
million tonnes are said to be undiscov-
ered.
The majority (38%) of known reserves
are in South America (notably Chile),
with 23% in North America, 9% in
Central and Eastern Asia and 8% in
Africa. (See graph for a more detailed
breakdown).
The map of undiscovered reserves
looks entirely different and sites are
far more scattered. The biggest
deposits of copper (21%) are thought
to be in South America, followed by
Central and Eastern Asia (14%), North
America (13%), and Southeast Asia
(12%). This list does not include vast
amounts of copper in deep sea nod-
ules and land-based and submarine
massive sulphides. Current and future
exploration opportunities will lead to
increases in both reserves and known
resources.
The question economists, recyclers
and NGOs are asking is: will copper
run out? If so, will it be sometime
soon? Predictions vary, though the
recent US survey has identified
more copper available to the world
than at any other time in history.
From 2000-2021, 373 million tonnes
of copper were mined. In that same
period, however, copper reserves
increased by 447 million tonnes to
880 million tonnes. This reflects addi-
tional exploration, technological
advances and the evolving economics
of mining.
AQUAFIL AND NOFIR SAVE COPPER FROM THE OCEAN
Italian firm Aquafil has patented a method to recover copper impregnated into the net-
ting used in aquaculture cages.
Copper alloys are an important aid in the fishing industry, although reuse has long been con-
sidered impossible as they are labelled 'hazardous waste'. An estimated 300 tonnes of cop-
per a year are recovered from nets across across Europe, mostly by Nofir in Norway, which is
owned by Aquafil.
With Aquafil's patent, the recovered copper can be used in its pure form or as an additive in
industrial processes. Nylon recovered is already being recycled into yarn to produce sheets,
new nets and clothing. Recycled materials serve high-end sectors, including the automotive
industry.
At the start of the process, the copper alloy material is carefully analysed. If pollution levels
do not exceed 25% of the whole mass, the nets are cut into the three-metre length strips and
sewn together. These are then washed in a closed stainless-steel camera with water from
eight high-pressure blades.
Waste water is filtered via a chemical magnetic-mechanic process which allows the operator
to reuse the water needed to wash the nets. This yields a sludge, which is passed to waste
handlers. The process minimises foul odours while avoiding the generation of microplastics.
'The fact that the copper from aquaculture cages can now be recovered is a major victory
both from a sustainability and a business perspective,' says Nofir's general manager Øistein
Aleksandersen. Nylon cages are seen as a great resource, he adds, but EU rules introduced in
2018 have caused great difficulties for recyclers. 'It took time to adapt to the requirements.
But we are now collecting full-time and are delighted that both the nylon and the copper can
be recycled.'
Electrification is ceating a future that will be more hungry for metals than ever before.
32-33-34_copperrecyclingtrends2023.indd 34 03-02-2023 13:58