Recycling International January/February issue 2023
Subscribe
Page 31 from: Recycling International January/February issue 2023
31recyclinginternational.com | January/February | 2023 SECOND LIFE Why energy storage needs retail sector, including malls and supermarkets. Supplying local energy grids has brought in new clients as well. Lenaerts says several ca...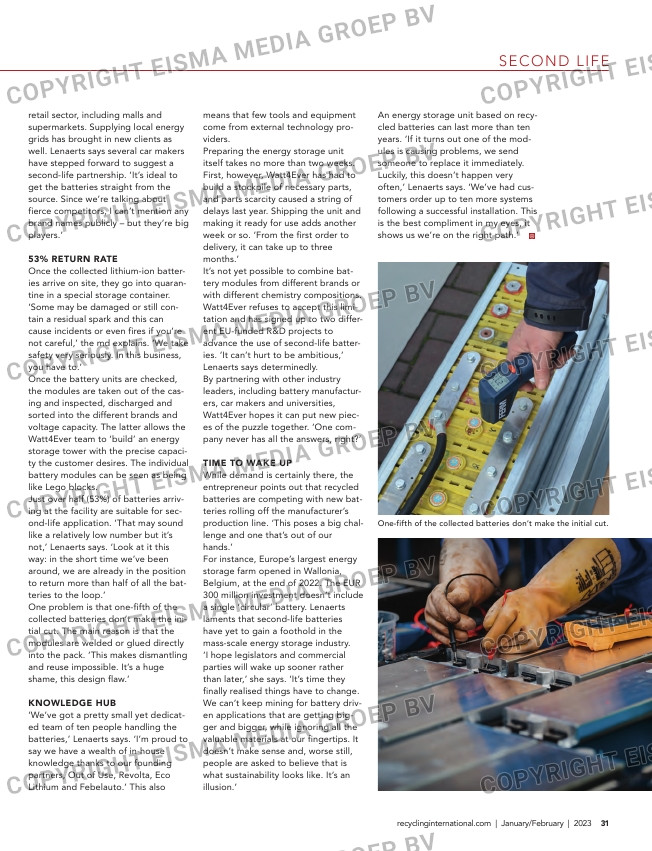 31recyclinginternational.com | January/February | 2023
SECOND LIFE
Why energy storage needs
retail sector, including malls and
supermarkets. Supplying local energy
grids has brought in new clients as
well. Lenaerts says several car makers
have stepped forward to suggest a
second-life partnership. 'It's ideal to
get the batteries straight from the
source. Since we're talking about
fierce competitors, I can't mention any
brand names publicly – but they're big
players.'
53% RETURN RATE
Once the collected lithium-ion batter-
ies arrive on site, they go into quaran-
tine in a special storage container.
'Some may be damaged or still con-
tain a residual spark and this can
cause incidents or even fires if you're
not careful,' the md explains. 'We take
safety very seriously. In this business,
you have to.'
Once the battery units are checked,
the modules are taken out of the cas-
ing and inspected, discharged and
sorted into the different brands and
voltage capacity. The latter allows the
Watt4Ever team to 'build' an energy
storage tower with the precise capaci-
ty the customer desires. The individual
battery modules can be seen as being
like Lego blocks.
Just over half (53%) of batteries arriv-
ing at the facility are suitable for sec-
ond-life application. 'That may sound
like a relatively low number but it's
not,' Lenaerts says. 'Look at it this
way: in the short time we've been
around, we are already in the position
to return more than half of all the bat-
teries to the loop.'
One problem is that one-fifth of the
collected batteries don't make the ini-
tial cut. The main reason is that the
modules are welded or glued directly
into the pack. 'This makes dismantling
and reuse impossible. It's a huge
shame, this design flaw.'
KNOWLEDGE HUB
'We've got a pretty small yet dedicat-
ed team of ten people handling the
batteries,' Lenaerts says. 'I'm proud to
say we have a wealth of in-house
knowledge thanks to our founding
partners, Out of Use, Revolta, Eco
Lithium and Febelauto.' This also
means that few tools and equipment
come from external technology pro-
viders.
Preparing the energy storage unit
itself takes no more than two weeks.
First, however, Watt4Ever has had to
build a stockpile of necessary parts,
and parts scarcity caused a string of
delays last year. Shipping the unit and
making it ready for use adds another
week or so. 'From the first order to
delivery, it can take up to three
months.'
It's not yet possible to combine bat-
tery modules from different brands or
with different chemistry compositions.
Watt4Ever refuses to accept this limi-
tation and has signed up to two differ-
ent EU-funded R&D projects to
advance the use of second-life batter-
ies. 'It can't hurt to be ambitious,'
Lenaerts says determinedly.
By partnering with other industry
leaders, including battery manufactur-
ers, car makers and universities,
Watt4Ever hopes it can put new piec-
es of the puzzle together. 'One com-
pany never has all the answers, right?'
TIME TO WAKE UP
While demand is certainly there, the
entrepreneur points out that recycled
batteries are competing with new bat-
teries rolling off the manufacturer's
production line. 'This poses a big chal-
lenge and one that's out of our
hands.'
For instance, Europe's largest energy
storage farm opened in Wallonia,
Belgium, at the end of 2022. The EUR
300 million investment doesn't include
a single 'circular' battery. Lenaerts
laments that second-life batteries
have yet to gain a foothold in the
mass-scale energy storage industry.
'I hope legislators and commercial
parties will wake up sooner rather
than later,' she says. 'It's time they
finally realised things have to change.
We can't keep mining for battery driv-
en applications that are getting big-
ger and bigger, while ignoring all the
valuable materials at our fingertips. It
doesn't make sense and, worse still,
people are asked to believe that is
what sustainability looks like. It's an
illusion.'
An energy storage unit based on recy-
cled batteries can last more than ten
years. 'If it turns out one of the mod-
ules is causing problems, we send
someone to replace it immediately.
Luckily, this doesn't happen very
often,' Lenaerts says. 'We've had cus-
tomers order up to ten more systems
following a successful installation. This
is the best compliment in my eyes, it
shows us we're on the right path.'
Fotobijschrift
One-fifth of the collected batteries don't make the initial cut.
KADERKOP
??
30-31_2ndlife-datadestruction.indd 31 03-02-2023 13:56