Recycling International January/February issue 2023
Subscribe
Page 30 from: Recycling International January/February issue 2023
30 Why energy storage needs The battery energy storage systems sector is booming. Currently worth an esti- mated US$ 4.5 billion (EUR 4.1 billion) worldwide it is projected to exceed US$ 15 billion by 2027. One of the leading recyclers...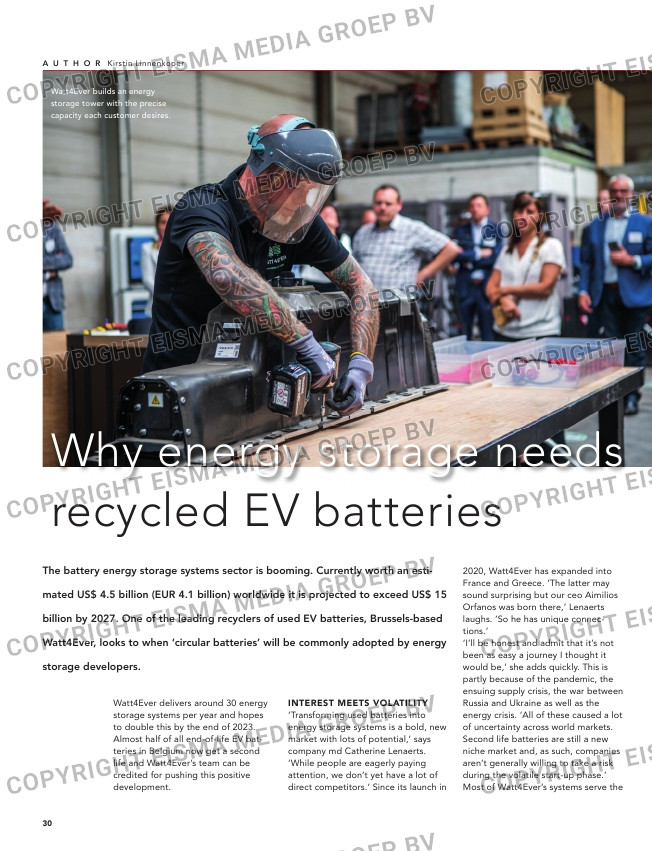 30
Why energy storage needs
The battery energy storage systems sector is booming. Currently worth an esti-
mated US$ 4.5 billion (EUR 4.1 billion) worldwide it is projected to exceed US$ 15
billion by 2027. One of the leading recyclers of used EV batteries, Brussels-based
Watt4Ever, looks to when 'circular batteries' will be commonly adopted by energy
storage developers.
retail sector, including malls and
supermarkets. Supplying local energy
grids has brought in new clients as
well. Lenaerts says several car makers
have stepped forward to suggest a
second-life partnership. 'It's ideal to
get the batteries straight from the
source. Since we're talking about
fierce competitors, I can't mention any
brand names publicly – but they're big
players.'
53% RETURN RATE
Once the collected lithium-ion batter-
ies arrive on site, they go into quaran-
tine in a special storage container.
'Some may be damaged or still con-
tain a residual spark and this can
cause incidents or even fires if you're
not careful,' the md explains. 'We take
safety very seriously. In this business,
you have to.'
Once the battery units are checked,
the modules are taken out of the cas-
ing and inspected, discharged and
sorted into the different brands and
voltage capacity. The latter allows the
Watt4Ever team to 'build' an energy
storage tower with the precise capaci-
ty the customer desires. The individual
battery modules can be seen as being
like Lego blocks.
Just over half (53%) of batteries arriv-
ing at the facility are suitable for sec-
ond-life application. 'That may sound
like a relatively low number but it's
not,' Lenaerts says. 'Look at it this
way: in the short time we've been
around, we are already in the position
to return more than half of all the bat-
teries to the loop.'
One problem is that one-fifth of the
collected batteries don't make the ini-
tial cut. The main reason is that the
modules are welded or glued directly
into the pack. 'This makes dismantling
and reuse impossible. It's a huge
shame, this design flaw.'
KNOWLEDGE HUB
'We've got a pretty small yet dedicat-
ed team of ten people handling the
batteries,' Lenaerts says. 'I'm proud to
say we have a wealth of in-house
knowledge thanks to our founding
partners, Out of Use, Revolta, Eco
Lithium and Febelauto.' This also
Watt4Ever delivers around 30 energy
storage systems per year and hopes
to double this by the end of 2023.
Almost half of all end-of-life EV bat-
teries in Belgium now get a second
life and Watt4Ever's team can be
credited for pushing this positive
development.
INTEREST MEETS VOLATILITY
'Transforming used batteries into
energy storage systems is a bold, new
market with lots of potential,' says
company md Catherine Lenaerts.
'While people are eagerly paying
attention, we don't yet have a lot of
direct competitors.' Since its launch in
2020, Watt4Ever has expanded into
France and Greece. 'The latter may
sound surprising but our ceo Aimilios
Orfanos was born there,' Lenaerts
laughs. 'So he has unique connec-
tions.'
'I'll be honest and admit that it's not
been as easy a journey I thought it
would be,' she adds quickly. This is
partly because of the pandemic, the
ensuing supply crisis, the war between
Russia and Ukraine as well as the
energy crisis. 'All of these caused a lot
of uncertainty across world markets.
Second life batteries are still a new
niche market and, as such, companies
aren't generally willing to take a risk
during the volatile start-up phase.'
Most of Watt4Ever's systems serve the
A U T H O R Kirstin Linnenkoper
recycled EV batteries
Watt4Ever builds an energy
storage tower with the precise
capacity each customer desires.
30-31_2ndlife-datadestruction.indd 30 03-02-2023 13:56