Recycling International January/February issue 2023
Subscribe
Page 28 from: Recycling International January/February issue 2023
28 'Is this realistic? There is almost no wriggle room.' Fischer points out the Basel Convention is all about prior- informed consent. 'While its intent is not to restrict all trade, consent really does impact legitimate and resp...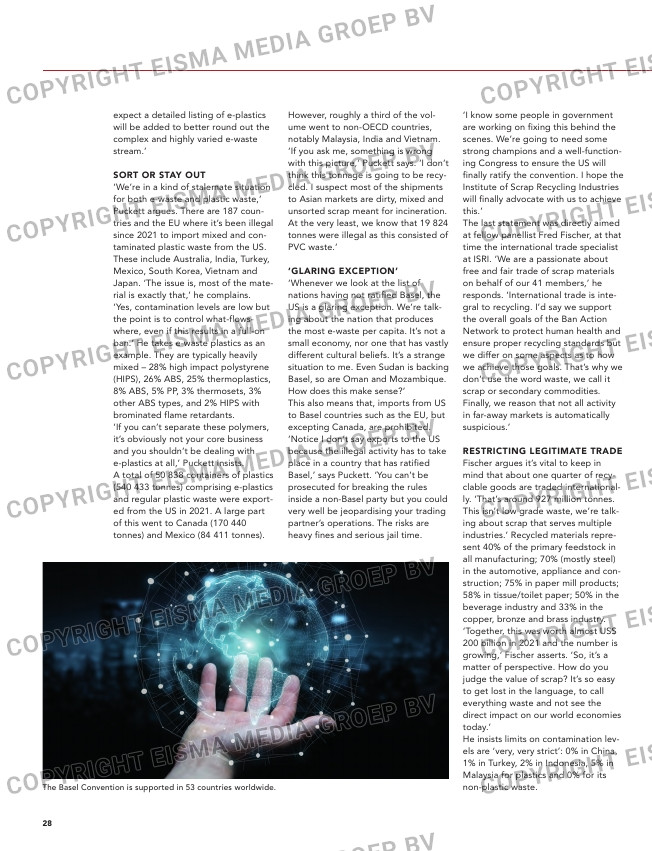 28
'Is this realistic? There is almost no
wriggle room.' Fischer points out the
Basel Convention is all about prior-
informed consent. 'While its intent is
not to restrict all trade, consent really
does impact legitimate and responsi-
ble trade.'
Data on plastic scrap is very hard to
nail down but ISRI has compiled figures
on plastic scrap trade and other scrap
around the world. In 2021, exports of
plastic scrap worth US$ 8 billion were
subject to the Basel Convention. The
strict measures could prohibit approxi-
mately US$ 5.2 billion of exports.
Over 30% of electronics exports in
2021 went to OECD countries. That
year, an estimated US$ 68.7 billion of
the world's e-scrap exports could be
subject to the Basel controls and over
US$ 20.5 billion of exports to non-
OECD nations could be banned.
For reference, total electronics
exports in 2020 were valued at US$
56.7 billion, with exports to non-
OECD countries worth US$ 17.8 bil-
lion. In 2015, the figures stood at US$
44 billion and US$ 14.6 billion.
expect a detailed listing of e-plastics
will be added to better round out the
complex and highly varied e-waste
stream.'
SORT OR STAY OUT
'We're in a kind of stalemate situation
for both e-waste and plastic waste,'
Puckett argues. There are 187 coun-
tries and the EU where it's been illegal
since 2021 to import mixed and con-
taminated plastic waste from the US.
These include Australia, India, Turkey,
Mexico, South Korea, Vietnam and
Japan. 'The issue is, most of the mate-
rial is exactly that,' he complains.
'Yes, contamination levels are low but
the point is to control what-flows-
where, even if this results in a full-on
ban.' He takes e-waste plastics as an
example. They are typically heavily
mixed – 28% high impact polystyrene
(HIPS), 26% ABS, 25% thermoplastics,
8% ABS, 5% PP, 3% thermosets, 3%
other ABS types, and 2% HIPS with
brominated flame retardants.
'If you can't separate these polymers,
it's obviously not your core business
and you shouldn't be dealing with
e-plastics at all,' Puckett insists.
A total of 50 838 containers of plastics
(540 433 tonnes) comprising e-plastics
and regular plastic waste were export-
ed from the US in 2021. A large part
of this went to Canada (170 440
tonnes) and Mexico (84 411 tonnes).
However, roughly a third of the vol-
ume went to non-OECD countries,
notably Malaysia, India and Vietnam.
'If you ask me, something is wrong
with this picture,' Puckett says. 'I don't
think this tonnage is going to be recy-
cled. I suspect most of the shipments
to Asian markets are dirty, mixed and
unsorted scrap meant for incineration.
At the very least, we know that 19 824
tonnes were illegal as this consisted of
PVC waste.'
'GLARING EXCEPTION'
'Whenever we look at the list of
nations having not ratified Basel, the
US is a glaring exception. We're talk-
ing about the nation that produces
the most e-waste per capita. It's not a
small economy, nor one that has vastly
different cultural beliefs. It's a strange
situation to me. Even Sudan is backing
Basel, so are Oman and Mozambique.
How does this make sense?'
This also means that, imports from US
to Basel countries such as the EU, but
excepting Canada, are prohibited.
'Notice I don't say exports to the US
because the illegal activity has to take
place in a country that has ratified
Basel,' says Puckett. 'You can't be
prosecuted for breaking the rules
inside a non-Basel party but you could
very well be jeopardising your trading
partner's operations. The risks are
heavy fines and serious jail time.
'I know some people in government
are working on fixing this behind the
scenes. We're going to need some
strong champions and a well-function-
ing Congress to ensure the US will
finally ratify the convention. I hope the
Institute of Scrap Recycling Industries
will finally advocate with us to achieve
this.'
The last statement was directly aimed
at fellow panellist Fred Fischer, at that
time the international trade specialist
at ISRI. 'We are a passionate about
free and fair trade of scrap materials
on behalf of our 41 members,' he
responds. 'International trade is inte-
gral to recycling. I'd say we support
the overall goals of the Ban Action
Network to protect human health and
ensure proper recycling standards but
we differ on some aspects as to how
we achieve those goals. That's why we
don't use the word waste, we call it
scrap or secondary commodities.
Finally, we reason that not all activity
in far-away markets is automatically
suspicious.'
RESTRICTING LEGITIMATE TRADE
Fischer argues it's vital to keep in
mind that about one quarter of recy-
clable goods are traded international-
ly. 'That's around 927 million tonnes.
This isn't low grade waste, we're talk-
ing about scrap that serves multiple
industries.' Recycled materials repre-
sent 40% of the primary feedstock in
all manufacturing; 70% (mostly steel)
in the automotive, appliance and con-
struction; 75% in paper mill products;
58% in tissue/toilet paper; 50% in the
beverage industry and 33% in the
copper, bronze and brass industry.
'Together, this was worth almost US$
200 billion in 2021 and the number is
growing,' Fischer asserts. 'So, it's a
matter of perspective. How do you
judge the value of scrap? It's so easy
to get lost in the language, to call
everything waste and not see the
direct impact on our world economies
today.'
He insists limits on contamination lev-
els are 'very, very strict': 0% in China,
1% in Turkey, 2% in Indonesia, 5% in
Malaysia for plastics and 0% for its
non-plastic waste. The Basel Convention is supported in 53 countries worldwide.
An estimated US$ 68.7 billion of the world's e-scrap exports in 2021 could be subject to the Basel controls.
26-27-28-29_escrap22part2.indd 28 03-02-2023 13:55