Recycling International January/February issue 2023
Subscribe
Page 25 from: Recycling International January/February issue 2023
25recyclinginternational.com | January/February | 2023 CONFERENCE REPORT partnership structure, a global treaty regarding e-waste?' Vlak asks the audience. 'There is a business case for a UN treaty on plastics. Why aren't we ...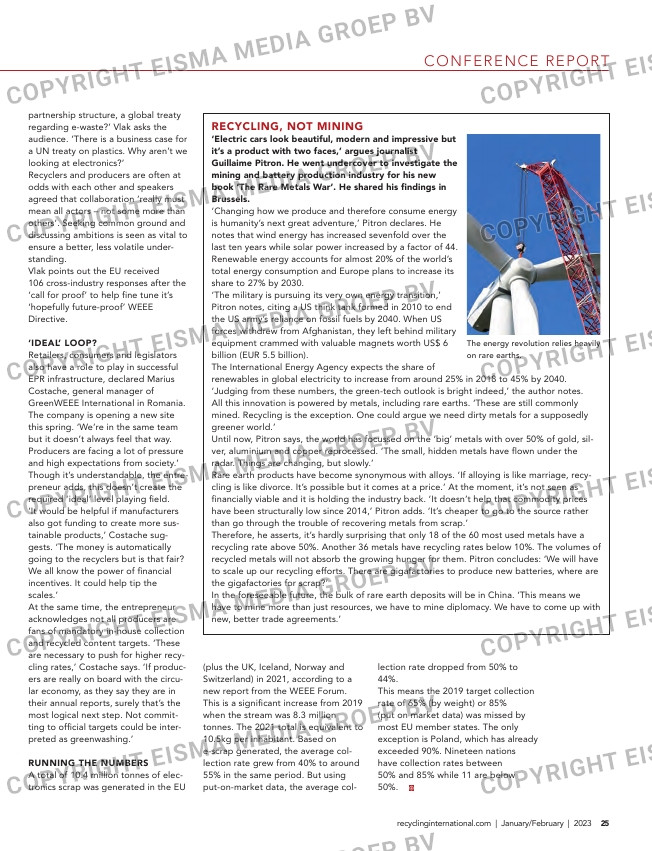 25recyclinginternational.com | January/February | 2023
CONFERENCE REPORT
partnership structure, a global treaty
regarding e-waste?' Vlak asks the
audience. 'There is a business case for
a UN treaty on plastics. Why aren't we
looking at electronics?'
Recyclers and producers are often at
odds with each other and speakers
agreed that collaboration 'really must
mean all actors – not some more than
others'. Seeking common ground and
discussing ambitions is seen as vital to
ensure a better, less volatile under-
standing.
Vlak points out the EU received
106 cross-industry responses after the
'call for proof' to help fine tune it's
'hopefully future-proof' WEEE
Directive.
'IDEAL' LOOP?
Retailers, consumers and legislators
also have a role to play in successful
EPR infrastructure, declared Marius
Costache, general manager of
GreenWEEE International in Romania.
The company is opening a new site
this spring. 'We're in the same team
but it doesn't always feel that way.
Producers are facing a lot of pressure
and high expectations from society.'
Though it's understandable, the entre-
preneur adds, this doesn't create the
required 'ideal' level playing field.
'It would be helpful if manufacturers
also got funding to create more sus-
tainable products,' Costache sug-
gests. 'The money is automatically
going to the recyclers but is that fair?
We all know the power of financial
incentives. It could help tip the
scales.'
At the same time, the entrepreneur
acknowledges not all producers are
fans of mandatory in-house collection
and recycled content targets. 'These
are necessary to push for higher recy-
cling rates,' Costache says. 'If produc-
ers are really on board with the circu-
lar economy, as they say they are in
their annual reports, surely that's the
most logical next step. Not commit-
ting to official targets could be inter-
preted as greenwashing.'
RUNNING THE NUMBERS
A total of 10.4 million tonnes of elec-
tronics scrap was generated in the EU
(plus the UK, Iceland, Norway and
Switzerland) in 2021, according to a
new report from the WEEE Forum.
This is a significant increase from 2019
when the stream was 8.3 million
tonnes. The 2021 total is equivalent to
10.5kg per inhabitant. Based on
e-scrap generated, the average col-
lection rate grew from 40% to around
55% in the same period. But using
put-on-market data, the average col-
lection rate dropped from 50% to
44%.
This means the 2019 target collection
rate of 65% (by weight) or 85%
(put on market data) was missed by
most EU member states. The only
exception is Poland, which has already
exceeded 90%. Nineteen nations
have collection rates between
50% and 85% while 11 are below
50%.
Fotobijschrift
KADERKOP
??
RECYCLING, NOT MINING
'Electric cars look beautiful, modern and impressive but
it's a product with two faces,' argues journalist
Guillaime Pitron. He went undercover to investigate the
mining and battery production industry for his new
book 'The Rare Metals War'. He shared his findings in
Brussels.
'Changing how we produce and therefore consume energy
is humanity's next great adventure,' Pitron declares. He
notes that wind energy has increased sevenfold over the
last ten years while solar power increased by a factor of 44.
Renewable energy accounts for almost 20% of the world's
total energy consumption and Europe plans to increase its
share to 27% by 2030.
'The military is pursuing its very own energy transition,'
Pitron notes, citing a US think tank formed in 2010 to end
the US army's reliance on fossil fuels by 2040. When US
forces withdrew from Afghanistan, they left behind military
equipment crammed with valuable magnets worth US$ 6
billion (EUR 5.5 billion).
The International Energy Agency expects the share of
renewables in global electricity to increase from around 25% in 2018 to 45% by 2040.
'Judging from these numbers, the green-tech outlook is bright indeed,' the author notes.
All this innovation is powered by metals, including rare earths. 'These are still commonly
mined. Recycling is the exception. One could argue we need dirty metals for a supposedly
greener world.'
Until now, Pitron says, the world has focussed on the 'big' metals with over 50% of gold, sil-
ver, aluminium and copper reprocessed. 'The small, hidden metals have flown under the
radar. Things are changing, but slowly.'
Rare earth products have become synonymous with alloys. 'If alloying is like marriage, recy-
cling is like divorce. It's possible but it comes at a price.' At the moment, it's not seen as
financially viable and it is holding the industry back. 'It doesn't help that commodity prices
have been structurally low since 2014,' Pitron adds. 'It's cheaper to go to the source rather
than go through the trouble of recovering metals from scrap.'
Therefore, he asserts, it's hardly surprising that only 18 of the 60 most used metals have a
recycling rate above 50%. Another 36 metals have recycling rates below 10%. The volumes of
recycled metals will not absorb the growing hunger for them. Pitron concludes: 'We will have
to scale up our recycling efforts. There are gigafactories to produce new batteries, where are
the gigafactories for scrap?'
In the foreseeable future, the bulk of rare earth deposits will be in China. 'This means we
have to mine more than just resources, we have to mine diplomacy. We have to come up with
new, better trade agreements.'
The energy revolution relies heavily
on rare earths.
24-25_weeeforumhighlights.indd 25 03-02-2023 13:54