Recycling International January/February issue 2023
Subscribe
Page 23 from: Recycling International January/February issue 2023
23recyclinginternational.com | January/February | 2023 towards much more 'cleaner and greener' operations and he is proud to set an example in best 'green' practice. 'At Skelleftehamn we will soon introduce a Liebherr ele...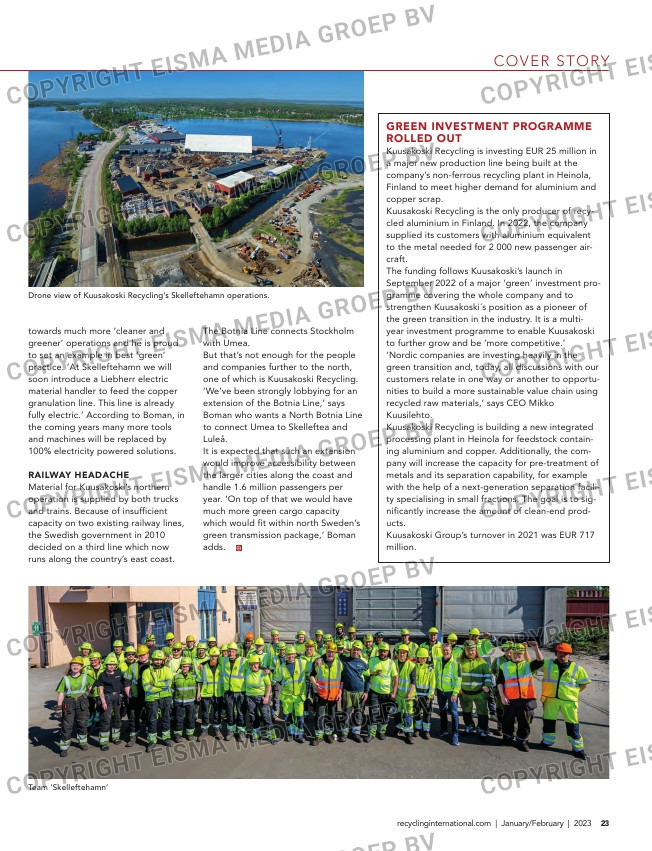 23recyclinginternational.com | January/February | 2023
towards much more 'cleaner and
greener' operations and he is proud
to set an example in best 'green'
practice. 'At Skelleftehamn we will
soon introduce a Liebherr electric
material handler to feed the copper
granulation line. This line is already
fully electric.' According to Boman, in
the coming years many more tools
and machines will be replaced by
100% electricity powered solutions.
RAILWAY HEADACHE
Material for Kuusakoski's northern
operation is supplied by both trucks
and trains. Because of insufficient
capacity on two existing railway lines,
the Swedish government in 2010
decided on a third line which now
runs along the country's east coast.
The Botnia Line connects Stockholm
with Umea.
But that's not enough for the people
and companies further to the north,
one of which is Kuusakoski Recycling.
'We've been strongly lobbying for an
extension of the Botnia Line,' says
Boman who wants a North Botnia Line
to connect Umea to Skelleftea and
Luleå.
It is expected that such an extension
would improve accessibility between
the larger cities along the coast and
handle 1.6 million passengers per
year. 'On top of that we would have
much more green cargo capacity
which would fit within north Sweden's
green transmission package,' Boman
adds.
GREEN INVESTMENT PROGRAMME
ROLLED OUT
Kuusakoski Recycling is investing EUR 25 million in
a major new production line being built at the
company's non-ferrous recycling plant in Heinola,
Finland to meet higher demand for aluminium and
copper scrap.
Kuusakoski Recycling is the only producer of recy-
cled aluminium in Finland. In 2022, the company
supplied its customers with aluminium equivalent
to the metal needed for 2 000 new passenger air-
craft.
The funding follows Kuusakoski's launch in
September 2022 of a major 'green' investment pro-
gramme covering the whole company and to
strengthen Kuusakoski´s position as a pioneer of
the green transition in the industry. It is a multi-
year investment programme to enable Kuusakoski
to further grow and be 'more competitive.'
'Nordic companies are investing heavily in the
green transition and, today, all discussions with our
customers relate in one way or another to opportu-
nities to build a more sustainable value chain using
recycled raw materials,' says CEO Mikko
Kuusilehto.
Kuusakoski Recycling is building a new integrated
processing plant in Heinola for feedstock contain-
ing aluminium and copper. Additionally, the com-
pany will increase the capacity for pre-treatment of
metals and its separation capability, for example
with the help of a next-generation separation facili-
ty specialising in small fractions. The goal is to sig-
nificantly increase the amount of clean-end prod-
ucts.
Kuusakoski Group's turnover in 2021 was EUR 717
million.
'Cheap and clean energy is the key to
north Sweden's future success,' says
Olov Boman, managing director of
Kuusakoski Recycling Sweden. On the
sidelines of the latest International
Electronics Recycling Congress (IERC)
in Salzburg, Boman proudly outlined
the opportunities arising from the
arrival of battery specialist Northvolt,
along with 'all these data centres' and
many others to settle in and around
his home region of Skelleftea.
'Because I grew up in the area it's
exciting to witness how the inflow of
people from outside has brought new
energy,' Boman explains. 'This is good
for all of us. What's more, obviously,
more people, more investments and
more activities ultimately boost scrap
volumes, which is good news for our
business, too.'
12 YARDS, TWO SHREDDERS
Kuusakoski Recycling claims a leading
role in Sweden's scrap metal sector.
Scattered across the country, the com-
pany operates 12 yards, most of which
are collection hubs. Skelleftehamn,
next to Boliden's Rönnskär complex, is
Kuusakoski's main facility in Sweden,
with a 3 000 HP car shredder. In addi-
tion, there is a ring crusher for
e-scrap. The infeed of steel alone at
Skelleftehamn hits around 65 000
tonnes per year, according to Boman.
A second shredder is located at
Kuusakoski's facility in Gävle on
Sweden's east coast.
'GREEN' OPERATION ON
THE RISE
According to Boman, Kuusakoski
Recycling is busy transforming itself Team 'Skelleftehamn'
Drone view of Kuusakoski Recycling's Skelleftehamn operations.
COVER STORY
16-17-18-19-20-21-22-23_countryreport-northsweden.indd 23 03-02-2023 13:53