Recycling International January/February issue 2023
Subscribe
Page 21 from: Recycling International January/February issue 2023
21recyclinginternational.com | January/February | 2023 RECYCLING TO THE MAX Since there are precious metals in these residues, Boliden does its utmost to extract them first. The com- pany has invested EUR 70 million in a leaching pl...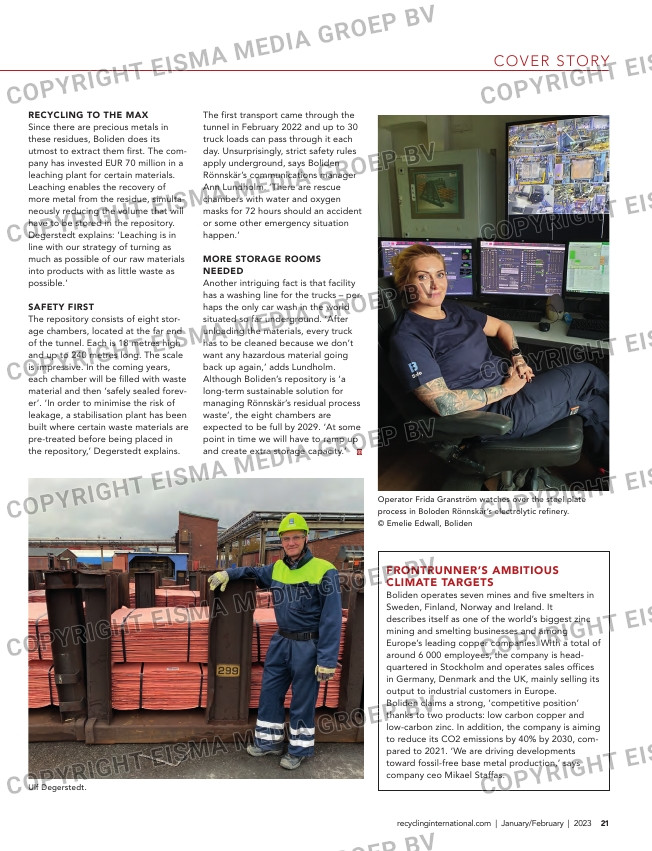 21recyclinginternational.com | January/February | 2023
RECYCLING TO THE MAX
Since there are precious metals in
these residues, Boliden does its
utmost to extract them first. The com-
pany has invested EUR 70 million in a
leaching plant for certain materials.
Leaching enables the recovery of
more metal from the residue, simulta-
neously reducing the volume that will
have to be stored in the repository.
Degerstedt explains: 'Leaching is in
line with our strategy of turning as
much as possible of our raw materials
into products with as little waste as
possible.'
SAFETY FIRST
The repository consists of eight stor-
age chambers, located at the far end
of the tunnel. Each is 18 metres high
and up to 240 metres long. The scale
is impressive. In the coming years,
each chamber will be filled with waste
material and then 'safely sealed forev-
er'. 'In order to minimise the risk of
leakage, a stabilisation plant has been
built where certain waste materials are
pre-treated before being placed in
the repository,' Degerstedt explains.
The first transport came through the
tunnel in February 2022 and up to 30
truck loads can pass through it each
day. Unsurprisingly, strict safety rules
apply underground, says Boliden
Rönnskär's communications manager
Ann Lundholm. 'There are rescue
chambers with water and oxygen
masks for 72 hours should an accident
or some other emergency situation
happen.'
MORE STORAGE ROOMS
NEEDED
Another intriguing fact is that facility
has a washing line for the trucks – per-
haps the only car wash in the world
situated so far underground. 'After
unloading the materials, every truck
has to be cleaned because we don't
want any hazardous material going
back up again,' adds Lundholm.
Although Boliden's repository is 'a
long-term sustainable solution for
managing Rönnskär's residual process
waste', the eight chambers are
expected to be full by 2029. 'At some
point in time we will have to ramp up
and create extra storage capacity.'
FRONTRUNNER'S AMBITIOUS
CLIMATE TARGETS
Boliden operates seven mines and five smelters in
Sweden, Finland, Norway and Ireland. It
describes itself as one of the world's biggest zinc
mining and smelting businesses and among
Europe's leading copper companies. With a total of
around 6 000 employees, the company is head-
quartered in Stockholm and operates sales offices
in Germany, Denmark and the UK, mainly selling its
output to industrial customers in Europe.
Boliden claims a strong, 'competitive position'
thanks to two products: low carbon copper and
low-carbon zinc. In addition, the company is aiming
to reduce its CO2 emissions by 40% by 2030, com-
pared to 2021. 'We are driving developments
toward fossil-free base metal production,' says
company ceo Mikael Staffas.
This story begins 330 metres under-
ground in a surreal place you'd rather
not want to be any longer than neces-
sary. It's best compared to being in a
stalactite cave. It's a bit cold, humid,
has a strange smell and is mostly pitch
black. The only light comes from the
pick-up truck that has carried us on a
bumpy ride along a 3.5 km tunnel cut
through solid rock.
'Welcome to our deep repository,'
says Ulf Degerstedt, technology and
business development manager at
Boliden Rönnskär, a massive metal,
smelting and recycling plant at
Skelleftehamn, a peninsula on the Gulf
of Bothnia east of Skelleftea.
DRIVEN BY LEGISLATION
Boliden's deep facility is unique, says
Degerstedt. 'Nowhere else in the
world will you find a deep under-
ground repository on the same site as
a smelter.' The company's decision to
put all the waste processed from the
smelter in the repository has been
forced in part by environmental legis-
lation. If waste from smelting and
recycling contains more than 0.1%
mercury it must be stored in a deep
underground repository – similar to
the treatment of nuclear waste. 'We
hired nuclear waste storage experts to
learn from their know-how.'
Only a small part of Rönnskär's waste
contains mercury, explains
Degerstedt. The bulk of the residue is
comprised of other substances cur-
rently stored on the industrial site.
'But these materials, too, will be trans-
ferred to the repository, along with
those generated from the daily opera-
tions.' Ulf Degerstedt.
Operator Frida Granström watches over the steel plate
process in Boloden Rönnskär's electrolytic refinery.
© Emelie Edwall, Boliden
COVER STORY
16-17-18-19-20-21-22-23_countryreport-northsweden.indd 21 03-02-2023 13:53