Recycling International January/February issue 2023
Subscribe
Page 13 from: Recycling International January/February issue 2023
TRENDS & UPDATES 13recyclinginternational.com | January/February | 2023 RECORD ALUMINIUM CAN RECYCLING ACROSS EUROPE The recycling rate for aluminium beverage cans in the European Union, United Kingdom, Switzerland, Norway and I...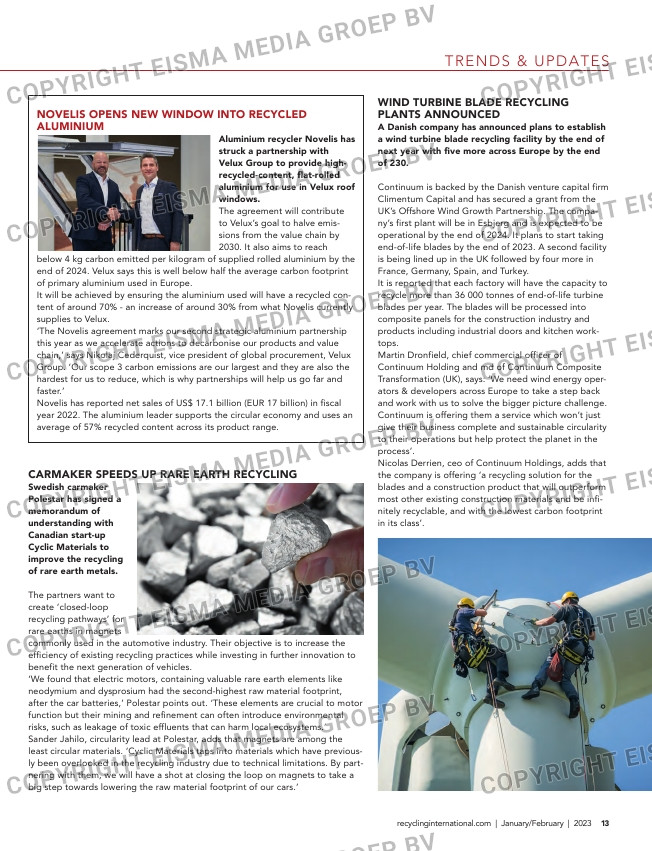 TRENDS & UPDATES
13recyclinginternational.com | January/February | 2023
RECORD ALUMINIUM CAN RECYCLING ACROSS
EUROPE
The recycling rate for aluminium beverage cans in the European
Union, United Kingdom, Switzerland, Norway and Iceland stands
at 73%.
Despite a three-point drop compared to 2019, a 9% growth of cans
consumed means that recycled aluminium reached a record level of
510 000 tonnes, according to a new report by Metal Packaging Europe
and European Aluminium.
It says it is an increase of more than 20 000 tonnes compared to the
previous year and represents a total greenhouse gas emissions saving
of 4.2 million tonnes of CO2e – equivalent to the GHG emissions pro-
duced by a European city of nearly half a million inhabitants like
Toulouse or Gdansk.
The report points out that most EU Member States now report at the
point of entrance of a recycling facility, instead of the collection phase.
This has resulted in lower figures for most packaging materials.
Can manufacturers and their aluminium suppliers welcome the new
data and say that despite new EU recycling reporting rules and the
'spectacular growth' in cans consumed, the total tonnage of recycled
aluminium cans has increased.
'We are fully supportive of the new EU recycling reporting rules as
they measure "real" recycling and we are pleased to notice that this
has resulted in only a very minor and likely only temporary drop in the
can recycling rate,' says Léonie Knox-Peebles, ceo of Metal Packaging
Europe. 'The aluminium beverage can already meets the highest recy-
clability performance grade of 95% as proposed in the new draft for a
Packaging & Packaging Waste Regulation.'
'With more countries turning to deposit return schemes (DRS), we
will be able to recycle more cans via a can-to-can remelting solution,'
comments Maarten Labberton, director, packaging group at European
Aluminium. 'We are calling upon those countries with classic EPR
systems to invest more in the collection and sorting of the whole
aluminium packaging fraction in order to fully close the material
loop.'
INDIA-NZ COLLABORATION TO ADVANCE STEEL
RECYCLING
Indian firm JSW Steel and New Zealand recycler National Steel
Holdings are setting up a metal recycling plant in the Raigad
district of Maharashtra. Around EUR 1.9 million will be invest-
ed in the joint venture.
The new site will be developed on 12 hectares of land near JSW's
existing steel plant in Dolvi, which has a processing capacity of 10
million tonnes a year. It is scheduled to open at the end of 2024.
According to the business partners, their collaboration initiated in
August will realise scrap shredding plants equipped with state-of-
the-art machinery using innovative recycling methods.
'While many may regard JSW as part of the problem, we think of
ourselves as part of the solution as well,' says Sajjan Jindal, chair-
man of the board at the Indian steelmaker. He emphasises JSW's
ambition to create sustainable steel, adding: 'We are committed
not just in words but thought, time, effort and resources to make
our sustainability vision a reality.'
WIND TURBINE BLADE RECYCLING
PLANTS ANNOUNCED
A Danish company has announced plans to establish
a wind turbine blade recycling facility by the end of
next year with five more across Europe by the end
of 230.
Continuum is backed by the Danish venture capital firm
Climentum Capital and has secured a grant from the
UK's Offshore Wind Growth Partnership. The compa-
ny's first plant will be in Esbjerg and is expected to be
operational by the end of 2024. It plans to start taking
end-of-life blades by the end of 2023. A second facility
is being lined up in the UK followed by four more in
France, Germany, Spain, and Turkey.
It is reported that each factory will have the capacity to
recycle more than 36 000 tonnes of end-of-life turbine
blades per year. The blades will be processed into
composite panels for the construction industry and
products including industrial doors and kitchen work-
tops.
Martin Dronfield, chief commercial officer of
Continuum Holding and md of Continuum Composite
Transformation (UK), says: 'We need wind energy oper-
ators & developers across Europe to take a step back
and work with us to solve the bigger picture challenge.
Continuum is offering them a service which won't just
give their business complete and sustainable circularity
to their operations but help protect the planet in the
process'.
Nicolas Derrien, ceo of Continuum Holdings, adds that
the company is offering 'a recycling solution for the
blades and a construction product that will outperform
most other existing construction materials and be infi-
nitely recyclable, and with the lowest carbon footprint
in its class'.
CARMAKER SPEEDS UP RARE EARTH RECYCLING
Swedish carmaker
Polestar has signed a
memorandum of
understanding with
Canadian start-up
Cyclic Materials to
improve the recycling
of rare earth metals.
The partners want to
create 'closed-loop
recycling pathways' for
rare earths in magnets
commonly used in the automotive industry. Their objective is to increase the
efficiency of existing recycling practices while investing in further innovation to
benefit the next generation of vehicles.
'We found that electric motors, containing valuable rare earth elements like
neodymium and dysprosium had the second-highest raw material footprint,
after the car batteries,' Polestar points out. 'These elements are crucial to motor
function but their mining and refinement can often introduce environmental
risks, such as leakage of toxic effluents that can harm local ecosystems.'
Sander Jahilo, circularity lead at Polestar, adds that magnets are among the
least circular materials. 'Cyclic Materials taps into materials which have previous-
ly been overlooked in the recycling industry due to technical limitations. By part-
nering with them, we will have a shot at closing the loop on magnets to take a
big step towards lowering the raw material footprint of our cars.'
NOVELIS OPENS NEW WINDOW INTO RECYCLED
ALUMINIUM
Aluminium recycler Novelis has
struck a partnership with
Velux Group to provide high-
recycled-content, flat-rolled
aluminium for use in Velux roof
windows.
The agreement will contribute
to Velux's goal to halve emis-
sions from the value chain by
2030. It also aims to reach
below 4 kg carbon emitted per kilogram of supplied rolled aluminium by the
end of 2024. Velux says this is well below half the average carbon footprint
of primary aluminium used in Europe.
It will be achieved by ensuring the aluminium used will have a recycled con-
tent of around 70% – an increase of around 30% from what Novelis currently
supplies to Velux.
'The Novelis agreement marks our second strategic aluminium partnership
this year as we accelerate actions to decarbonise our products and value
chain,' says Nikolaj Cederquist, vice president of global procurement, Velux
Group. 'Our scope 3 carbon emissions are our largest and they are also the
hardest for us to reduce, which is why partnerships will help us go far and
faster.'
Novelis has reported net sales of US$ 17.1 billion (EUR 17 billion) in fiscal
year 2022. The aluminium leader supports the circular economy and uses an
average of 57% recycled content across its product range.
10-11-12-13-14-15_trendsupdates.indd 13 03-02-2023 13:51