Recycling International January/February issue 2023
Subscribe
Page 11 from: Recycling International January/February issue 2023
TRENDS & UPDATES 11recyclinginternational.com | January/February | 2023 Fotobijschrift new dimensions of wear protection we understand we produce we advise we are SWB billions in valuable materials are lost to wear each year...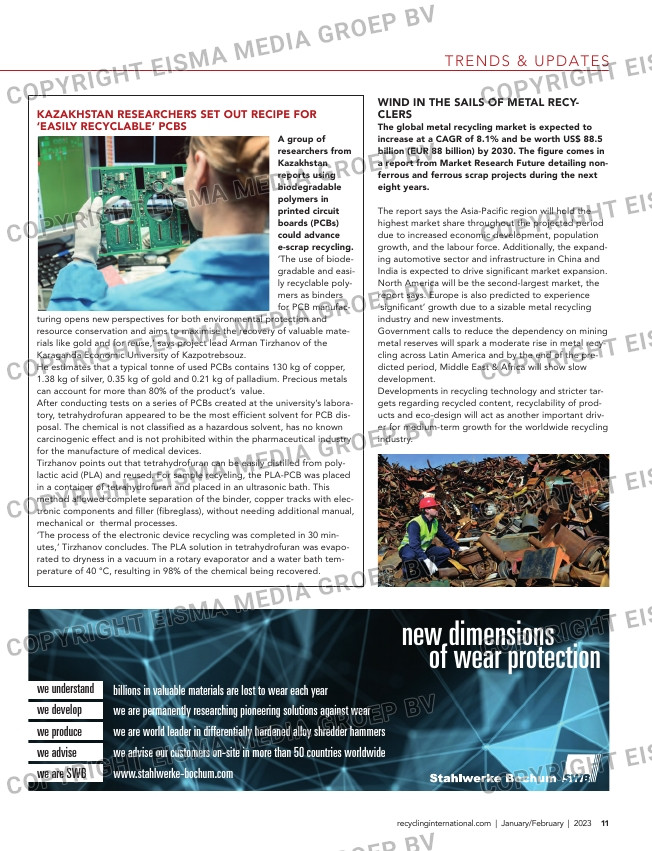 TRENDS & UPDATES
11recyclinginternational.com | January/February | 2023
Fotobijschrift
new dimensions
of wear protection
we understand
we produce
we advise
we are SWB
billions in valuable materials are lost to wear each year
we advise our customers on-site in more than 50 countries worldwide
we are world leader in differentially hardened alloy shredder hammers
we are permanently researching pioneering solutions against wear
www.stahlwerke-bochum.com
we develop
WIND IN THE SAILS OF METAL RECY-
CLERS
The global metal recycling market is expected to
increase at a CAGR of 8.1% and be worth US$ 88.5
billion (EUR 88 billion) by 2030. The figure comes in
a report from Market Research Future detailing non-
ferrous and ferrous scrap projects during the next
eight years.
The report says the Asia-Pacific region will hold the
highest market share throughout the projected period
due to increased economic development, population
growth, and the labour force. Additionally, the expand-
ing automotive sector and infrastructure in China and
India is expected to drive significant market expansion.
North America will be the second-largest market, the
report says. Europe is also predicted to experience
'significant' growth due to a sizable metal recycling
industry and new investments.
Government calls to reduce the dependency on mining
metal reserves will spark a moderate rise in metal recy-
cling across Latin America and by the end of the pre-
dicted period, Middle East & Africa will show slow
development.
Developments in recycling technology and stricter tar-
gets regarding recycled content, recyclability of prod-
ucts and eco-design will act as another important driv-
er for medium-term growth for the worldwide recycling
industry.
KAZAKHSTAN RESEARCHERS SET OUT RECIPE FOR
'EASILY RECYCLABLE' PCBS
A group of
researchers from
Kazakhstan
reports using
biodegradable
polymers in
printed circuit
boards (PCBs)
could advance
e-scrap recycling.
'The use of biode-
gradable and easi-
ly recyclable poly-
mers as binders
for PCB manufac-
turing opens new perspectives for both environmental protection and
resource conservation and aims to maximise the recovery of valuable mate-
rials like gold and for reuse,' says project lead Arman Tirzhanov of the
Karaganda Economic University of Kazpotrebsouz.
He estimates that a typical tonne of used PCBs contains 130 kg of copper,
1.38 kg of silver, 0.35 kg of gold and 0.21 kg of palladium. Precious metals
can account for more than 80% of the product's value.
After conducting tests on a series of PCBs created at the university's labora-
tory, tetrahydrofuran appeared to be the most efficient solvent for PCB dis-
posal. The chemical is not classified as a hazardous solvent, has no known
carcinogenic effect and is not prohibited within the pharmaceutical industry
for the manufacture of medical devices.
Tirzhanov points out that tetrahydrofuran can be easily distilled from poly-
lactic acid (PLA) and reused. For sample recycling, the PLA-PCB was placed
in a container of tetrahydrofuran and placed in an ultrasonic bath. This
method allowed complete separation of the binder, copper tracks with elec-
tronic components and filler (fibreglass), without needing additional manual,
mechanical or thermal processes.
'The process of the electronic device recycling was completed in 30 min-
utes,' Tirzhanov concludes. The PLA solution in tetrahydrofuran was evapo-
rated to dryness in a vacuum in a rotary evaporator and a water bath tem-
perature of 40 °C, resulting in 98% of the chemical being recovered.
10-11-12-13-14-15_trendsupdates.indd 11 03-02-2023 13:51