Recycling International – March/April issue 2023
Subscribe
Page 9 from: Recycling International – March/April issue 2023
9recyclinginternational.com | March/April | 2023 INTERVIEW ed installed PV capacity. It would make no sense to extend our focus there just yet.' We started with a small but great team of three people with a lot of technical kno...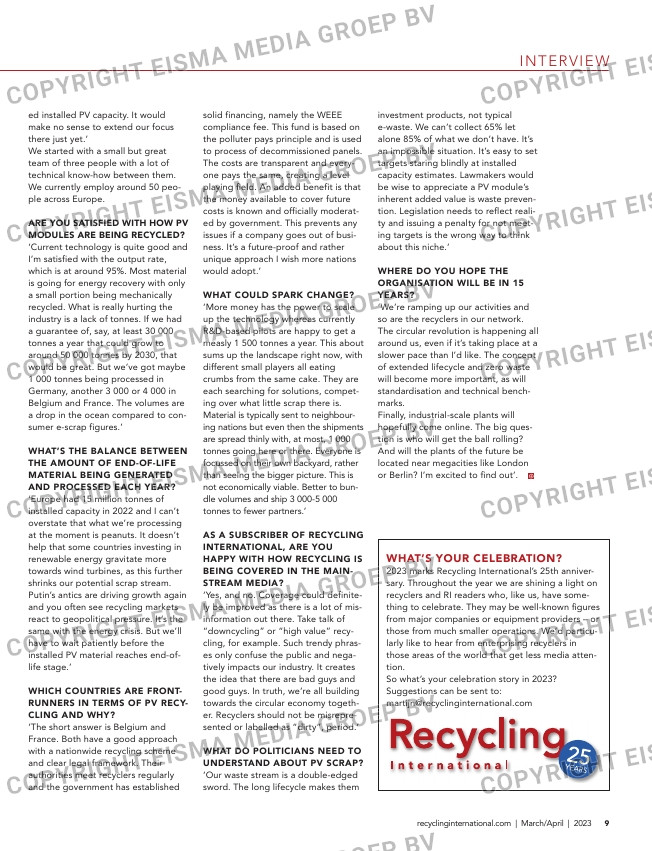 9recyclinginternational.com | March/April | 2023
INTERVIEW
ed installed PV capacity. It would
make no sense to extend our focus
there just yet.'
We started with a small but great
team of three people with a lot of
technical know-how between them.
We currently employ around 50 peo-
ple across Europe.
ARE YOU SATISFIED WITH HOW PV
MODULES ARE BEING RECYCLED?
'Current technology is quite good and
I'm satisfied with the output rate,
which is at around 95%. Most material
is going for energy recovery with only
a small portion being mechanically
recycled. What is really hurting the
industry is a lack of tonnes. If we had
a guarantee of, say, at least 30 000
tonnes a year that could grow to
around 50 000 tonnes by 2030, that
would be great. But we've got maybe
1 000 tonnes being processed in
Germany, another 3 000 or 4 000 in
Belgium and France. The volumes are
a drop in the ocean compared to con-
sumer e-scrap figures.'
WHAT'S THE BALANCE BETWEEN
THE AMOUNT OF END-OF-LIFE
MATERIAL BEING GENERATED
AND PROCESSED EACH YEAR?
'Europe had 15 million tonnes of
installed capacity in 2022 and I can't
overstate that what we're processing
at the moment is peanuts. It doesn't
help that some countries investing in
renewable energy gravitate more
towards wind turbines, as this further
shrinks our potential scrap stream.
Putin's antics are driving growth again
and you often see recycling markets
react to geopolitical pressure. It's the
same with the energy crisis. But we'll
have to wait patiently before the
installed PV material reaches end-of-
life stage.'
WHICH COUNTRIES ARE FRONT-
RUNNERS IN TERMS OF PV RECY-
CLING AND WHY?
'The short answer is Belgium and
France. Both have a good approach
with a nationwide recycling scheme
and clear legal framework. Their
authorities meet recyclers regularly
and the government has established
solid financing, namely the WEEE
compliance fee. This fund is based on
the polluter pays principle and is used
to process of decommissioned panels.
The costs are transparent and every-
one pays the same, creating a level
playing field. An added benefit is that
the money available to cover future
costs is known and officially moderat-
ed by government. This prevents any
issues if a company goes out of busi-
ness. It's a future-proof and rather
unique approach I wish more nations
would adopt.'
WHAT COULD SPARK CHANGE?
'More money has the power to scale
up the technology whereas currently
R&D-based pilots are happy to get a
measly 1 500 tonnes a year. This about
sums up the landscape right now, with
different small players all eating
crumbs from the same cake. They are
each searching for solutions, compet-
ing over what little scrap there is.
Material is typically sent to neighbour-
ing nations but even then the shipments
are spread thinly with, at most, 1 000
tonnes going here or there. Everyone is
focussed on their own backyard, rather
than seeing the bigger picture. This is
not economically viable. Better to bun-
dle volumes and ship 3 000-5 000
tonnes to fewer partners.'
AS A SUBSCRIBER OF RECYCLING
INTERNATIONAL, ARE YOU
HAPPY WITH HOW RECYCLING IS
BEING COVERED IN THE MAIN-
STREAM MEDIA?
'Yes, and no. Coverage could definite-
ly be improved as there is a lot of mis-
information out there. Take talk of
"downcycling" or "high value" recy-
cling, for example. Such trendy phras-
es only confuse the public and nega-
tively impacts our industry. It creates
the idea that there are bad guys and
good guys. In truth, we're all building
towards the circular economy togeth-
er. Recyclers should not be misrepre-
sented or labelled as "dirty", period.'
WHAT DO POLITICIANS NEED TO
UNDERSTAND ABOUT PV SCRAP?
'Our waste stream is a double-edged
sword. The long lifecycle makes them
investment products, not typical
e-waste. We can't collect 65% let
alone 85% of what we don't have. It's
an impossible situation. It's easy to set
targets staring blindly at installed
capacity estimates. Lawmakers would
be wise to appreciate a PV module's
inherent added value is waste preven-
tion. Legislation needs to reflect reali-
ty and issuing a penalty for not meet-
ing targets is the wrong way to think
about this niche.'
WHERE DO YOU HOPE THE
ORGANISATION WILL BE IN 15
YEARS?
'We're ramping up our activities and
so are the recyclers in our network.
The circular revolution is happening all
around us, even if it's taking place at a
slower pace than I'd like. The concept
of extended lifecycle and zero waste
will become more important, as will
standardisation and technical bench-
marks.
Finally, industrial-scale plants will
hopefully come online. The big ques-
tion is who will get the ball rolling?
And will the plants of the future be
located near megacities like London
or Berlin? I'm excited to find out'.
Fotobijschrift
KADERKOP
??
WHAT'S YOUR CELEBRATION?
2023 marks Recycling International's 25th anniver-
sary. Throughout the year we are shining a light on
recyclers and RI readers who, like us, have some-
thing to celebrate. They may be well-known figures
from major companies or equipment providers – or
those from much smaller operations. We'd particu-
larly like to hear from enterprising recyclers in
those areas of the world that get less media atten-
tion.
So what's your celebration story in 2023?
Suggestions can be sent to:
[email protected]
08-09_ri25years-subscriber.indd 9 15-03-2023 11:40