Recycling International – March/April issue 2023
Subscribe
Page 79 from: Recycling International – March/April issue 2023
TEXTILESMARKET ANALYSIS The challenge of high wages and inflation Collections remain subdued because of economic conditions while a new recycling venture from H&M poses questions for the future. 79recyclinginternational.com | Mar...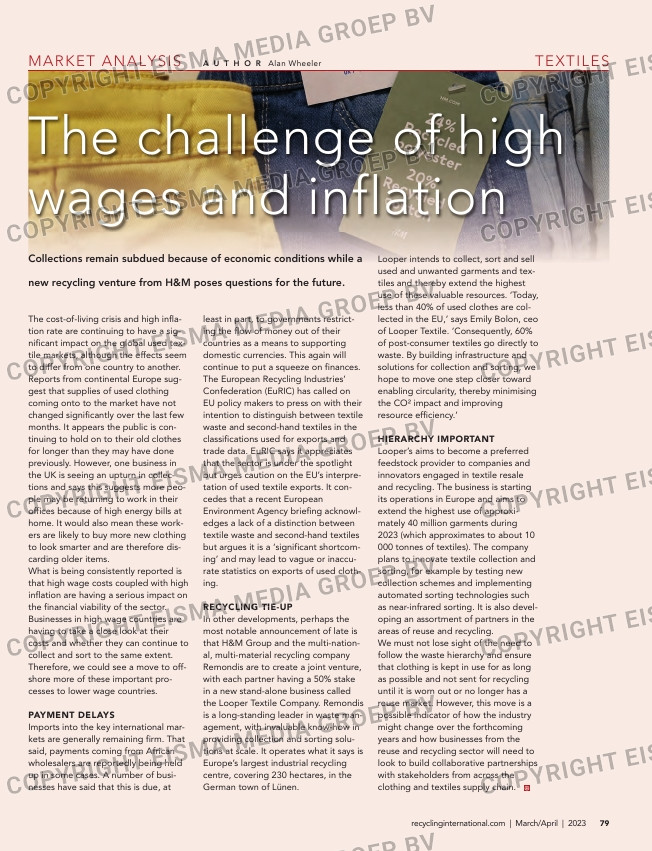 TEXTILESMARKET ANALYSIS
The challenge of high
wages and inflation
Collections remain subdued because of economic conditions while a
new recycling venture from H&M poses questions for the future.
79recyclinginternational.com | March/April | 2023
The cost-of-living crisis and high infla-
tion rate are continuing to have a sig-
nificant impact on the global used tex-
tile markets, although the effects seem
to differ from one country to another.
Reports from continental Europe sug-
gest that supplies of used clothing
coming onto to the market have not
changed significantly over the last few
months. It appears the public is con-
tinuing to hold on to their old clothes
for longer than they may have done
previously. However, one business in
the UK is seeing an upturn in collec-
tions and says this suggests more peo-
ple may be returning to work in their
offices because of high energy bills at
home. It would also mean these work-
ers are likely to buy more new clothing
to look smarter and are therefore dis-
carding older items.
What is being consistently reported is
that high wage costs coupled with high
inflation are having a serious impact on
the financial viability of the sector.
Businesses in high wage countries are
having to take a close look at their
costs and whether they can continue to
collect and sort to the same extent.
Therefore, we could see a move to off-
shore more of these important pro-
cesses to lower wage countries.
PAYMENT DELAYS
Imports into the key international mar-
kets are generally remaining firm. That
said, payments coming from African
wholesalers are reportedly being held
up in some cases. A number of busi-
nesses have said that this is due, at
least in part, to governments restrict-
ing the flow of money out of their
countries as a means to supporting
domestic currencies. This again will
continue to put a squeeze on finances.
The European Recycling Industries'
Confederation (EuRIC) has called on
EU policy makers to press on with their
intention to distinguish between textile
waste and second-hand textiles in the
classifications used for exports and
trade data. EuRIC says it appreciates
that the sector is under the spotlight
but urges caution on the EU's interpre-
tation of used textile exports. It con-
cedes that a recent European
Environment Agency briefing acknowl-
edges a lack of a distinction between
textile waste and second-hand textiles
but argues it is a 'significant shortcom-
ing' and may lead to vague or inaccu-
rate statistics on exports of used cloth-
ing.
RECYCLING TIE-UP
In other developments, perhaps the
most notable announcement of late is
that H&M Group and the multi-nation-
al, multi-material recycling company
Remondis are to create a joint venture,
with each partner having a 50% stake
in a new stand-alone business called
the Looper Textile Company. Remondis
is a long-standing leader in waste man-
agement, with invaluable know-how in
providing collection and sorting solu-
tions at scale. It operates what it says is
Europe's largest industrial recycling
centre, covering 230 hectares, in the
German town of Lünen.
Looper intends to collect, sort and sell
used and unwanted garments and tex-
tiles and thereby extend the highest
use of these valuable resources. 'Today,
less than 40% of used clothes are col-
lected in the EU,' says Emily Bolon, ceo
of Looper Textile. 'Consequently, 60%
of post-consumer textiles go directly to
waste. By building infrastructure and
solutions for collection and sorting, we
hope to move one step closer toward
enabling circularity, thereby minimising
the CO² impact and improving
resource efficiency.'
HIERARCHY IMPORTANT
Looper's aims to become a preferred
feedstock provider to companies and
innovators engaged in textile resale
and recycling. The business is starting
its operations in Europe and aims to
extend the highest use of approxi-
mately 40 million garments during
2023 (which approximates to about 10
000 tonnes of textiles). The company
plans to innovate textile collection and
sorting, for example by testing new
collection schemes and implementing
automated sorting technologies such
as near-infrared sorting. It is also devel-
oping an assortment of partners in the
areas of reuse and recycling.
We must not lose sight of the need to
follow the waste hierarchy and ensure
that clothing is kept in use for as long
as possible and not sent for recycling
until it is worn out or no longer has a
reuse market. However, this move is a
possible indicator of how the industry
might change over the forthcoming
years and how businesses from the
reuse and recycling sector will need to
look to build collaborative partnerships
with stakeholders from across the
clothing and textiles supply chain.
A U T H O R Alan Wheeler
79_matextiles.indd 79 15-03-2023 11:51