Recycling International – March/April issue 2023
Subscribe
Page 77 from: Recycling International – March/April issue 2023
PAPER 77recyclinginternational.com | March/April | 2023 CONTRIBUTING TO THE RECOVERED PAPER MARKET ANALYSIS: • Simon Ellin, ceo, IWPP, the recovered paper trading division of The Recycling Association (TRA), UK • Myles ...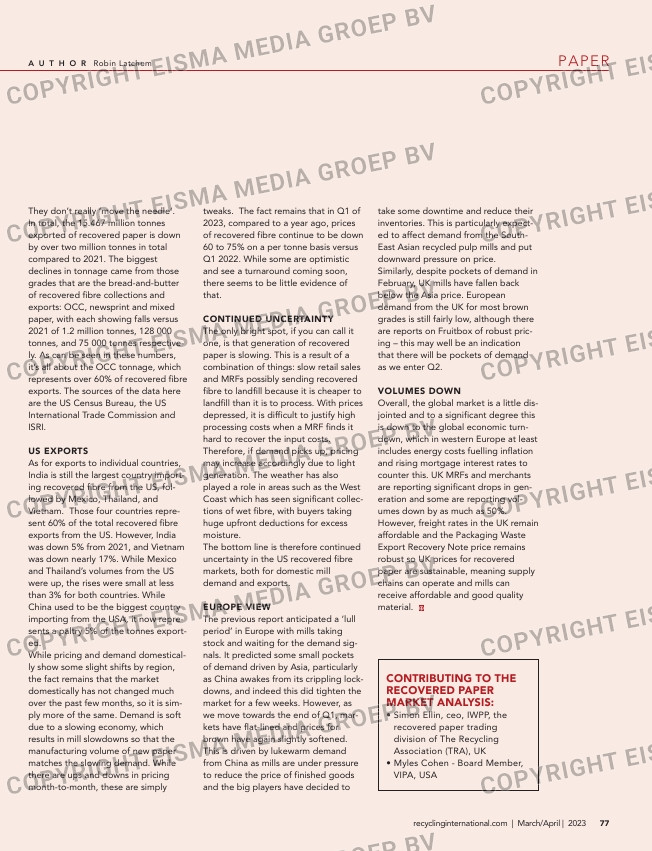 PAPER
77recyclinginternational.com | March/April | 2023
CONTRIBUTING TO THE
RECOVERED PAPER
MARKET ANALYSIS:
• Simon Ellin, ceo, IWPP, the
recovered paper trading
division of The Recycling
Association (TRA), UK
• Myles Cohen – Board Member,
VIPA, USA
take some downtime and reduce their
inventories. This is particularly expect-
ed to affect demand from the South-
East Asian recycled pulp mills and put
downward pressure on price.
Similarly, despite pockets of demand in
February, UK mills have fallen back
below the Asia price. European
demand from the UK for most brown
grades is still fairly low, although there
are reports on Fruitbox of robust pric-
ing – this may well be an indication
that there will be pockets of demand
as we enter Q2.
VOLUMES DOWN
Overall, the global market is a little dis-
jointed and to a significant degree this
is down to the global economic turn-
down, which in western Europe at least
includes energy costs fuelling inflation
and rising mortgage interest rates to
counter this. UK MRFs and merchants
are reporting significant drops in gen-
eration and some are reporting vol-
umes down by as much as 50%.
However, freight rates in the UK remain
affordable and the Packaging Waste
Export Recovery Note price remains
robust so UK prices for recovered
paper are sustainable, meaning supply
chains can operate and mills can
receive affordable and good quality
material.
tweaks. The fact remains that in Q1 of
2023, compared to a year ago, prices
of recovered fibre continue to be down
60 to 75% on a per tonne basis versus
Q1 2022. While some are optimistic
and see a turnaround coming soon,
there seems to be little evidence of
that.
CONTINUED UNCERTAINTY
The only bright spot, if you can call it
one, is that generation of recovered
paper is slowing. This is a result of a
combination of things: slow retail sales
and MRFs possibly sending recovered
fibre to landfill because it is cheaper to
landfill than it is to process. With prices
depressed, it is difficult to justify high
processing costs when a MRF finds it
hard to recover the input costs.
Therefore, if demand picks up, pricing
may increase accordingly due to light
generation. The weather has also
played a role in areas such as the West
Coast which has seen significant collec-
tions of wet fibre, with buyers taking
huge upfront deductions for excess
moisture.
The bottom line is therefore continued
uncertainty in the US recovered fibre
markets, both for domestic mill
demand and exports.
EUROPE VIEW
The previous report anticipated a 'lull
period' in Europe with mills taking
stock and waiting for the demand sig-
nals. It predicted some small pockets
of demand driven by Asia, particularly
as China awakes from its crippling lock-
downs, and indeed this did tighten the
market for a few weeks. However, as
we move towards the end of Q1, mar-
kets have flat-lined and prices for
brown have again slightly softened.
This is driven by lukewarm demand
from China as mills are under pressure
to reduce the price of finished goods
and the big players have decided to
They don't really 'move the needle'.
In total, the 15.467 million tonnes
exported of recovered paper is down
by over two million tonnes in total
compared to 2021. The biggest
declines in tonnage came from those
grades that are the bread-and-butter
of recovered fibre collections and
exports: OCC, newsprint and mixed
paper, with each showing falls versus
2021 of 1.2 million tonnes, 128 000
tonnes, and 75 000 tonnes respective-
ly. As can be seen in these numbers,
it's all about the OCC tonnage, which
represents over 60% of recovered fibre
exports. The sources of the data here
are the US Census Bureau, the US
International Trade Commission and
ISRI.
US EXPORTS
As for exports to individual countries,
India is still the largest country import-
ing recovered fibre from the US, fol-
lowed by Mexico, Thailand, and
Vietnam. Those four countries repre-
sent 60% of the total recovered fibre
exports from the US. However, India
was down 5% from 2021, and Vietnam
was down nearly 17%. While Mexico
and Thailand's volumes from the US
were up, the rises were small at less
than 3% for both countries. While
China used to be the biggest country
importing from the USA, it now repre-
sents a paltry 5% of the tonnes export-
ed.
While pricing and demand domestical-
ly show some slight shifts by region,
the fact remains that the market
domestically has not changed much
over the past few months, so it is sim-
ply more of the same. Demand is soft
due to a slowing economy, which
results in mill slowdowns so that the
manufacturing volume of new paper
matches the slowing demand. While
there are ups and downs in pricing
month-to-month, these are simply
A U T H O R Robin Latchem
76-77_mapaper.indd 77 15-03-2023 11:51