Recycling International – March/April issue 2023
Subscribe
Page 72 from: Recycling International – March/April issue 2023
MARKET ANALYSIS Prices sustained as costs stay high Producers are still coping with challenging energy bills but supply chain problems have eased. production and recycling within Europe of lithium, cobalt and rare earth elements. ...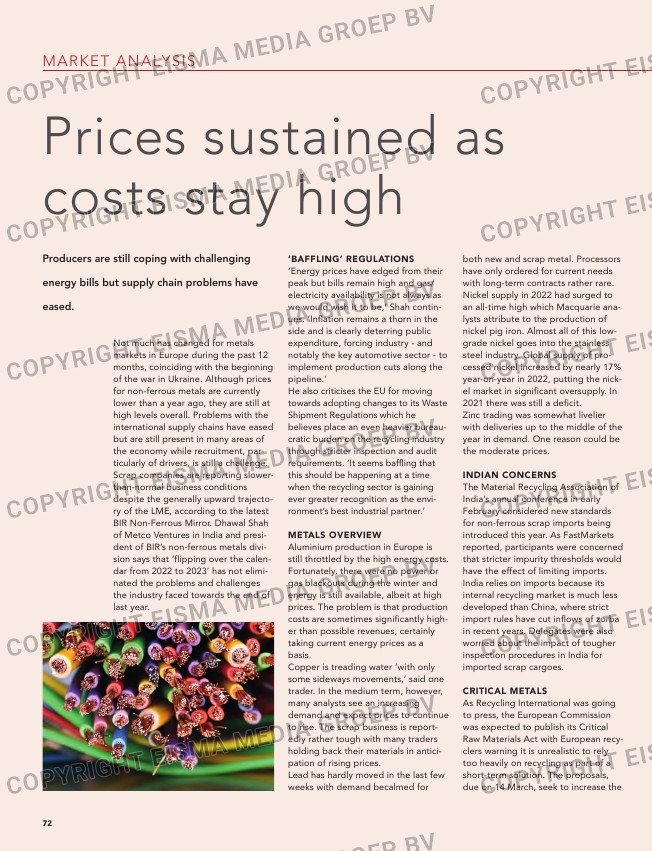 MARKET ANALYSIS
Prices sustained as
costs stay high
Producers are still coping with challenging
energy bills but supply chain problems have
eased.
production and recycling within
Europe of lithium, cobalt and rare
earth elements. They are expected to
include targets for the collection and
recycling of minerals.
According to a leaked version of the
proposed legislation seen by Euractiv,
the act seeks to have 10% of the EU's
consumption of strategic raw materi-
als mined within the EU. In addition,
15% of the EU's annual consumption
of each critical raw material should
come from recycling.
'Recycling targets can drive sustainabil-
ity but they're not a silver bullet,'
Emmanuel Katrakis, secretary general
of EuRIC, said at an event organised by
EU advisory body the European
Economic and Social Committee.
'Recycling won't be able to completely
substitute mining – that goes without
saying. This is why we strongly support
ambitious, yet pragmatic recycled con-
tent targets.' Katrakis also cautioned
about various barriers to recycling,
72
'BAFFLING' REGULATIONS
'Energy prices have edged from their
peak but bills remain high and gas/
electricity availability is not always as
we would wish it to be,' Shah contin-
ues. 'Inflation remains a thorn in the
side and is clearly deterring public
expenditure, forcing industry – and
notably the key automotive sector – to
implement production cuts along the
pipeline.'
He also criticises the EU for moving
towards adopting changes to its Waste
Shipment Regulations which he
believes place an even heavier bureau-
cratic burden on the recycling industry
through stricter inspection and audit
requirements. 'It seems baffling that
this should be happening at a time
when the recycling sector is gaining
ever greater recognition as the envi-
ronment's best industrial partner.'
METALS OVERVIEW
Aluminium production in Europe is
still throttled by the high energy costs.
Fortunately, there were no power or
gas blackouts during the winter and
energy is still available, albeit at high
prices. The problem is that production
costs are sometimes significantly high-
er than possible revenues, certainly
taking current energy prices as a
basis.
Copper is treading water 'with only
some sideways movements,' said one
trader. In the medium term, however,
many analysts see an increasing
demand and expect prices to continue
to rise. The scrap business is report-
edly rather tough with many traders
holding back their materials in antici-
pation of rising prices.
Lead has hardly moved in the last few
weeks with demand becalmed for
both new and scrap metal. Processors
have only ordered for current needs
with long-term contracts rather rare.
Nickel supply in 2022 had surged to
an all-time high which Macquarie ana-
lysts attribute to the production of
nickel pig iron. Almost all of this low-
grade nickel goes into the stainless
steel industry. Global supply of pro-
cessed nickel increased by nearly 17%
year-on-year in 2022, putting the nick-
el market in significant oversupply. In
2021 there was still a deficit.
Zinc trading was somewhat livelier
with deliveries up to the middle of the
year in demand. One reason could be
the moderate prices.
INDIAN CONCERNS
The Material Recycling Association of
India's annual conference in early
February considered new standards
for non-ferrous scrap imports being
introduced this year. As FastMarkets
reported, participants were concerned
that stricter impurity thresholds would
have the effect of limiting imports.
India relies on imports because its
internal recycling market is much less
developed than China, where strict
import rules have cut inflows of zorba
in recent years. Delegates were also
worried about the impact of tougher
inspection procedures in India for
imported scrap cargoes.
CRITICAL METALS
As Recycling International was going
to press, the European Commission
was expected to publish its Critical
Raw Materials Act with European recy-
clers warning it is unrealistic to rely
too heavily on recycling as part of a
short-term solution. The proposals,
due on 14 March, seek to increase the
Not much has changed for metals
markets in Europe during the past 12
months, coinciding with the beginning
of the war in Ukraine. Although prices
for non-ferrous metals are currently
lower than a year ago, they are still at
high levels overall. Problems with the
international supply chains have eased
but are still present in many areas of
the economy while recruitment, par-
ticularly of drivers, is still a challenge.
Scrap companies are reporting slower-
than-normal business conditions
despite the generally upward trajecto-
ry of the LME, according to the latest
BIR Non-Ferrous Mirror. Dhawal Shah
of Metco Ventures in India and presi-
dent of BIR's non-ferrous metals divi-
sion says that 'flipping over the calen-
dar from 2022 to 2023' has not elimi-
nated the problems and challenges
the industry faced towards the end of
last year.
LINDEMANNs NxtCut is the new generation of
hydraulic scrap shears with side compression
bed. The machine is specially designed for
processing various light to medium-heavy scrap
materials of medium volumes. Small, fast, strong
and flexible, with original LINDEMANN quality
made in Germany, and equipped with an energy-
efficient and sustainable 400 bar hydraulic power
unit, up to 1,000 t shearing force and improved
maintainability.
Exactly what you are looking for?
Give us a call: +49 (0)211 2105 0
or send us an e-mail:
[email protected]
Come see us:

IFAT Eurasia
27. – 29. April 2023 | Istanbul
BIR World Convention
22. – 24. May 2023 | Amsterdam
IARC
21. – 23. June 2023 | Geneva
NXTCUT!
MID SIZE SHEAR

lindemann-metalrecycling.com lindemann_metal_recycling lindemann-metal-recycling

Discover the
LINDEMANN NxtCut!
72-73-74-75_manon-ferrous.indd 72 15-03-2023 11:50