Recycling International – March/April issue 2023
Subscribe
Page 71 from: Recycling International – March/April issue 2023
NICKEL & STAINLESS nickel supply chain – it has been a source of price weakness across the nickel and nickel-based product mar- kets. As noted by Andy Home at Reuters: 'An increasingly diverse phys- ical market needs a better he...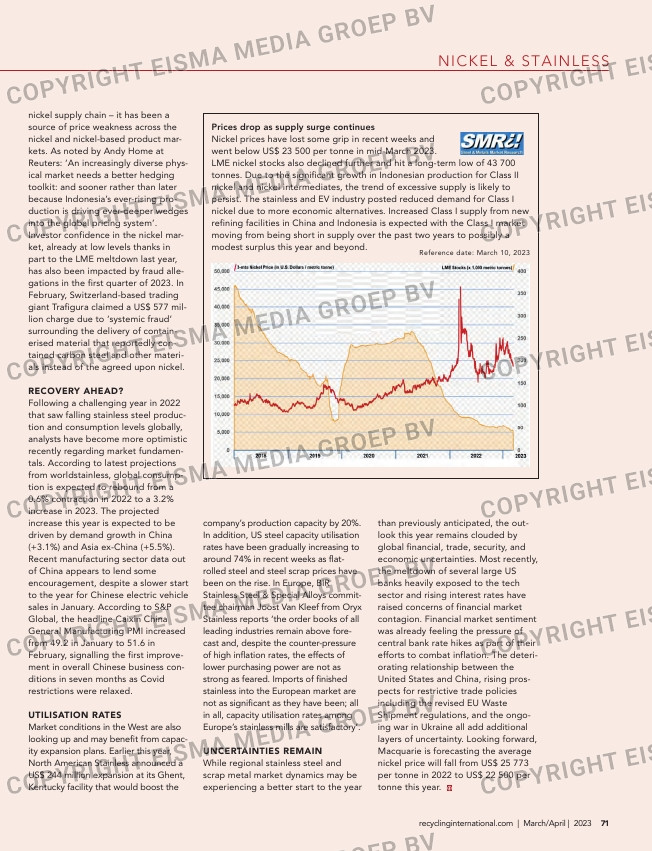 NICKEL & STAINLESS
nickel supply chain – it has been a
source of price weakness across the
nickel and nickel-based product mar-
kets. As noted by Andy Home at
Reuters: 'An increasingly diverse phys-
ical market needs a better hedging
toolkit: and sooner rather than later
because Indonesia's ever-rising pro-
duction is driving ever-deeper wedges
into the global pricing system'.
Investor confidence in the nickel mar-
ket, already at low levels thanks in
part to the LME meltdown last year,
has also been impacted by fraud alle-
gations in the first quarter of 2023. In
February, Switzerland-based trading
giant Trafigura claimed a US$ 577 mil-
lion charge due to 'systemic fraud'
surrounding the delivery of contain-
erised material that reportedly con-
tained carbon steel and other materi-
als instead of the agreed upon nickel.
RECOVERY AHEAD?
Following a challenging year in 2022
that saw falling stainless steel produc-
tion and consumption levels globally,
analysts have become more optimistic
recently regarding market fundamen-
tals. According to latest projections
from worldstainless, global consump-
tion is expected to rebound from a
0.6% contraction in 2022 to a 3.2%
increase in 2023. The projected
increase this year is expected to be
driven by demand growth in China
(+3.1%) and Asia ex-China (+5.5%).
Recent manufacturing sector data out
of China appears to lend some
encouragement, despite a slower start
to the year for Chinese electric vehicle
sales in January. According to S&P
Global, the headline Caixin China
General Manufacturing PMI increased
from 49.2 in January to 51.6 in
February, signalling the first improve-
ment in overall Chinese business con-
ditions in seven months as Covid
restrictions were relaxed.
UTILISATION RATES
Market conditions in the West are also
looking up and may benefit from capac-
ity expansion plans. Earlier this year,
North American Stainless announced a
US$ 244 million expansion at its Ghent,
Kentucky facility that would boost the
company's production capacity by 20%.
In addition, US steel capacity utilisation
rates have been gradually increasing to
around 74% in recent weeks as flat-
rolled steel and steel scrap prices have
been on the rise. In Europe, BIR
Stainless Steel & Special Alloys commit-
tee chairman Joost Van Kleef from Oryx
Stainless reports 'the order books of all
leading industries remain above fore-
cast and, despite the counter-pressure
of high inflation rates, the effects of
lower purchasing power are not as
strong as feared. Imports of finished
stainless into the European market are
not as significant as they have been; all
in all, capacity utilisation rates among
Europe's stainless mills are satisfactory'.
UNCERTAINTIES REMAIN
While regional stainless steel and
scrap metal market dynamics may be
experiencing a better start to the year
Prices drop as supply surge continues
Nickel prices have lost some grip in recent weeks and
went below US$ 23 500 per tonne in mid-March 2023.
LME nickel stocks also declined further and hit a long-term low of 43 700
tonnes. Due to the significant growth in Indonesian production for Class II
nickel and nickel intermediates, the trend of excessive supply is likely to
persist. The stainless and EV industry posted reduced demand for Class I
nickel due to more economic alternatives. Increased Class I supply from new
refining facilities in China and Indonesia is expected with the Class I market
moving from being short in supply over the past two years to possibly a
modest surplus this year and beyond.
Reference date: March 10, 2023
71recyclinginternational.com | March/April | 2023
than previously anticipated, the out-
look this year remains clouded by
global financial, trade, security, and
economic uncertainties. Most recently,
the meltdown of several large US
banks heavily exposed to the tech
sector and rising interest rates have
raised concerns of financial market
contagion. Financial market sentiment
was already feeling the pressure of
central bank rate hikes as part of their
efforts to combat inflation. The deteri-
orating relationship between the
United States and China, rising pros-
pects for restrictive trade policies
including the revised EU Waste
Shipment regulations, and the ongo-
ing war in Ukraine all add additional
layers of uncertainty. Looking forward,
Macquarie is forecasting the average
nickel price will fall from US$ 25 773
per tonne in 2022 to US$ 22 500 per
tonne this year.
70-71_manickelstainless.indd 71 15-03-2023 11:50