Recycling International – March/April issue 2023
Subscribe
Page 62 from: Recycling International – March/April issue 2023
62 ratl-messe.com PANASONIC LOOKS TO CUT E-SCRAP VOL- UME IN US Panasonic has unveiled a takeback scheme for unwanted electronic devices at the annual Consumer Electronics Show in Las Vegas. According to the electronic giant, more than...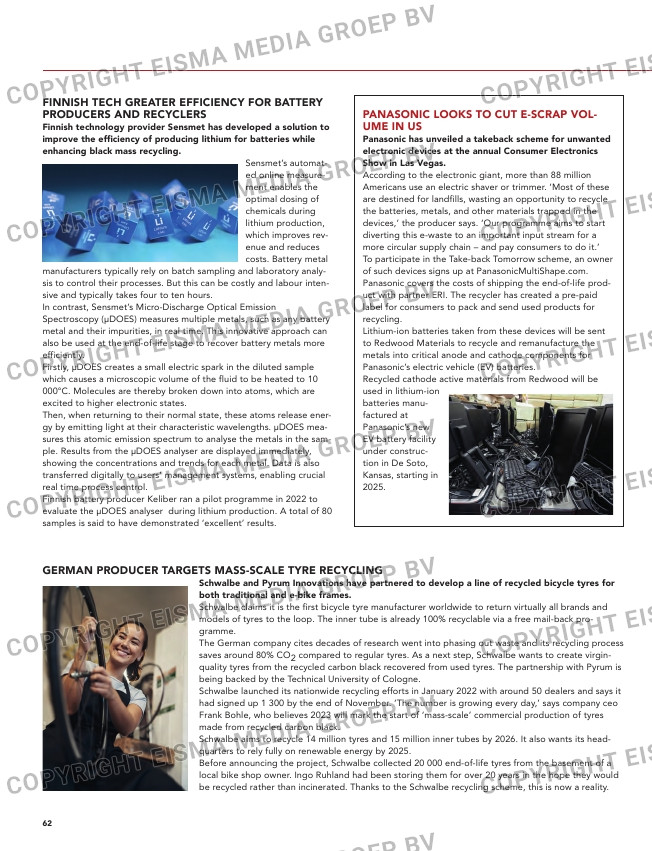 62
ratl-messe.com

PANASONIC LOOKS TO CUT E-SCRAP VOL-
UME IN US
Panasonic has unveiled a takeback scheme for unwanted
electronic devices at the annual Consumer Electronics
Show in Las Vegas.
According to the electronic giant, more than 88 million
Americans use an electric shaver or trimmer. 'Most of these
are destined for landfills, wasting an opportunity to recycle
the batteries, metals, and other materials trapped in the
devices,' the producer says. 'Our programme aims to start
diverting this e-waste to an important input stream for a
more circular supply chain – and pay consumers to do it.'
To participate in the Take-back Tomorrow scheme, an owner
of such devices signs up at PanasonicMultiShape.com.
Panasonic covers the costs of shipping the end-of-life prod-
uct with partner ERI. The recycler has created a pre-paid
label for consumers to pack and send used products for
recycling.
Lithium-ion batteries taken from these devices will be sent
to Redwood Materials to recycle and remanufacture the
metals into critical anode and cathode components for
Panasonic's electric vehicle (EV) batteries.
Recycled cathode active materials from Redwood will be
used in lithium-ion
batteries manu-
factured at
Panasonic's new
EV battery facility
under construc-
tion in De Soto,
Kansas, starting in
2025.
FINNISH TECH GREATER EFFICIENCY FOR BATTERY
PRODUCERS AND RECYCLERS
Finnish technology provider Sensmet has developed a solution to
improve the efficiency of producing lithium for batteries while
enhancing black mass recycling.
Sensmet's automat-
ed online measure-
ment enables the
optimal dosing of
chemicals during
lithium production,
which improves rev-
enue and reduces
costs. Battery metal
manufacturers typically rely on batch sampling and laboratory analy-
sis to control their processes. But this can be costly and labour inten-
sive and typically takes four to ten hours.
In contrast, Sensmet's Micro-Discharge Optical Emission
Spectroscopy (µDOES) measures multiple metals, such as any battery
metal and their impurities, in real time. This innovative approach can
also be used at the end-of-life stage to recover battery metals more
efficiently.
Firstly, µDOES creates a small electric spark in the diluted sample
which causes a microscopic volume of the fluid to be heated to 10
000°C. Molecules are thereby broken down into atoms, which are
excited to higher electronic states.
Then, when returning to their normal state, these atoms release ener-
gy by emitting light at their characteristic wavelengths. µDOES mea-
sures this atomic emission spectrum to analyse the metals in the sam-
ple. Results from the µDOES analyser are displayed immediately,
showing the concentrations and trends for each metal. Data is also
transferred digitally to users' management systems, enabling crucial
real time process control.
Finnish battery producer Keliber ran a pilot programme in 2022 to
evaluate the µDOES analyser during lithium production. A total of 80
samples is said to have demonstrated 'excellent' results.
GERMAN PRODUCER TARGETS MASS-SCALE TYRE RECYCLING
Schwalbe and Pyrum Innovations have partnered to develop a line of recycled bicycle tyres for
both traditional and e-bike frames.
Schwalbe claims it is the first bicycle tyre manufacturer worldwide to return virtually all brands and
models of tyres to the loop. The inner tube is already 100% recyclable via a free mail-back pro-
gramme.
The German company cites decades of research went into phasing out waste and its recycling process
saves around 80% CO2 compared to regular tyres. As a next step, Schwalbe wants to create virgin-
quality tyres from the recycled carbon black recovered from used tyres. The partnership with Pyrum is
being backed by the Technical University of Cologne.
Schwalbe launched its nationwide recycling efforts in January 2022 with around 50 dealers and says it
had signed up 1 300 by the end of November. 'The number is growing every day,' says company ceo
Frank Bohle, who believes 2023 will mark the start of 'mass-scale' commercial production of tyres
made from recycled carbon black.
Schwalbe aims to recycle 14 million tyres and 15 million inner tubes by 2026. It also wants its head-
quarters to rely fully on renewable energy by 2025.
Before announcing the project, Schwalbe collected 20 000 end-of-life tyres from the basement of a
local bike shop owner. Ingo Ruhland had been storing them for over 20 years in the hope they would
be recycled rather than incinerated. Thanks to the Schwalbe recycling scheme, this is now a reality.
PRE-SORTING ESSENTIAL FOR MIXED WASTE
Zero Waste Europe and Reloop have released guidelines for mixed waste sorting in the context of the Renewable Energy Directive.
The companies recommend sorting systems of a defined quality should be
used to remove fossil-derived materials from the waste. This would ensure
that only biogenic waste is used for renewable energy generation. In future,
they say, operators would either pre-sort the waste on-site or demonstrate
that the waste they receive has been sorted before being delivered for
incineration.
Recommendations include setting the following minimum performance cri-
teria for MSW systems:
• Plastics > 70%, with non-target materials contributing no more than 10%
• Steel >80%, with non-target materials contributing no more than 4%
• Aluminium >60%, with non-target materials contributing no more than 6%
The guidelines have been developed to clarify an amendment proposed by
the European Parliament regarding the use of mixed wastes for 'renewable
energy' purposes.
'Currently, at incineration plants, the biodegradable fraction of mixed waste
is never combusted without large quantities of (often recyclable) fossil-derived materials being present,' says Janek Vähk, Climate, Energy
and Air Pollution Programme coordinator at Zero Waste Europe. 'Therefore, to ensure that the renewable energy directive supports
schemes that don't allow the burning of fossil materials such as plastics, mixed waste sorting should be made mandatory for operators that
want to sell their energy as renewable.'
In addition to improving separate collection and design for recycling, a recent report by Eunomia Research and Consulting found that pre-
sorting of mixed waste is necessary to ensure that existing plastic packaging and municipal waste recycling targets are met and to ensure
progress towards the EU's wider emissions goals.
60-61-62-63_trendsupdatesii.indd 62 16-03-2023 09:23