Recycling International – March/April issue 2023
Subscribe
Page 57 from: Recycling International – March/April issue 2023
57recyclinginternational.com | March/April | 2023 TECHNOLOGY BESTSELLER GOING TO MEXICO Mexican recycler Distribuidora de Metales y Cartones has recently com- missioned a metal scrap shredding plant from Italian tech provider Dani...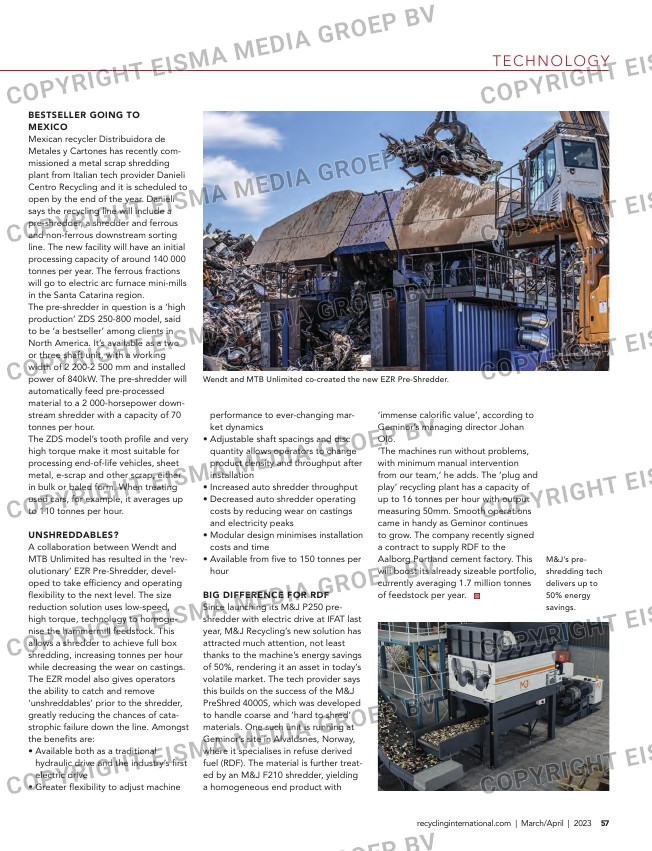 57recyclinginternational.com | March/April | 2023
TECHNOLOGY
BESTSELLER GOING TO
MEXICO
Mexican recycler Distribuidora de
Metales y Cartones has recently com-
missioned a metal scrap shredding
plant from Italian tech provider Danieli
Centro Recycling and it is scheduled to
open by the end of the year. Danieli
says the recycling line will include a
pre-shredder, a shredder and ferrous
and non-ferrous downstream sorting
line. The new facility will have an initial
processing capacity of around 140 000
tonnes per year. The ferrous fractions
will go to electric arc furnace mini-mills
in the Santa Catarina region.
The pre-shredder in question is a 'high
production' ZDS 250-800 model, said
to be 'a bestseller' among clients in
North America. It's available as a two
or three shaft unit, with a working
width of 2 200-2 500 mm and installed
power of 840kW. The pre-shredder will
automatically feed pre-processed
material to a 2 000-horsepower down-
stream shredder with a capacity of 70
tonnes per hour.
The ZDS model's tooth profile and very
high torque make it most suitable for
processing end-of-life vehicles, sheet
metal, e-scrap and other scrap, either
in bulk or baled form. When treating
used cars, for example, it averages up
to 110 tonnes per hour.
UNSHREDDABLES?
A collaboration between Wendt and
MTB Unlimited has resulted in the 'rev-
olutionary' EZR Pre-Shredder, devel-
oped to take efficiency and operating
flexibility to the next level. The size
reduction solution uses low-speed,
high torque, technology to homoge-
nise the hammermill feedstock. This
allows a shredder to achieve full box
shredding, increasing tonnes per hour
while decreasing the wear on castings.
The EZR model also gives operators
the ability to catch and remove
'unshreddables' prior to the shredder,
greatly reducing the chances of cata-
strophic failure down the line. Amongst
the benefits are:
• Available both as a traditional
hydraulic drive and the industry's first
electric drive
• Greater flexibility to adjust machine
performance to ever-changing mar-
ket dynamics
• Adjustable shaft spacings and disc
quantity allows operators to change
product density and throughput after
installation
• Increased auto shredder throughput
• Decreased auto shredder operating
costs by reducing wear on castings
and electricity peaks
• Modular design minimises installation
costs and time
• Available from five to 150 tonnes per
hour
BIG DIFFERENCE FOR RDF
Since launching its M&J P250 pre-
shredder with electric drive at IFAT last
year, M&J Recycling's new solution has
attracted much attention, not least
thanks to the machine's energy savings
of 50%, rendering it an asset in today's
volatile market. The tech provider says
this builds on the success of the M&J
PreShred 4000S, which was developed
to handle coarse and 'hard to shred'
materials. One such unit is running at
Geminor's site in Alvaldsnes, Norway,
where it specialises in refuse derived
fuel (RDF). The material is further treat-
ed by an M&J F210 shredder, yielding
a homogeneous end product with
'immense calorific value', according to
Geminor's managing director Johan
Olö.
'The machines run without problems,
with minimum manual intervention
from our team,' he adds. The 'plug and
play' recycling plant has a capacity of
up to 16 tonnes per hour with output
measuring 50mm. Smooth operations
came in handy as Geminor continues
to grow. The company recently signed
a contract to supply RDF to the
Aalborg Portland cement factory. This
will boost its already sizeable portfolio,
currently averaging 1.7 million tonnes
of feedstock per year.
Wendt and MTB Unlimited co-created the new EZR Pre-Shredder.
M&J's pre-
shredding tech
delivers up to
50% energy
savings.
WHAT WILL BECOME OF THE EARTHQUAKE WASTE?
More than 118 000 buildings were destroyed in
the massive earthquake (with a magnitude of 7.8)
that hit Turkey and Syria on 6 February, killing
more than 50 000 people. The world has shown
an outpouring of sympathy, donating funds, food
and medical relief to survivors. The chapter of
rebuilding is a long way ahead.
Disruptions to Turkey's economy have already
rocked the commodity markets – although certain
mills have started to bounce back. In the second
week of February, an East Coast exporter sold a
cargo comprising an unspecified tonnage of an
80:20 mix of No1 and No2 heavy melting scrap
priced at US$ 418 per tonne CFR and shredded
and bonus-grade material both priced at US$ 438
per tonne CFR, according to Fastmarkets.
The same mill purchased a second post-earth-
quake cargo from a separate US shipper on the
East Coast on 15 February. In this case, HMS 1&2 (80:20) went for US$ 413 per tonne CFR and shredded and bonus-
grade material went for US$ 433 per tonne CFR.
A WASTE MANAGEMENT MARATHON
The most important number, obviously, is expressed in the lives of people. The death toll is an estimated 50 000 in
both Turkey and Syria and that number may well increase as the recovery work continues.
Hundreds of excavators and waste trucks have been deployed to the city of Gaziantep, home to 1.4 million people.
They have been removing a wide range of building waste, including car wrecks, urban infrastructure and bulky tele-
com waste. Considering the scale of the disaster, the clean-up operation is likely to take months if not years.
I've heard that some material handler companies were donating not one or two machines but a fleet of vehicles and
attachments. Imagine how big the impact could be if leaders in this field stepped up to lend their material-handling
muscles to crisis workers in the worst-hit areas. As these trucks reflect the latest health and safety standards, it could
take a lot of pressure off those tasked with the heavy clean-up duty. The big brands are well-positioned to help out –
the global material handling market alone was worth around EUR 210 billion in 2021.
MATERIAL AFTERMATH
Meanwhile, environmental groups are expressing concern over post-earthquake waste being dumped in rivers, lakes
and oceans. Are these fears justified? Anecdotal evidence speaks of ruined settlements and partially cleared streets
lined with waste. Will the new influx of material end up in landfills, incinerators or at recyclers?
Judging from a recent report on the global construction and demolition market, this waste management segment was
worth around EUR 32 million in 2021. Analysts predict this will exceed EUR 53 million by 2030. Building materials
account for roughly 50% of all solid trash created globally. It remains to be seen whether the European recycling sec-
tor will be able to recognise this unusual opportunity to do something good for the people while also serving the cir-
cular economy.
WIDE-SPREAD SUPPORT
It's heartening to see messages of support coming in from all over the world. 'We express our heartfelt sympathy to
any BIR members and all those affected by this tragedy,' commented Arnaud Brunet, director general of the Bureau of
International Recycling, in the aftermath.
'We encourage all members to connect with NGOs and humanitarian organisations to help in any way possible,
whether through donations, volunteering, or other means. We must act together as a community to assist those in
need during this trying time.'
The same sentiment was shared by the US-based recycling community with Robin Wiener, president of the Institute
for Scrap Recycling Industries: 'ISRI has donated over US$ 20 000 to the World Central Kitchen as well as Turkey's offi-
cial Disaster and Emergency Management Authority (AFAD). Many of our members are also backing such charities
independently.'
We'll have to see which material handler leaders will also extend a helping hand.
54-55-56-57_materialshandling.indd 57 16-03-2023 09:21