Recycling International – March/April issue 2023
Subscribe
Page 55 from: Recycling International – March/April issue 2023
55recyclinginternational.com | March/April | 2023 TECHNOLOGY such as plastic, household waste and non-ferrous scrap. The vehicle has three boom and arm configurations. The straight boom can be fitted with either a four-metre goose...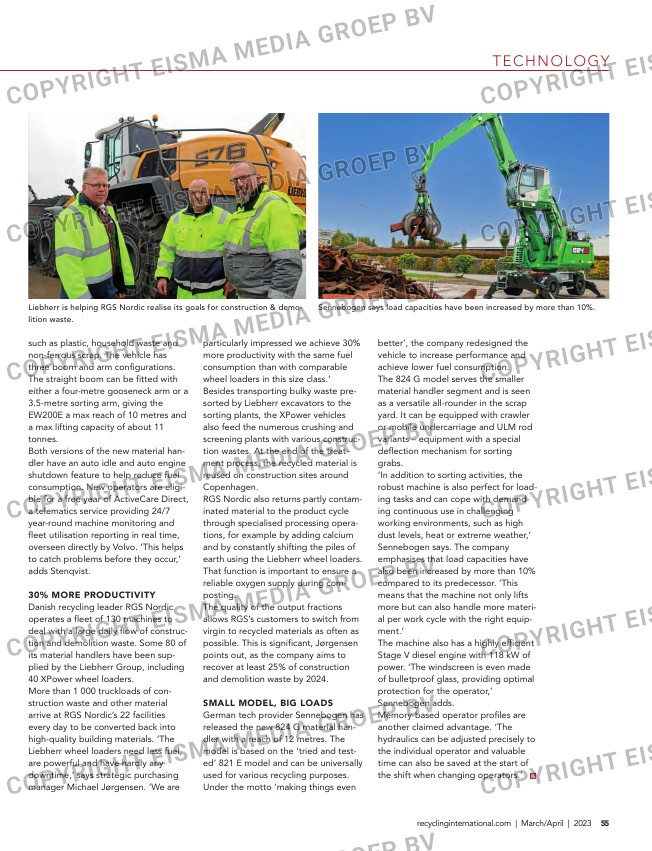 55recyclinginternational.com | March/April | 2023
TECHNOLOGY
such as plastic, household waste and
non-ferrous scrap. The vehicle has
three boom and arm configurations.
The straight boom can be fitted with
either a four-metre gooseneck arm or a
3.5-metre sorting arm, giving the
EW200E a max reach of 10 metres and
a max lifting capacity of about 11
tonnes.
Both versions of the new material han-
dler have an auto idle and auto engine
shutdown feature to help reduce fuel
consumption. New operators are eligi-
ble for a free year of ActiveCare Direct,
a telematics service providing 24/7
year-round machine monitoring and
fleet utilisation reporting in real time,
overseen directly by Volvo. 'This helps
to catch problems before they occur,'
adds Stenqvist.
30% MORE PRODUCTIVITY
Danish recycling leader RGS Nordic
operates a fleet of 130 machines to
deal with a large daily flow of construc-
tion and demolition waste. Some 80 of
its material handlers have been sup-
plied by the Liebherr Group, including
40 XPower wheel loaders.
More than 1 000 truckloads of con-
struction waste and other material
arrive at RGS Nordic's 22 facilities
every day to be converted back into
high-quality building materials. 'The
Liebherr wheel loaders need less fuel,
are powerful and have hardly any
downtime,' says strategic purchasing
manager Michael Jørgensen. 'We are
particularly impressed we achieve 30%
more productivity with the same fuel
consumption than with comparable
wheel loaders in this size class.'
Besides transporting bulky waste pre-
sorted by Liebherr excavators to the
sorting plants, the XPower vehicles
also feed the numerous crushing and
screening plants with various construc-
tion wastes. At the end of the treat-
ment process, the recycled material is
reused on construction sites around
Copenhagen.
RGS Nordic also returns partly contam-
inated material to the product cycle
through specialised processing opera-
tions, for example by adding calcium
and by constantly shifting the piles of
earth using the Liebherr wheel loaders.
That function is important to ensure a
reliable oxygen supply during com-
posting.
The quality of the output fractions
allows RGS's customers to switch from
virgin to recycled materials as often as
possible. This is significant, Jørgensen
points out, as the company aims to
recover at least 25% of construction
and demolition waste by 2024.
SMALL MODEL, BIG LOADS
German tech provider Sennebogen has
released the new 824 G material han-
dler with a reach of 12 metres. The
model is based on the 'tried and test-
ed' 821 E model and can be universally
used for various recycling purposes.
Under the motto 'making things even
better', the company redesigned the
vehicle to increase performance and
achieve lower fuel consumption.
The 824 G model serves the smaller
material handler segment and is seen
as a versatile all-rounder in the scrap
yard. It can be equipped with crawler
or mobile undercarriage and ULM rod
variants – equipment with a special
deflection mechanism for sorting
grabs.
'In addition to sorting activities, the
robust machine is also perfect for load-
ing tasks and can cope with demand-
ing continuous use in challenging
working environments, such as high
dust levels, heat or extreme weather,'
Sennebogen says. The company
emphasises that load capacities have
also been increased by more than 10%
compared to its predecessor. 'This
means that the machine not only lifts
more but can also handle more materi-
al per work cycle with the right equip-
ment.'
The machine also has a highly efficient
Stage V diesel engine with 118 kW of
power. 'The windscreen is even made
of bulletproof glass, providing optimal
protection for the operator,'
Sennebogen adds.
Memory-based operator profiles are
another claimed advantage. 'The
hydraulics can be adjusted precisely to
the individual operator and valuable
time can also be saved at the start of
the shift when changing operators.'
Fotobijschrift
Sennebogen says load capacities have been increased by more than 10%.Liebherr is helping RGS Nordic realise its goals for construction & demo-
lition waste.
KADERKOP
??
54-55-56-57_materialshandling.indd 55 16-03-2023 09:21