Recycling International – March/April issue 2023
Subscribe
Page 53 from: Recycling International – March/April issue 2023
53recyclinginternational.com | March/April | 2023 TECHNOLOGY EXPERTS Tomra advances metal scrap been installed. 'The machine will be officially launched this summer,' Anderson says. 'We're very excited and believe the mar...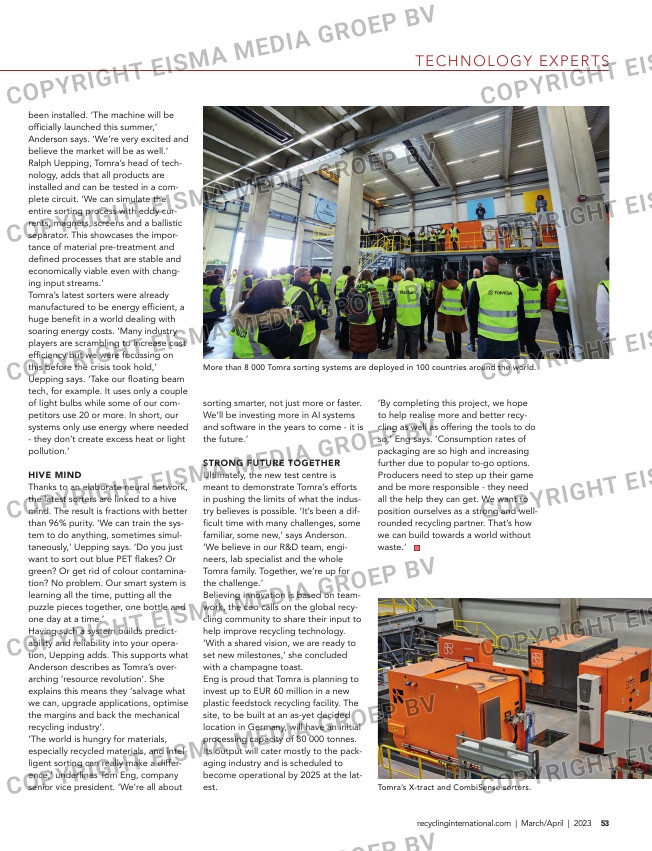 53recyclinginternational.com | March/April | 2023
TECHNOLOGY EXPERTS
Tomra advances metal scrap
been installed. 'The machine will be
officially launched this summer,'
Anderson says. 'We're very excited and
believe the market will be as well.'
Ralph Uepping, Tomra's head of tech-
nology, adds that all products are
installed and can be tested in a com-
plete circuit. 'We can simulate the
entire sorting process with eddy cur-
rents, magnets, screens and a ballistic
separator. This showcases the impor-
tance of material pre-treatment and
defined processes that are stable and
economically viable even with chang-
ing input streams.'
Tomra's latest sorters were already
manufactured to be energy efficient, a
huge benefit in a world dealing with
soaring energy costs. 'Many industry
players are scrambling to increase cost
efficiency but we were focussing on
this before the crisis took hold,'
Uepping says. 'Take our floating beam
tech, for example. It uses only a couple
of light bulbs while some of our com-
petitors use 20 or more. In short, our
systems only use energy where needed
– they don't create excess heat or light
pollution.'
HIVE MIND
Thanks to an elaborate neural network,
the latest sorters are linked to a hive
mind. The result is fractions with better
than 96% purity. 'We can train the sys-
tem to do anything, sometimes simul-
taneously,' Uepping says. 'Do you just
want to sort out blue PET flakes? Or
green? Or get rid of colour contamina-
tion? No problem. Our smart system is
learning all the time, putting all the
puzzle pieces together, one bottle and
one day at a time.'
Having such a system builds predict-
ability and reliability into your opera-
tion, Uepping adds. This supports what
Anderson describes as Tomra's over-
arching 'resource revolution'. She
explains this means they 'salvage what
we can, upgrade applications, optimise
the margins and back the mechanical
recycling industry'.
'The world is hungry for materials,
especially recycled materials, and intel-
ligent sorting can really make a differ-
ence,' underlines Tom Eng, company
senior vice president. 'We're all about
sorting smarter, not just more or faster.
We'll be investing more in AI systems
and software in the years to come – it is
the future.'
STRONG FUTURE TOGETHER
Ultimately, the new test centre is
meant to demonstrate Tomra's efforts
in pushing the limits of what the indus-
try believes is possible. 'It's been a dif-
ficult time with many challenges, some
familiar, some new,' says Anderson.
'We believe in our R&D team, engi-
neers, lab specialist and the whole
Tomra family. Together, we're up for
the challenge.'
Believing innovation is based on team-
work, the ceo calls on the global recy-
cling community to share their input to
help improve recycling technology.
'With a shared vision, we are ready to
set new milestones,' she concluded
with a champagne toast.
Eng is proud that Tomra is planning to
invest up to EUR 60 million in a new
plastic feedstock recycling facility. The
site, to be built at an as-yet decided
location in Germany, will have an initial
processing capacity of 80 000 tonnes.
Its output will cater mostly to the pack-
aging industry and is scheduled to
become operational by 2025 at the lat-
est.
'By completing this project, we hope
to help realise more and better recy-
cling as well as offering the tools to do
so,' Eng says. 'Consumption rates of
packaging are so high and increasing
further due to popular to-go options.
Producers need to step up their game
and be more responsible – they need
all the help they can get. We want to
position ourselves as a strong and well-
rounded recycling partner. That's how
we can build towards a world without
waste.'
Fotobijschrift
Tomra's X-tract and CombiSense sorters.
More than 8 000 Tomra sorting systems are deployed in 100 countries around the world.
KADERKOP
??
52-53_tomratestcenter.indd 53 15-03-2023 11:47