Recycling International – March/April issue 2023
Subscribe
Page 37 from: Recycling International – March/April issue 2023
CONFERENCE REPORT 37recyclinginternational.com | March/April | 2023 THM Recycling Solutions GmbH Sulzfelder Straße 38 75031 Eppingen Germany www.thm-rs.de
[email protected]
AG GRANULATOR INPUT SUBSTITUTE FUELS OUTPUT SUBSTITUTE FUEL...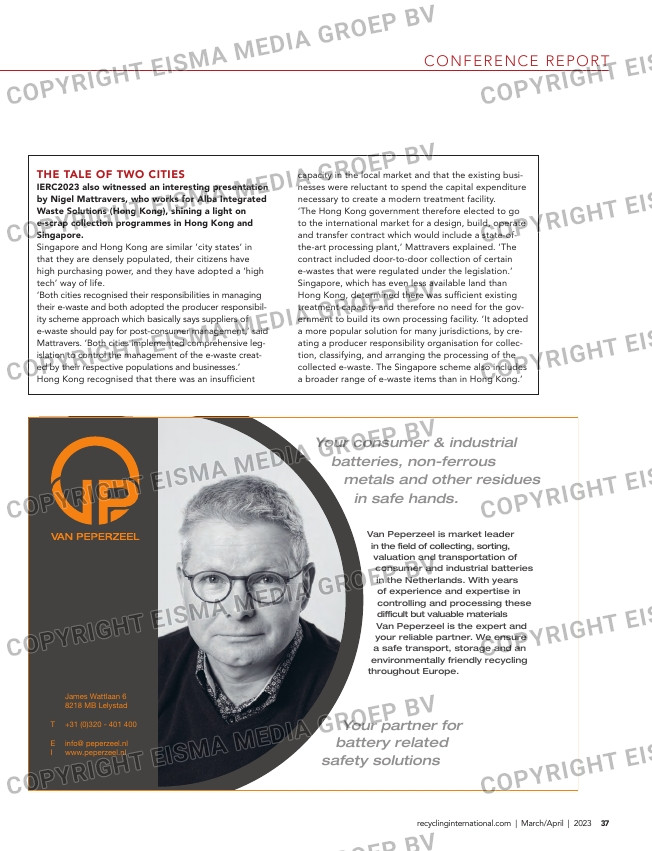 CONFERENCE REPORT
37recyclinginternational.com | March/April | 2023
THM Recycling Solutions GmbH
Sulzfelder Straße 38
75031 Eppingen
Germany
www.thm-rs.de
[email protected]
AG GRANULATOR

INPUT SUBSTITUTE FUELS OUTPUT SUBSTITUTE FUELS

Production & sales
Tel: +49 (0) 72 62-92 43-200
Fax: +49 (0) 72 62-92 43-29
"THE SPECIALIST FOR
SUBSTITUTE FUELS."

We live
the rhythm

Van Peperzeel is market leader
difficult but valuable materials
in the field of collecting, sorting,
valuation and transportation of
consumer and industrial batteries
in the Netherlands. With years
of experience and expertise in
controlling and processing these
Van Peperzeel is the expert and
your reliable partner. We ensure
a safe transport, storage and an
environmentally friendly recycling
throughout Europe.
Your consumer & industrial
batteries, non-ferrous

metals and other residues
in safe hands.

Van Peperzeel

our expertise

James Wattlaan 6
8218 MB Lelystad
T +31 (0)320 – 401 400
F +31 (0)320 – 401 409
Your partner for
battery related

safety solutions

E info@ peperzeel.nl
I www.
TIMM LUX, ASSOCIATE DIREC-
TOR AT BOSTON CONSULTING
GROUP (BCG).
'The circular economy is hot and
unstoppable. We're having more and
more clients knocking at the door
begging "please help us to become
more circular".
'Not so long ago my family had no
idea what my job was. Now, they think
"cool, he's working in recycling."
'We are currently working on a project
where we connect a big OEM with a
recycler to see how they can help
each other develop better under-
standing and better circularity. They
had never done that before. What we
learn from this is that connection is
crucial to get true circularity.'
THE TALE OF TWO CITIES
IERC2023 also witnessed an interesting presentation
by Nigel Mattravers, who works for Alba Integrated
Waste Solutions (Hong Kong), shining a light on
e-scrap collection programmes in Hong Kong and
Singapore.
Singapore and Hong Kong are similar 'city states' in
that they are densely populated, their citizens have
high purchasing power, and they have adopted a 'high
tech' way of life.
'Both cities recognised their responsibilities in managing
their e-waste and both adopted the producer responsibil-
ity scheme approach which basically says suppliers of
e-waste should pay for post-consumer management,' said
Mattravers. 'Both cities implemented comprehensive leg-
islation to control the management of the e-waste creat-
ed by their respective populations and businesses.'
Hong Kong recognised that there was an insufficient
capacity in the local market and that the existing busi-
nesses were reluctant to spend the capital expenditure
necessary to create a modern treatment facility.
'The Hong Kong government therefore elected to go
to the international market for a design, build, operate
and transfer contract which would include a state-of-
the-art processing plant,' Mattravers explained. 'The
contract included door-to-door collection of certain
e-wastes that were regulated under the legislation.'
Singapore, which has even less available land than
Hong Kong, determined there was sufficient existing
treatment capacity and therefore no need for the gov-
ernment to build its own processing facility. 'It adopted
a more popular solution for many jurisdictions, by cre-
ating a producer responsibility organisation for collec-
tion, classifying, and arranging the processing of the
collected e-waste. The Singapore scheme also includes
a broader range of e-waste items than in Hong Kong.'
34-35-36-37_ierc2023.indd 37 16-03-2023 08:55