Recycling International – March/April issue 2023
Subscribe
Page 32 from: Recycling International – March/April issue 2023
LIBS: the final step to lowering the carbon footprint in scrap sorting It has been five years since the official announcement of the joint success of research by Austin AI and Hydro resulting in a pilot scale laser induced bre...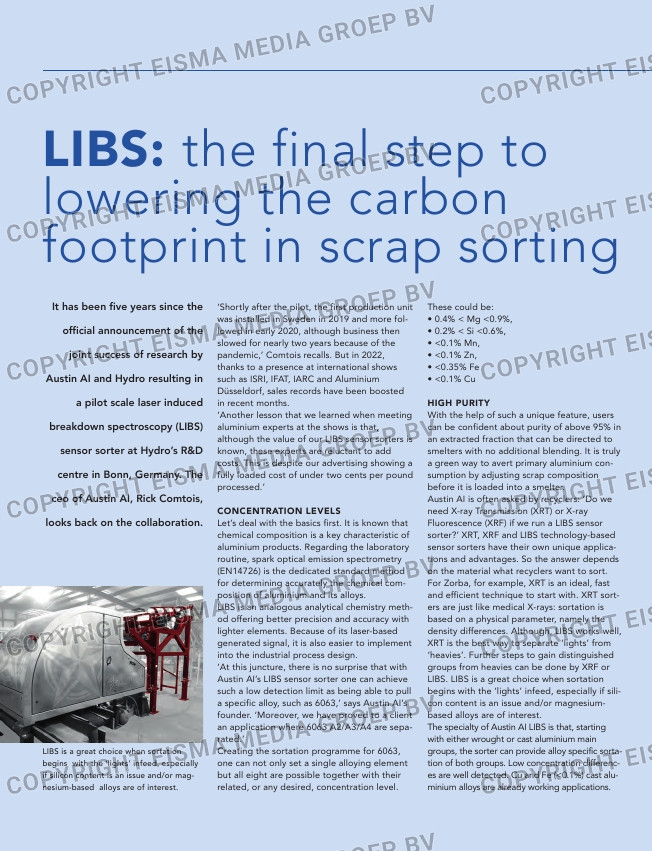 LIBS: the final step to
lowering the carbon
footprint in scrap sorting
It has been five years since the
official announcement of the
joint success of research by
Austin AI and Hydro resulting in
a pilot scale laser induced
breakdown spectroscopy (LIBS)
sensor sorter at Hydro's R&D
centre in Bonn, Germany. The
ceo of Austin AI, Rick Comtois,
looks back on the collaboration.
'Shortly after the pilot, the first production unit
was installed in Sweden in 2019 and more fol-
lowed in early 2020, although business then
slowed for nearly two years because of the
pandemic,' Comtois recalls. But in 2022,
thanks to a presence at international shows
such as ISRI, IFAT, IARC and Aluminium
Düsseldorf, sales records have been boosted
in recent months.
'Another lesson that we learned when meeting
aluminium experts at the shows is that,
although the value of our LIBS sensor sorters is
known, these experts are reluctant to add
costs. This is despite our advertising showing a
fully loaded cost of under two cents per pound
processed.'
CONCENTRATION LEVELS
Let's deal with the basics first. It is known that
chemical composition is a key characteristic of
aluminium products. Regarding the laboratory
routine, spark optical emission spectrometry
(EN14726) is the dedicated standard method
for determining accurately the chemical com-
position of aluminium and its alloys.
LIBS is an analogous analytical chemistry meth-
od offering better precision and accuracy with
lighter elements. Because of its laser-based
generated signal, it is also easier to implement
into the industrial process design.
'At this juncture, there is no surprise that with
Austin AI's LIBS sensor sorter one can achieve
such a low detection limit as being able to pull
a specific alloy, such as 6063,' says Austin AI's
founder. 'Moreover, we have proved to a client
an application where 6063 A2/A3/A4 are sepa-
rated.'
Creating the sortation programme for 6063,
one can not only set a single alloying element
but all eight are possible together with their
related, or any desired, concentration level.
These could be:
• 0.4% < Mg <0.9%,
• 0.2% < Si <0.6%,
• <0.1% Mn,
• <0.1% Zn,
• <0.35% Fe
• <0.1% Cu
HIGH PURITY
With the help of such a unique feature, users
can be confident about purity of above 95% in
an extracted fraction that can be directed to
smelters with no additional blending. It is truly
a green way to avert primary aluminium con-
sumption by adjusting scrap composition
before it is loaded into a smelter.
Austin AI is often asked by recyclers: 'Do we
need X-ray Transmission (XRT) or X-ray
Fluorescence (XRF) if we run a LIBS sensor
sorter?' XRT, XRF and LIBS technology-based
sensor sorters have their own unique applica-
tions and advantages. So the answer depends
on the material what recyclers want to sort.
For Zorba, for example, XRT is an ideal, fast
and efficient technique to start with. XRT sort-
ers are just like medical X-rays: sortation is
based on a physical parameter, namely the
density differences. Although, LIBS works well,
XRT is the best way to separate 'lights' from
'heavies'. Further steps to gain distinguished
groups from heavies can be done by XRF or
LIBS. LIBS is a great choice when sortation
begins with the 'lights' infeed, especially if sili-
con content is an issue and/or magnesium-
based alloys are of interest.
The specialty of Austin AI LIBS is that, starting
with either wrought or cast aluminium main
groups, the sorter can provide alloy specific sorta-
tion of both groups. Low concentration differenc-
es are well detected. Cu and Fe (<0.1%) cast alu-
minium alloys are already working applications.
Aerospace and car industry tend to dominate
with more and more lightweight magnesium-
based alloys and we are receiving more
requests for magnesium-based alloy sortation.
This is another one of the key applications we
traditionally have been able to perform.
KEY BENEFITS
Here is a brief overview of the advantages of a
worldwide patented Austin AI LIBS sensor sorter:
• No moving or wear parts outside of the air-
jet diverter valves and the feeders.
• The system has the lowest cost of operation.
• The material is forced, by proprietary (shoot
from below) engineering design, through a
laser focal point to ensure each piece is sub-
ject to the LIBS analytical process.
• Each system is designed to a capacity of six
process lanes, with each lane capable of han-
dling a single stream of material at nearly
3m/sec.
• Each lane can be easily populated with a
LIBS sensor module, giving a single system
the capacity of six times that of normal single
stream systems.
• Small footprint.
Additionally, the laser used for the excitation
process is fully solid state and of a class used
for metal cutting. At a rep rate of 50 000 Hz,
the system is capable of 'burning' through
most painted, oxidised, and otherwise con-
taminated scrap material.
The proprietary, industrial spectrometer is
designed for high performance in terms of
alloys sorting. Achieving sub-class alloys sort-
ing at reasonable purities and efficiencies is
possible.
All of this, says Comtois, delivers an 'outstand-
ing analytical performance'. 'With our high
performance, newly developed Gen#2 LIBS
'Only melt the alloy you want to cast. It saves fuel
and increases furnace turns per day.'
LIBS is a great choice when sortation
begins with the 'lights' infeed, especially
if silicon content is an issue and/or mag-
nesium-based alloys are of interest.
32-33_austinai.indd 32 15-03-2023 16:37