Recycling International – March/April issue 2023
Subscribe
Page 15 from: Recycling International – March/April issue 2023
TRENDS & UPDATES 15recyclinginternational.com | March/April | 2023 KUUSAKOSKI INVESTS IN 'SAFE AND EFFECTIVE' CARBON FIBRE RECYCLING Kuusakoski is spending more than EUR 4 million on a shred- ding and treatment plant for ...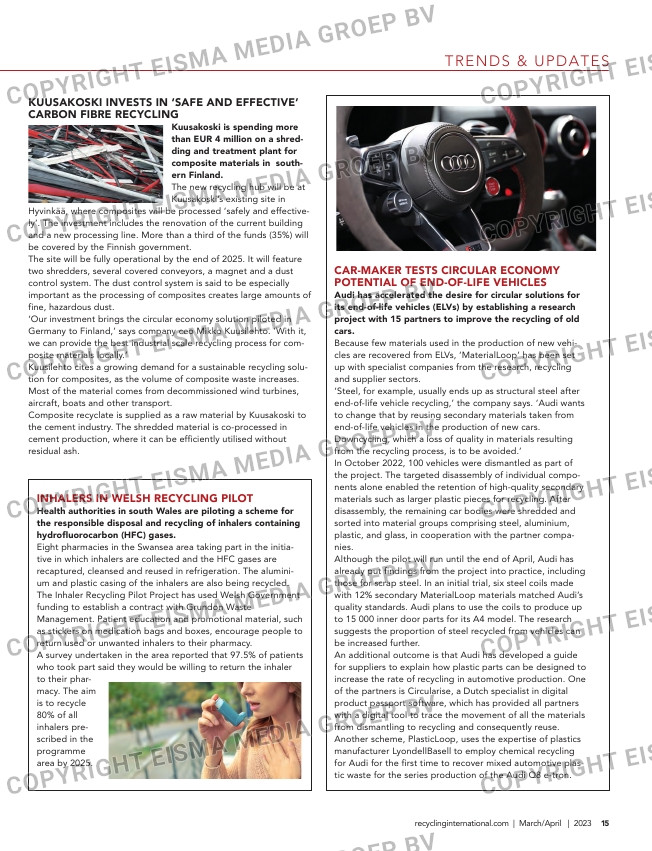 TRENDS & UPDATES
15recyclinginternational.com | March/April | 2023
KUUSAKOSKI INVESTS IN 'SAFE AND EFFECTIVE'
CARBON FIBRE RECYCLING
Kuusakoski is spending more
than EUR 4 million on a shred-
ding and treatment plant for
composite materials in south-
ern Finland.
The new recycling hub will be at
Kuusakoski's existing site in
Hyvinkää, where composites will be processed 'safely and effective-
ly'. The investment includes the renovation of the current building
and a new processing line. More than a third of the funds (35%) will
be covered by the Finnish government.
The site will be fully operational by the end of 2025. It will feature
two shredders, several covered conveyors, a magnet and a dust
control system. The dust control system is said to be especially
important as the processing of composites creates large amounts of
fine, hazardous dust.
'Our investment brings the circular economy solution piloted in
Germany to Finland,' says company ceo Mikko Kuusilehto. 'With it,
we can provide the best industrial scale recycling process for com-
posite materials locally.'
Kuusilehto cites a growing demand for a sustainable recycling solu-
tion for composites, as the volume of composite waste increases.
Most of the material comes from decommissioned wind turbines,
aircraft, boats and other transport.
Composite recyclate is supplied as a raw material by Kuusakoski to
the cement industry. The shredded material is co-processed in
cement production, where it can be efficiently utilised without
residual ash.
INHALERS IN WELSH RECYCLING PILOT
Health authorities in south Wales are piloting a scheme for
the responsible disposal and recycling of inhalers containing
hydrofluorocarbon (HFC) gases.
Eight pharmacies in the Swansea area taking part in the initia-
tive in which inhalers are collected and the HFC gases are
recaptured, cleansed and reused in refrigeration. The alumini-
um and plastic casing of the inhalers are also being recycled.
The Inhaler Recycling Pilot Project has used Welsh Government
funding to establish a contract with Grundon Waste
Management. Patient education and promotional material, such
as stickers on medication bags and boxes, encourage people to
return used or unwanted inhalers to their pharmacy.
A survey undertaken in the area reported that 97.5% of patients
who took part said they would be willing to return the inhaler
to their phar-
macy. The aim
is to recycle
80% of all
inhalers pre-
scribed in the
programme
area by 2025.
STEEL PRODUCTION DISRUPTED BY TURKISH
QUAKES
Devastation caused by two major earthquakes in Turkey is hav-
ing a major impact on steel production and trading.
Turkey is the world's biggest importer of ferrous scrap and the port
of Iskenderun has been closed by the authorities as all resources in
the region are being put into coping with the disaster in which
thousands of people have died. It is reported that equipment from
the port such as cranes have been diverted to the grim task of
searching collapsed buildings and restoring other infrastructure.
Steel mills in the affected areas have stopped production with sup-
plies disrupted and reports of pipelines and other energy infra-
structure failing. However Argus reports that 'with no Turkish steel
mill in the region or steel terminal severely damaged, scrap ship-
ments are currently not expected to be cancelled'.
It adds that Iskenderun steel mills have accounted for around 18%
of total scrap imports to Turkey since April last year. Kallanish adds
that Iskenderun is largely used by steel makers for containerised
steel sales rather than scrap imports. The mills' own ports, which
do import scrap, are said to be undamaged.
A source at an Iskenderun mill told Fastmarkets: 'We are in a state
of force majeure. Turkey has already issued a fourth-level state
alert and declared a state of emergency in 10 provinces that will
continue for three months'.
Steel trade in other parts of the country is also reported to have
slowed.
CAR-MAKER TESTS CIRCULAR ECONOMY
POTENTIAL OF END-OF-LIFE VEHICLES
Audi has accelerated the desire for circular solutions for
its end-of-life vehicles (ELVs) by establishing a research
project with 15 partners to improve the recycling of old
cars.
Because few materials used in the production of new vehi-
cles are recovered from ELVs, 'MaterialLoop' has been set
up with specialist companies from the research, recycling
and supplier sectors.
'Steel, for example, usually ends up as structural steel after
end-of-life vehicle recycling,' the company says. 'Audi wants
to change that by reusing secondary materials taken from
end-of-life vehicles in the production of new cars.
Downcycling, which a loss of quality in materials resulting
from the recycling process, is to be avoided.'
In October 2022, 100 vehicles were dismantled as part of
the project. The targeted disassembly of individual compo-
nents alone enabled the retention of high-quality secondary
materials such as larger plastic pieces for recycling. After
disassembly, the remaining car bodies were shredded and
sorted into material groups comprising steel, aluminium,
plastic, and glass, in cooperation with the partner compa-
nies.
Although the pilot will run until the end of April, Audi has
already put findings from the project into practice, including
those for scrap steel. In an initial trial, six steel coils made
with 12% secondary MaterialLoop materials matched Audi's
quality standards. Audi plans to use the coils to produce up
to 15 000 inner door parts for its A4 model. The research
suggests the proportion of steel recycled from vehicles can
be increased further.
An additional outcome is that Audi has developed a guide
for suppliers to explain how plastic parts can be designed to
increase the rate of recycling in automotive production. One
of the partners is Circularise, a Dutch specialist in digital
product passport software, which has provided all partners
with a digital tool to trace the movement of all the materials
from dismantling to recycling and consequently reuse.
Another scheme, PlasticLoop, uses the expertise of plastics
manufacturer LyondellBasell to employ chemical recycling
for Audi for the first time to recover mixed automotive plas-
tic waste for the series production of the Audi Q8 e-tron.
10-11-12-13-14-15_trendsupdates.indd 15 16-03-2023 09:16