Recycling International – March/April issue 2023
Subscribe
Page 12 from: Recycling International – March/April issue 2023
12 TURMEC BOOSTS IRELAND'S PROCESSING CAPACITY Technology provider Turmec has been awarded a contract to design and install a 'state-of-the-art' recycling line for Wilton Recycling in Ireland. The processing system will deal with ...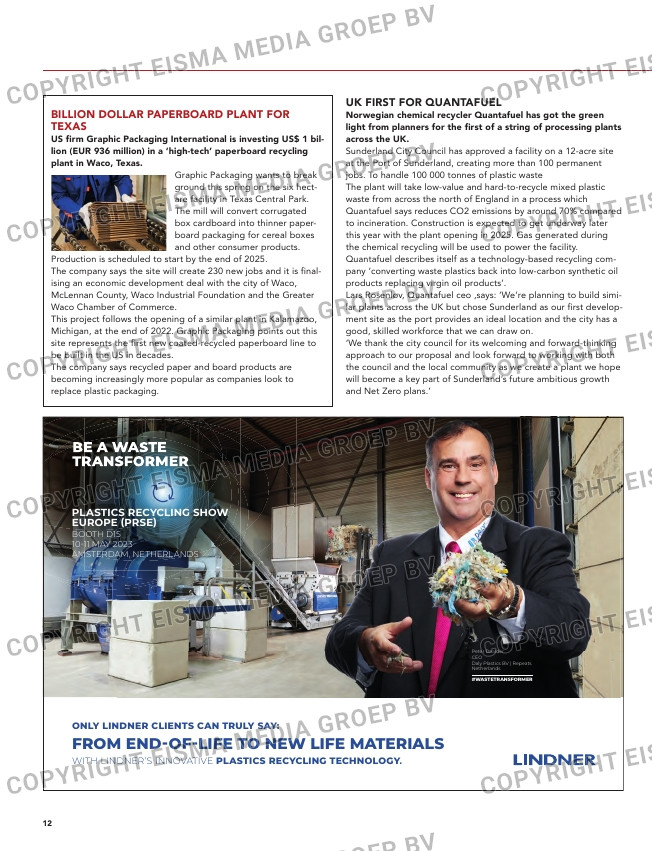 12
TURMEC BOOSTS IRELAND'S PROCESSING
CAPACITY
Technology provider Turmec has been awarded a contract to
design and install a 'state-of-the-art' recycling line for Wilton
Recycling in Ireland. The processing system will deal with
commercial, demolition and industrial waste.
The Irish family-run company's site in Cavan is expanding opera-
tions with the additional line. The updated facility will recover
high value recyclates for use in various high-grade applications,
with the residual material processed into fuel for cement manu-
facturers, among others. Wilton expects the new system to come
online before the end of the year.
Over the last 50 years, Turmec has grown from a skip-hire servic-
es provider into a metal recycling wheelie bin specialist, handling
a wider range of materials. These include commercial, industrial
and construction waste, which together comprise over 50% of
Ireland's total waste stream.
'Wilton Recycling strives to provide best in class waste collection
and recycling solutions to all our customers across Ireland,' says
ceo Rodney Wilton. 'Turmec has been a key and supportive part-
ner on our journey and this facility will provide us with market
leading processing and recycling capabilities that will recover
high value commodities for recycling.'
Meanwhile, ahead of the 2032 Olympic Games in Australia,
Turmec has been awarded a EUR 30 million contract to design
and deliver a recycling solution for Rino Recycling near Brisbane.
This new facility is positioned to become one of the largest con-
struction and demolition waste recovery sites in Australia with
recovery rates of up to 99% and a processing capacity of 475
tonnes per hour.
'The completion of this integrated hybrid plant will be the first of
its type around the world and will pave the way for the future of
recycling,' according to general manager Daniel Blaser.
UK FIRST FOR QUANTAFUEL
Norwegian chemical recycler Quantafuel has got the green
light from planners for the first of a string of processing plants
across the UK.
Sunderland City Council has approved a facility on a 12-acre site
at the Port of Sunderland, creating more than 100 permanent
jobs. To handle 100 000 tonnes of plastic waste
The plant will take low-value and hard-to-recycle mixed plastic
waste from across the north of England in a process which
Quantafuel says reduces CO2 emissions by around 70% compared
to incineration. Construction is expected to get underway later
this year with the plant opening in 2025. Gas generated during
the chemical recycling will be used to power the facility.
Quantafuel describes itself as a technology-based recycling com-
pany 'converting waste plastics back into low-carbon synthetic oil
products replacing virgin oil products'.
Lars Rosenløv, Quantafuel ceo ,says: 'We're planning to build simi-
lar plants across the UK but chose Sunderland as our first develop-
ment site as the port provides an ideal location and the city has a
good, skilled workforce that we can draw on.
'We thank the city council for its welcoming and forward-thinking
approach to our proposal and look forward to working with both
the council and the local community as we create a plant we hope
will become a key part of Sunderland's future ambitious growth
and Net Zero plans.'
BILLION DOLLAR PAPERBOARD PLANT FOR
TEXAS
US firm Graphic Packaging International is investing US$ 1 bil-
lion (EUR 936 million) in a 'high-tech' paperboard recycling
plant in Waco, Texas.
Graphic Packaging wants to break
ground this spring on the six hect-
are facility in Texas Central Park.
The mill will convert corrugated
box cardboard into thinner paper-
board packaging for cereal boxes
and other consumer products.
Production is scheduled to start by the end of 2025.
The company says the site will create 230 new jobs and it is final-
ising an economic development deal with the city of Waco,
McLennan County, Waco Industrial Foundation and the Greater
Waco Chamber of Commerce.
This project follows the opening of a similar plant in Kalamazoo,
Michigan, at the end of 2022. Graphic Packaging points out this
site represents the first new coated-recycled paperboard line to
be built in the US in decades.
The company says recycled paper and board products are
becoming increasingly more popular as companies look to
replace plastic packaging.
FROM END-OF-LIFE TO NEW LIFE MATERIALS
ONLY LINDNER CLIENTS CAN TRULY SAY:

WITH LINDNER'S INNOVATIVE PLASTICS RECYCLING TECHNOLOGY.

Peter Daalder
CEO
Daly Plastics BV | Repeats
Netherlands
#WASTETRANSFORMER

PLASTICS RECYCLING SHOW
EUROPE (PRSE)
BOOTH D15
10-11 MAY 2023
AMSTERDAM, NETHERLANDS
10-11-12-13-14-15_trendsupdates.indd 12 16-03-2023 09:16