Recycling International free issue 3 2023
Subscribe
Page 92 from: Recycling International free issue 3 2023
MARKET ANALYSIS Gloomier outlook from scrap metal traders The latest sector survey in Europe suggests deteriorating expectations although scrap metal prices have generally held up. 'Today marks a milestone on Speira's transforma...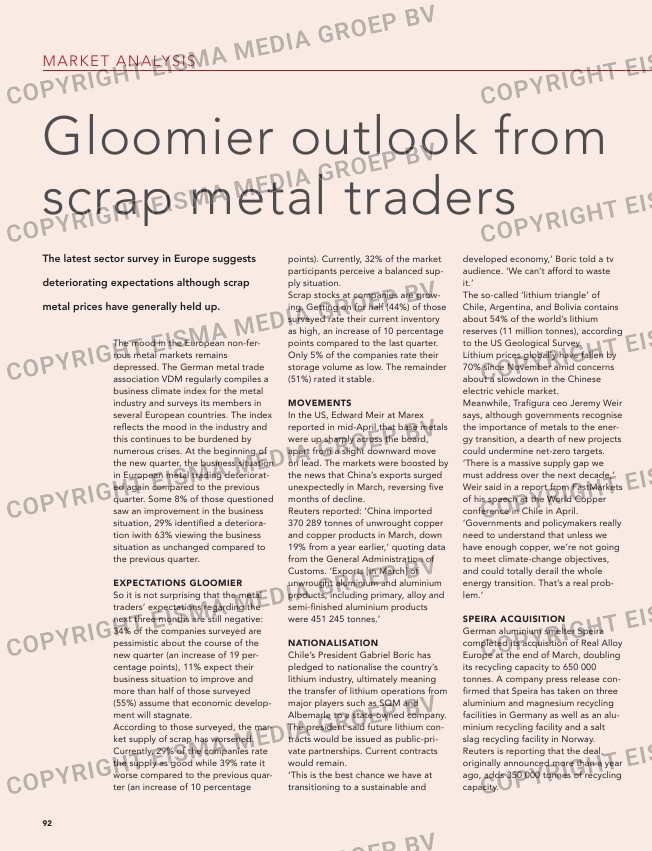 MARKET ANALYSIS
Gloomier outlook from
scrap metal traders
The latest sector survey in Europe suggests
deteriorating expectations although scrap
metal prices have generally held up.
'Today marks a milestone on Speira's
transformation journey,' says ceo Einar
Glomnes. 'We are combining a lead-
ing European aluminium recycling
company with one of the largest alu-
minium rolling and recycling compa-
nies on the continent.'
A separate acquisition by Aurea from
Speira of facilities in Sainte-
Menehould, France, and Swansea, UK,
as required by the European
Commission, is expected to take place
in early in Q2.
SIMS' US EXPANSION
In March, Sims Metal acquire the com-
mercial and operating assets of
Pennsylvania-based Northeast Metal
Traders (NEMT). NEMT, which has a
single site, is one of the largest cop-
per recyclers in the US and can pro-
cess and sell approximately 60 000
tonnes of non-ferrous metal per year.
'We are very excited about this bolt-
92
points). Currently, 32% of the market
participants perceive a balanced sup-
ply situation.
Scrap stocks at companies are grow-
ing. Getting on for half (44%) of those
surveyed rate their current inventory
as high, an increase of 10 percentage
points compared to the last quarter.
Only 5% of the companies rate their
storage volume as low. The remainder
(51%) rated it stable.
MOVEMENTS
In the US, Edward Meir at Marex
reported in mid-April that base metals
were up sharply across the board,
apart from a slight downward move
on lead. The markets were boosted by
the news that China's exports surged
unexpectedly in March, reversing five
months of decline.
Reuters reported: 'China imported
370 289 tonnes of unwrought copper
and copper products in March, down
19% from a year earlier,' quoting data
from the General Administration of
Customs. 'Exports [in March] of
unwrought aluminium and aluminium
products, including primary, alloy and
semi-finished aluminium products
were 451 245 tonnes.'
NATIONALISATION
Chile's President Gabriel Boric has
pledged to nationalise the country's
lithium industry, ultimately meaning
the transfer of lithium operations from
major players such as SQM and
Albemarle to a state-owned company.
The president said future lithium con-
tracts would be issued as public-pri-
vate partnerships. Current contracts
would remain.
'This is the best chance we have at
transitioning to a sustainable and
developed economy,' Boric told a tv
audience. 'We can't afford to waste
it.'
The so-called 'lithium triangle' of
Chile, Argentina, and Bolivia contains
about 54% of the world's lithium
reserves (11 million tonnes), according
to the US Geological Survey.
Lithium prices globally have fallen by
70% since November amid concerns
about a slowdown in the Chinese
electric vehicle market.
Meanwhile, Trafigura ceo Jeremy Weir
says, although governments recognise
the importance of metals to the ener-
gy transition, a dearth of new projects
could undermine net-zero targets.
'There is a massive supply gap we
must address over the next decade,'
Weir said in a report from FastMarkets
of his speech at the World Copper
conference in Chile in April.
'Governments and policymakers really
need to understand that unless we
have enough copper, we're not going
to meet climate-change objectives,
and could totally derail the whole
energy transition. That's a real prob-
lem.'
SPEIRA ACQUISITION
German aluminium smelter Speira
completed its acquisition of Real Alloy
Europe at the end of March, doubling
its recycling capacity to 650 000
tonnes. A company press release con-
firmed that Speira has taken on three
aluminium and magnesium recycling
facilities in Germany as well as an alu-
minium recycling facility and a salt
slag recycling facility in Norway.
Reuters is reporting that the deal,
originally announced more than a year
ago, adds 350 000 tonnes of recycling
capacity.
The mood in the European non-fer-
rous metal markets remains
depressed. The German metal trade
association VDM regularly compiles a
business climate index for the metal
industry and surveys its members in
several European countries. The index
reflects the mood in the industry and
this continues to be burdened by
numerous crises. At the beginning of
the new quarter, the business situation
in European metal trading deteriorat-
ed again compared to the previous
quarter. Some 8% of those questioned
saw an improvement in the business
situation, 29% identified a deteriora-
tion iwith 63% viewing the business
situation as unchanged compared to
the previous quarter.
EXPECTATIONS GLOOMIER
So it is not surprising that the metal
traders' expectations regarding the
next three months are still negative:
34% of the companies surveyed are
pessimistic about the course of the
new quarter (an increase of 19 per-
centage points), 11% expect their
business situation to improve and
more than half of those surveyed
(55%) assume that economic develop-
ment will stagnate.
According to those surveyed, the mar-
ket supply of scrap has worsened.
Currently, 29% of the companies rate
the supply as good while 39% rate it
worse compared to the previous quar-
ter (an increase of 10 percentage
A U T H O R Robin Latchem
92-93-94-95_manon-ferrous.indd 92 03-05-2023 17:08